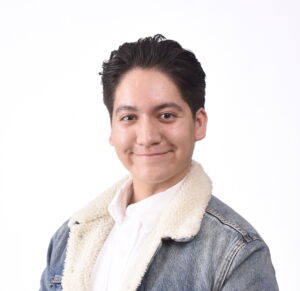 Months before graduating high school, Kyle Becerra was ready to give up on education. 
But after completing two years worth of high school in one month at a continuation school, his reality changed.
"College seemed impossible for me to reach," Kyle Becerra said in a phone interview. "Then I ended up finishing all that work within one month and I realized that I'm capable of succeeding academically. I felt like wow, if I could complete two years of work in one month, something that I thought was impossible, there's nothing I can't do."
Now, at 20 years old, he is one of 50 recipients of the highly selective Jack Kent Cooke Transfer Scholarship and is waiting for acceptances to prestigious private universities.  
The scholarship awards up to $40,000 each year for up to three years at a four-year university. 
"Coming from a family who's experienced poverty our entire lives, it takes so much pressure off," Kyle Becerra said. "I won't be in debt. My family doesn't have to pay for something they can't afford. It's the ability to study without having to worry about it. "
Kyle Becerra started classes at Pierce in the fall of 2017 with no direction, but had a goal to maintain a 4.0 GPA — which he has. Then, he wanted to push himself academically and eventually transfer to a highly selective private school, so he joined the Honors Program to challenge himself and prepare for higher education. 
Counselor Shelley Tadiki helped him on his transfer journey for the three years he attended Pierce. 
"Working with Kyle is great," Tadiki said in a phone interview. "He's very motivated and has really big ideas for what he wants to do.  It is inspiring for me to be working with honors students who have put a lot of thought into what they see for themselves in the future."
Kyle Becerra said the rigor of the Honors Program gave him the tools he needed to set himself apart from other scholarship applicants. 
"It's a marathon, not a sprint," Tadiki said. "It takes a lot of hard work, maintaining relationships with faculty members and doing research to take advantage of opportunities beyond Pierce. He took a lot of initiative and spent a lot of time working on those applications and building the relationships to be able to be successful."
In addition to the help from his peers, professors and counselors, Kyle Becerra received support from his family. 
His older sister, Gloria Becerra, calls him Superman. 
"Having each other and our family as a support system has really helped shape Kyle to who he is," Gloria Becerra said in a phone interview. "It gives him his power. He's grounded by family and it really helps him achieve everything he sets his mind on."
Gloria Becerra said that as much as she hopes to inspire her brother, he inspires her too. 
"Seeing his journey has been really amazing for me," Gloria Becerra said. "I'm super proud of him. He works his butt off for everything he sets his mind on. He is a really big manifester. He says, 'I'm going to do this, I'm going to achieve that, I'm going to make this move.' It always comes true because he puts his words to action."
Last year, Kyle Becerra applied to the same scholarship, but didn't get it. Even though he had been accepted by four-year universities, he decided to spend another year at Pierce and apply again, and it paid off.
"I think this year, compared to last year, Kyle was much more intentional in strengthening those aspects of his application that take to heart the values of the scholarship," Tadiki said. "He really showed how he embodies a commitment to serving the community, leadership potential, and working hard to continue to 'dream big'."
Kyle Becerra plans to study public policy and governance and is waiting to hear back from his top choices for university, Yale and Stanford. While the scholarship helps eliminate the financial burden of attending private universities, he said that the best part of the scholarship is the community. 
"They're like a huge family of community college students from different walks of life," Kyle Becerra said. "They all know adversity. They all know challenges. Being able to navigate these highly prestigious institutions, to have each other, I'm so excited. The fact that they're like a family that in a way mirror my own family, with unconditional support."
Pierce College President Alexis Montevirgen celebrated Kyle Becerra's achievement through a Zoom call with him.. 
"I'm just so happy for him, and so optimistic in terms of what else is in store for him," Montevirgen said. "This is a great accomplishment, but I have a feeling that at the end of the day, this is going to pale in comparison to all of his future accomplishments."
While he isn't sure which university he will attend yet, the scholarship has already made a huge impact for Kyle Becerra and his family.
"It's the ultimate validation and I'm so grateful that they recognize my hard work and my vision to change the world someday," Kyle Becerra said.