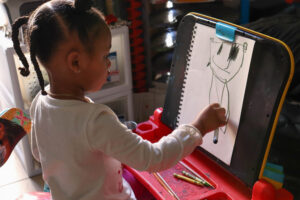 Since the shutdown of the Los Angeles Unified School District (LAUSD), many Pierce professors and students have doubled up as their children's teachers while continuing to fulfill personal and work obligations.
Communications professor Jennifer Rosenberg reflected in a Facebook direct message about the transition to homeschooling her children, while still maintaining her courses, which are now taught in an online format with Zoom and synchronous classes.
"If you want to know what it is like to homeschool and teach at the same time, watch a three minute video and have someone interrupt you every 20 seconds," Rosenberg wrote. "Homeschooling is both challenging and rewarding, but I am looking forward to summer."
Sociology professor James McKeever chimed via voice recording that when he isn't integrating quality time doing activities and sports with his son, homeschooling is a tag-team partnership with his wife who is also a professor.
"His mom does most of the homeschooling and when she can't handle it I step in and that has been really helpful," McKeever said. "I feel in some ways this has helped me connect more with him so I am grateful for the time to do that."
Political Science professor Denise Robb wrote via email that she is very involved in her son's schooling and even has an exercise program called "PE with Joe."
"The best thing that's come out of this is I've got to spend a ton of time with my son," Robb said. "I work so many hours I'm usually gone at 5:30 in the morning and I am off and home by 6 o'clock at night so we've spent so much time with our 9-year-old that he's actually getting sick of his parents."
Robb also wrote that she thought teaching online would be easier but it is actually a lot more work.
"Since my 9-year-old is always home it's never quiet here so often I have to grade from midnight till three in the morning and then I'm so tired in the morning," Robb wrote. "But I know how lucky I am. I have a family that I love and I have a job that I love and I'm still getting a paycheck."
But it isn't just professors who are feeling the effects of schools closing. There are students who have their families who now have to learn and teach all at the same time.
Pierce student Ashley Shellmire (a Roundup photographer) said via Slack direct message that she has yet to go insane with balancing being a teacher, full time cook, cleaner, babysitter, coming up with new ideas to keep her 4-year-old busy, all while striving to maintain a 4.0 GPA.
"I would compare it to trying to stand on a balance ball while holding 6 cups of hot coffee but only having two hands to use. You're gonna get burnt," Shellmire wrote. "I take it day by day and try to make time for myself at least 30 minutes a day. I call it my 'Me time.'"