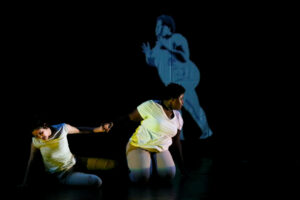 The semesterly dance concert, usually held in the Performing Arts Building, will be replaced with a video dance concert, available from May 22-24. 
Fourth year dance professor Brian Moe said dance students are currently working on developing their solo performances. Each student will submit their individual performances on Canvas, which will then be compiled into one virtual dance showcase. Moe will do the editing and video performance montage.
"Dancers will be doing their freestyle solo performances at home, and will reflect their feelings of isolation through their performance," Moe said. "Students will record their performances with creative individuality." 
The video will be available on the school website, the dance department's Facebook page and on social media, according to Moe.
Dance Company Director Denise Gibson said social distancing changed the course of the dance concert. 
"Providing the students with a virtual platform has enabled the course to remain very similar in structure with the exception of the final exam performance, which will be presented online instead of in a theater," Gibson said. 
Gibson said she is providing guidance to ease students' stress and help create their best performances. 
"The students have been prepped online with information and assignments regarding key elements of creating movement such as improvisation, and popular choreographic training formulas such as the Time/Space/Energy method,"  Gibson said. 
Fanny Valdez is a performing arts dancer and will be participating in the virtual dance concert.
"I was selected this semester as one of the student choreographers and ironically, I was already choreographing a piece within the similar theme," said Valdez. "Although there's no space like studio space, I'm extremely eager to see how my creativity is going to come into play. This is a piece that I will forever live in this space, my room." 
Valdez said she dances a minimum of one to two hours every day and has been making the most of the space available to her. 
"I'm having a lot of difficulty adjusting to the minimal space available at home but I'm having so much fun experimenting," Valdez said. 
Valdez said despite never having performed without an audience, she is still able to find inspiration.
 "I go off what the music makes me feel. I could be inspired by something so simple like a child's run or my clumsy self," she said. "Inspiration can be found within anything and anyone. I always choreograph based on my life events." 
Valdez said she is grateful for the opportunity to continue her passion for dancing, even if it is through an online performance. 
"This virtual dance concert is giving students the opportunity to choreograph and to feel motivated again," Valdez said. "For many of us dance works as therapy. We dance because we love it and because it's a way of self-expression. So, for some of us it is one of the few things helping us get through these times."
Moe said that dance can help relieve and release negative emotions by providing a creative outlet.
"Continuing to be artistic through this tough time is healing," Moe said. "It's shared humanity. Every culture has incorporated dance into their societies. It's what connects us."
Moe said that dance gives both dancers and those who watch dance comfort during the COVID-19 pandemic.
"Yes, we're all isolated, but we're not alone," Moe said.