What does a children's dance studio, a comic book store and a smoke shop have in common? 
They have all been forced to adopt different business practices to stay afloat during the COVID-19 pandemic. 
Kristen Karasek co-owns Reflections in Dance, a children's studio in Canoga Park. Since March of last year, the studio has been open for indoor classes for only 10 days. 
"The pandemic has completely changed the entire structure of what was our in-person business," Karasek said. "Not only did we have to adjust to Zoom and online classes, we also started doing classes outside."
Karasek said that outdoor classes are held at a park where there are challenges. The instructors and dancers are subject to the weather, other people and traffic noises. 
"It's a whole new dynamic because you're dealing with a different set of variables," Karasek said. "Inside the dance room, the kids have a special floor for their feet and they have mirrors so they can see what they're doing." 
Karasek said she was passionate about the positive effects dancing has had on her students and hopes for a return to indoor classes. 
"[Dancing] teaches so many other things. It teaches self-discipline, teaches self-confidence," Karasek said. "We just want to get back in and help our students make the best of their everyday lives."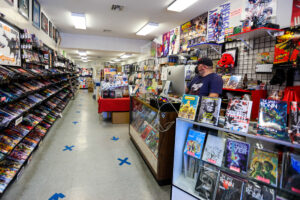 Earth-2 Comics General Manager Kris Koller stands in his shop in Northrdige, Calif., on Feb. 24, 2021. Photo by Benjamin Hanson.
Earth-2 Comics in Northridge was closed for indoor shopping for a month and a half when the pandemic started. General Manager Kris Koller kept the comic book store alive by offering mail orders to their regular customers. 
"We were completely shut down and we weren't getting new products," Koller said. "When our distributors and our publishers decided to start back up, we began curbside."
Earth-2 has since reopened for in-person shopping at limited hours. Koller said the maximum occupancy is eight people. Occasionally, an employee will step outside to accommodate a customer who wants to come in. 
"Because we're open now, with limited capacity, we still offer mail-orders and curbside for those that may not feel comfortable coming in," Koller said. 
The walls of the store are lined with hundreds of comics, action figures and other pop culture memorabilia. The collections rack, a long bin with past issues of comics, has been covered with a tarp to prevent close contact with others. 
"Standing here [and browsing] creates what the Department of Health called significant contact," Koller said. "We are following the county's health guidelines and I've decided to limit access to back issues." 
Koller said one of the biggest challenges during the pandemic was losing customers due to California State University Northridge's temporary closure. 
"A lot of businesses here in the Northridge area are feeling the pinch because there are no students," Koller said. "Where we pull a decent number of our customers from is not available to us."
Koller has been with Earth-2 Comics since 2012 and enjoys the close relationships with customers that sprout from running a small business. 
Koller said he enjoys it when customers discover new things from his recommendations. 
"I worked for big box stores for a long time," Koller said. "It's a much more intimate setting in a small business like this."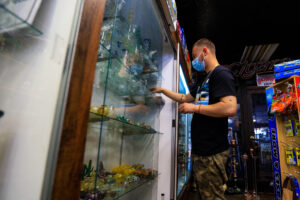 Employee Dann Ruiz organises the glass pipes at Cig City in Northridge, Calif., on Feb. 22, 2021. Photo by Benjamin Hanson.
Cig City carries the standard fare of cigars, cigarettes and glass smoking pipes but stocked on the shelves is a plethora of imported snacks and drinks from all over the world. 
Cashier Dann Ruiz runs the small smoke shop on days when the manager is out. Ruiz said that customers who do not respect the health guidelines laid out by the CDC are the biggest challenge to running a store during the pandemic. 
Despite this, Ruiz said the best part of working at a small business was meeting different people. 
"There isn't one specific working class coming here," Ruiz said. " We see a wide variety of different people here every day."