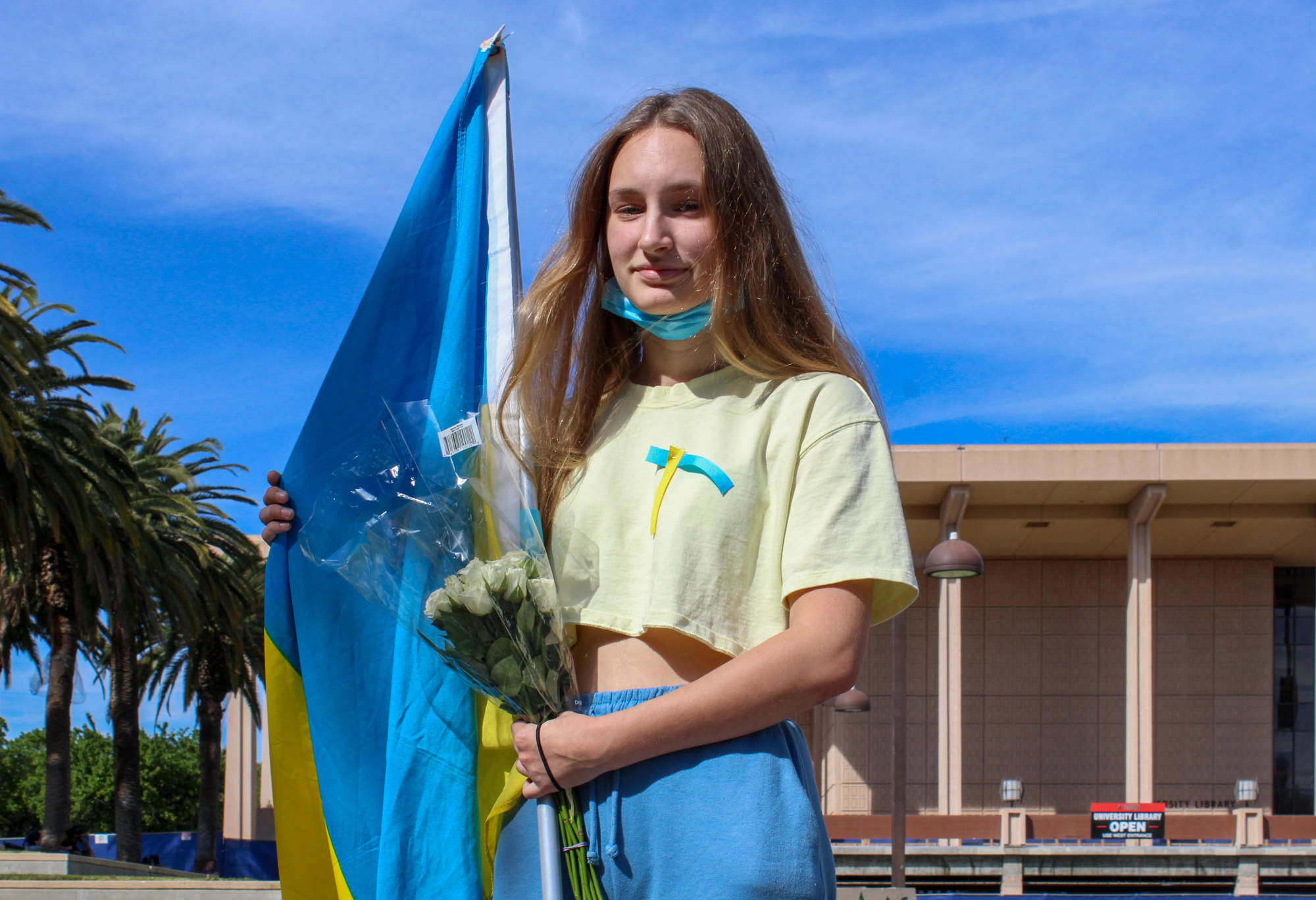 A vigil dedicated to Ukraine was held outside of the California State University Northridge University Library on Wednesday afternoon, after Russia declared war on Ukraine almost two weeks ago. 
On Feb. 21, two separatist states in the Donbas region of Ukraine were recognized by the Russian government, and—just a few days later—a full-scale invasion was launched on the orders of Russian President Vladimir Putin.
Students heard perspectives from the faculty and students on the Russian invasion and how it has impacted those who have family living in the region.
Ukrainian-born high school student Polina Tatarchenko came out to support her fellow Ukrainian sisters who attend CSUN and Cal State Fullerton.
Tatarchenko stressed the importance of informing others on the situation. 
"It's just hard not being able to do anything from here, but when you just come out and see other Ukrainians and Russian people supporting it. It's probably like a big junk of awareness and happiness that will maybe push something through," Tatarchenko said.
Tatarchenko was glad to hear the Ukrainian military and its citizens holding off Russian advances.
"I am so proud of my people because they're just normal citizens that weren't even in the military," Tatarchenko said. "They're fighting."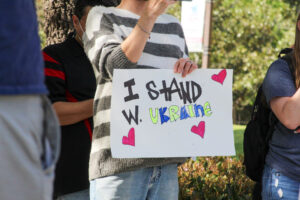 Tatarchenko also shared that her family is on the ground helping many Ukrainian families cross over the border to Poland.
Mariia Nikitash, a Ukrainian-born student, explained why it's important to make sure that the voices of Ukrainian brothers and sisters are heard.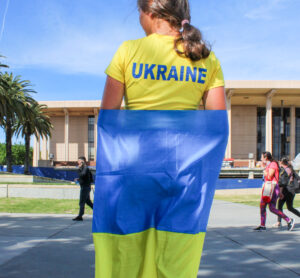 "It's our country, our families are there," Nikitash said. "There's nothing more important than to be together and be in touch."
Many Ukrainian families like Nikitash's are hiding in shelters waiting for  the battle between the two countries to cease. 
Those who weren't of Ukrainian descent still came out to support and better understand what is really happening in Ukraine.
CSUN student Christian Ochoa was walking to his next class when he stumbled on the vigil.
"I noticed this crowd and saw the [Ukrainian] flags and the speaker. [Mariia Nikitash's] words are very powerful," Ochoa said. "I'm very saddened by it and to know her family is over there in Ukraine. She's doing a lot by  being here."
Ochoa expressed resentment toward Vladimir Putin, dismissing the invasion as "completely wrong" and citing the freedom of Ukrainians as "being at stake."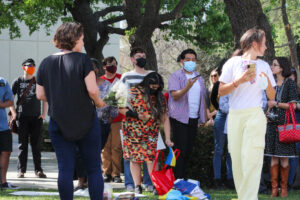 Vigils have been held across the nation and on campuses like New York University, where about 400 members filled in the Kimmel Center on Monday, Feb. 28.