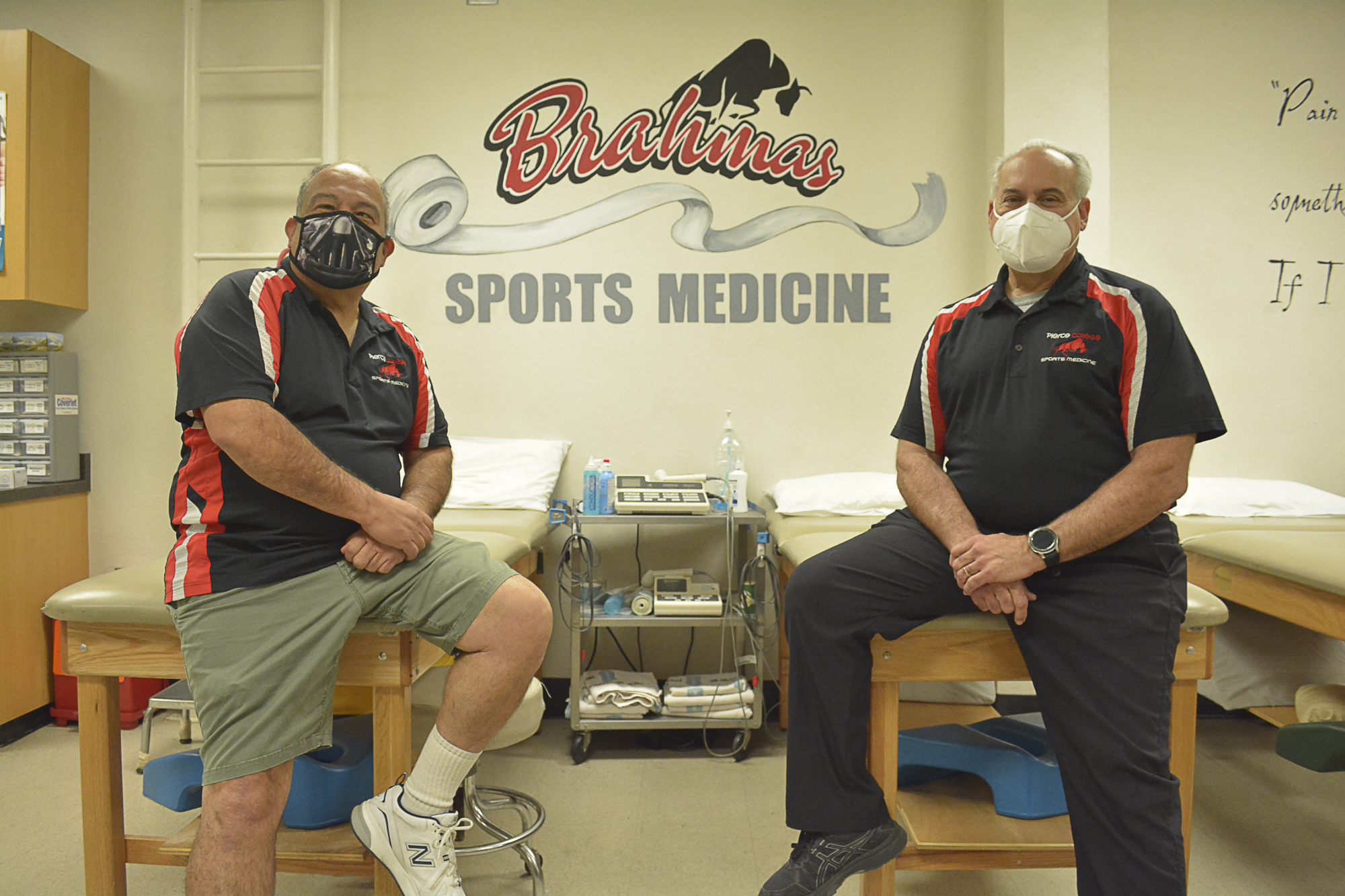 Pierce College has the luxury of having athletic trainers Leonard "Lenny" Ramirez and Robert "Rob" Horowitz keeping their staff and players safe from injuries and helping rehabilitate the injured players for over seven years together.
Both Ramirez and Horowtiz have been trusted to take leadership over the safety of players in the Los Angeles Community College District (LACCD) for over two decades.
Despite his longtime career in his field and celebrated reputation as an athletic trainer, Ramirez didn't think of athletic training as his career while in college.
"I was running in track and cross country at Antelope Valley College back in the day, got hurt and had shin splints and had to see the athletic trainer at the college," Ramirez said. "The work that he did got me interested and was the first time I was interested in athletic training."
After his exchange with the athletic trainer at Antelope Valley College, Ramirez went to California State University, Long Beach and pursued a career in the field.
"I got hired in LACCD in 1991, so I am in my 31st year now", Ramirez said. "A football coach that used to work in Antelope Valley at Palmdale High School had known me and told me that Pierce College was looking for a trainer in the fall so I went and interviewed in the fall and got hired three days before the football season started."
Despite not having a comprehensive view of the situation he was going into, Ramirez was eager for the opportunity to work in his desired career.
"I interviewed at Pierce and couldn't really look at the facilities, but I took the job site unseen," Ramirez said. "I wanted to get into the college realm, having worked in high school for five years before that in Antelope Valley, and just took the opportunity."
Like Ramirez, Horowitz pursued a career in athletic training after a senior staff member at his college changed his perspective on the career.  
"I was a political science and kinesiology major with a specialty sports medicine at California State University, Northridge (CSUN) and kind of fell into this career," Horowitz said. "There was an instructor in the Kinesiology department at CSUN that asked if I would apply to the program, and so I applied for it and was fortunate to be selected for it."
Horowitz joined the district 28 years ago, and hasn't looked back since.
"I started at LA City College and was there until 2012 when they decided to drop athletics," Horowitz said. "I transferred to Valley College for a football season and then was transferred to Pierce."
Despite having different backgrounds, Ramirez and Horowitz have worked together for more than seven years and have maintained a safe and trustworthy atmosphere on campus.
"Working together is okay and is like any job you work where you work with someone else," Ramirez said. "We didn't go to the same college therefore our philosophies might be a little bit different and we may not always 100% agree, but the bottom line is we are here for the athletes and whatever helps the athlete is what we are going to do since first and foremost we have a responsibility to the health, safety, and well-being for the athletes."
Horowitz overall said it has been a great experience working at the school.
"At City College we only had around 4 sports as opposed to roughly 10 to 12 sports teams here, so it was a very different feeling and atmosphere," Horowitz said.
Horowitz mentions the reality that not all LACCD colleges have two co-athletic trainers, and that having a knowledgeable duo truly makes the job easier.
"At City College I was all by myself and didn't have a co-athletic trainer, whereas here at Pierce," Horowitz said. "It's really nice to have a co-athletic trainer especially since we all have our specialty such as Lenny being really good at the administrative stuff and education codes and I'd say I'm pretty good at my rehabilitation stuff."
The coaches and players across all sports Pierce trust and enjoy the atmosphere brought from the duo.
Pierce head baseball coach Bill Picketts said it's nice to have consistency regardless of the programs that are offered.
"It is nice I can contact them whenever I have issues and questions," Picketts said. "Knowing that they are going to be there and have been here for as long as they have, and have the answers that I need."
Following the success and longevity of their careers, both Ramirez and Horowitz look forward to the future.
"The only things we can advance into is if we were offered to teach a class and stay on," Ramirez said. "However I personally plan on retiring within the next two years, which would conclude a 33 year career in the district."
Horowitz looks onward and prioritizes his time away from his career in the future.
"My goal for the future is to spend some more time with my family and granddaughter and spend more time in the clinic and not as much time as a full-time athletic trainer," Horowitz said.