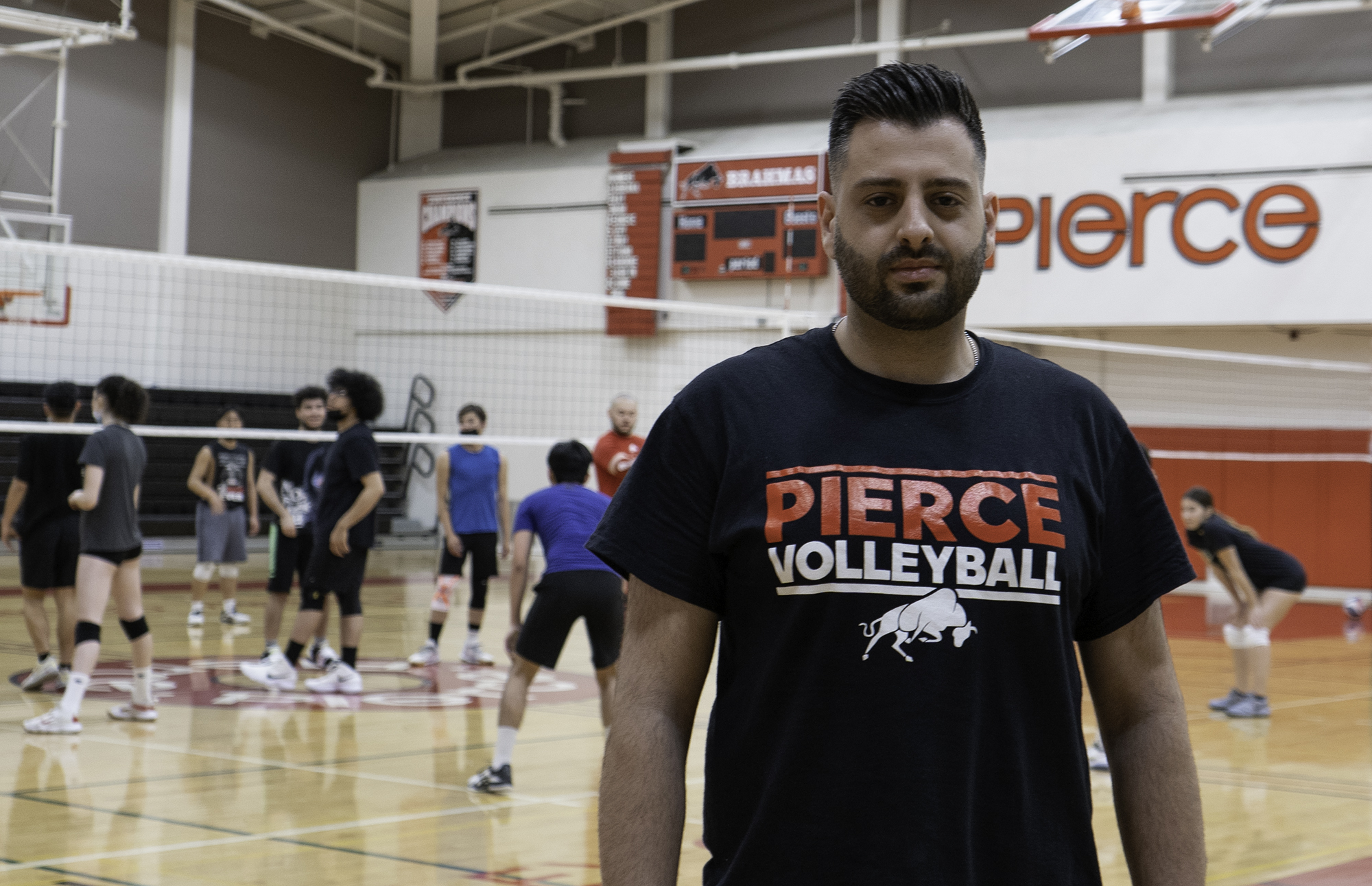 A familiar face returns to Pierce College athletics as assistant coach Farzad Ramin will be coaching the men's volleyball team.
Ramin served as a volunteer coach for the women's volleyball program and took part of the 2018 state championship-winning team with former head coach Lance Walker. 
He first joined the team in 2017 and continued to play on the team for the next three years. 
Ramin had his 2020 season cut short due to the COVID-19 pandemic. 
Before attending Pierce, Ramin played the sport starting from a young age. He spoke about his environment and some of the factors that influenced his start into the sport.
"My dad was a pro player and a pro coach in Iran, so that was the reason I started volleyball when I was six," Ramin said.
Being raised in a volleyball family, Ramin started with mini-volleyball, a variant with a lower barrier to entry to help younger athletes develop a passion for the game. However, it wasn't long before Ramin's affinity for helping other players began to show. 
"Even when I was in Iran, all the time I was helping my coaches, so they were telling me that I have the potential," Ramin said. 
This affinity to help others developed into a passion for coaching, as Ramin went from being a player to being a volunteer coach guiding the women's team. 
Ramin talked about some of his history with the Brahmas and how he became a coach. 
"Since last summer, Coach Edison [Zhou] gave me the opportunity to help him, and I was a volunteer coach for the women's team during the Fall  semester. It was a great experience, especially with Coach Edison's personality," Ramin said.
Zhou was in charge of making the decision to bring Ramin on as an assistant coach. He spoke about some of their history together and the qualities that make Ramin a great coach.
"I met this guy four years ago when they [the team] got the state championship," Zhou said. "He's really humble, really nice, and I think we have a closer culture between our two countries, Iran and China. Last year, when I needed an assistant coach, this guy (Farzad) was at the top of my mind."
According to Zhou, the two volleyball enthusiasts hit it off pretty quickly. Having immigrated to the United States from China and Iran, Zhou and Ramin developed a bond that guided the players on their team. 
"He helps me a lot. He knows everything. Like how to apply for financial aid," Zhou said, "Since 2018, we became closer as brothers. As friends, we spend a lot of time together outside the volleyball court. He is my brother in this country." 
Ramin's previous experience as a Pierce athlete helps him connect with the volleyball players in many ways. 
Libero Ian Marquez shared some benefits that an experienced player such as Ramin brings to the team.
"He actually played the same position as I played in 2018. He is a pretty good libero and he is personally training me, and that makes me a better player, so he's a really good addition to the team," Marques said.
Team Captain and Middle Blocker Alireza Manizani also spoke about his relationship with Ramin.
"I've been really close with Coach Farzad. When I was helping during the girls' season, I grew a big connection with Coach Farzad. He and I can relate due to our nationality, we're both Persian. I am able to trust him with a lot of things I have to say about the team,"  Manizani said. 
Having known Ramin for longer than some of his teammates, Steve Blugrind, the outside hitter for the team, spoke about his personal history with Ramin.
"I was a former teammate of his in 2018, when we won the state championships," Blugrind said. "He was a good teammate, and he is a really good coach, and I feel like he puts in more work than he's supposed to."
In his position as an assistant coach, Ramin is working to end the losing streak of the men's volleyball team and take them to their first win. He spoke about some factors that motivate and inspire him to succeed in this role.
"When you see the progress and as long as you help them to get better and play better, you get motivated to work harder for the team. It's an amazing feeling that's different from playing," Ramin said.