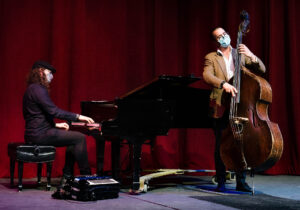 The crowd in the mainstage of the Pierce College Performing Arts Center had no idea what stunt Ben Rosenblum would pull out. 
He managed to capture the crowd with his optimism as he moved his fingers across the piano and on the accordion.  
Bass player Eduardo Belo said that Rosenblum is a professional when it comes to captivating listeners.
"He's very eclectic," Belo said. "He knows how to set up a repertoire and a set list that really involves the audience."  
Roseblum played a variety of songs, some including Harold Arlen's "Somewhere Over the Rainbow," his own original composition, "Center of a Ripple," some Brazilian folk music and duo performances with bass instructor Jake Leckie and Belo.   
The musician has been a featured soloist at Carnegie Hall's Stern-Perelman Auditorium and a part of venues including the Appel Room in Lincoln Center, Kuumbwa Jazz Center, Ravinia, Himawari-No-Sato Concert Hall in Yokohama, Bird's Eye in Basel and the Library of Congress. He had released his sextet, The Nebula Project along with his third album "Kites and Strings" in 2020 and he's on tour, traveling to places in California, Oregon and Washington State, alongside Belo and drummer Ben Zweig.   
Leckie said that while he used to play ensembles with Rosenblum in New York, hearing his solo music was something new to him.
"It was really niced to hear him play solo," Leckie said. "He covers so much ground stylistically." 
Rosenblum incorporates diverse styles of music rooting from different parts of the world such as Brazil, Ireland, Bulgaria, Croatia and much more.  
And when asked about how he felt about the concert, Rosenblum said that while it was a different experience, he still enjoyed it. 
"Most of our shows on the road are a trio," Rosenblum said. "It's a different challenge. You're responsible for a lot more, but it also has certain freedoms. I get to make a lot of spur-of-the-moment decisions and take a lot of risks."