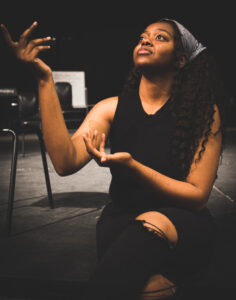 Laura Lyles has been dreaming about singing for a long time.
She said she realized singing was her passion when she watched the 2006 musical drama "Dreamgirls."  She loved to follow along with the songs, especially "Listen" by Beyonce.  
Lyles, a 21 year-old Pierce College theater major, won the Voice and Speech Trainers Association (VASTA) award in January at the Kennedy American Center College. The award included a $500 scholarship and a year's membership to the organization.
"I felt like singing was something that was a part of me," Lyles said. "It expressed everything that I was feeling on the inside that I was probably afraid to say on the outside. It was a way to show myself who I was.  Despite being shy, singing brought out the confidence in me."
Lyles added that her first performances in the seventh grade made it clear that music was a path she wanted to pursue. 
"I sang 'Ain't it Good' from 'Children of Eden,'" Lyles said. "I was completely nervous, but after I was finished singing, the audience was roaring." 
After the feedback that she got, she believed that singing was something that she should be focusing on because she saw it as a gift she had received. 
Lyles said she wants to embody her favorite artists' technique and vocal training to make hers that much stronger. 
"I grew up listening to Christina Aguilera and I wanted to imitate her voice, but still make it my own," Lyles said. "I'm currently taking singing lessons with a new instructor at Pierce named Marisa Bradfield through the Applied Music Program, which I have been involved in since the beginning of this semester."
In January 2022, at the Kennedy American Center College, she was nominated for her performance in "Eight Nights." 
She participated in the voice articulation category performing a monologue from 'Fairview' by Jackie Sibblies Drury. 
 "I saw this monologue as a monumental moment for me," Lyles said. "I was able to take a stand, be strong in my voice, and be completely confident. To be second place in the overall live competition and to win the vocal articulation award was very honoring and exciting."  
Before the competition, Lyles said she spoke words of encouragement to herself. 
"God, if this is for me, then this will be for me," Lyles recalled.   
Whitney Evans, who won Best Partner at the competition, said Lyles is bold and is a big fan of hers. 
"When she hits the stage, she lights it up," Evans said. "It's exciting to witness and it's evident that she's a star. I'm proud of her consistency and loyalty to her gift.  She's always taking the necessary steps to sharpen her craft.  I see her reaching for the stars in the future."
She said she wants her own journey to inspire people. 
"My mission really is to uplift people and showcase my personal story—the way that I found God," Lyles said. "I really want to give people hope. I don't care about being famous."
Lyles' friend Tiffani Richardson said she effortlessly has a captivating presence. 
"I'm proud of her ability to get along with anyone," Richardson said. "In the next few years, I see Laura involved in musical theater or acting in television shows."
"I want to gear more towards acting for the camera and being in the film and TV industry.  I want to find a talent manager and be able to write some more songs."  
Vanessa Hanish performed alongside Lyles in "Eight Nights" said her strength is how expressive her interpretations of roles are. 
"You can see every emotion on her face," Hanish said. "I'm proud of the growth that she has made as a performer. I can see her booking a musical tour.  She's got all the goods."