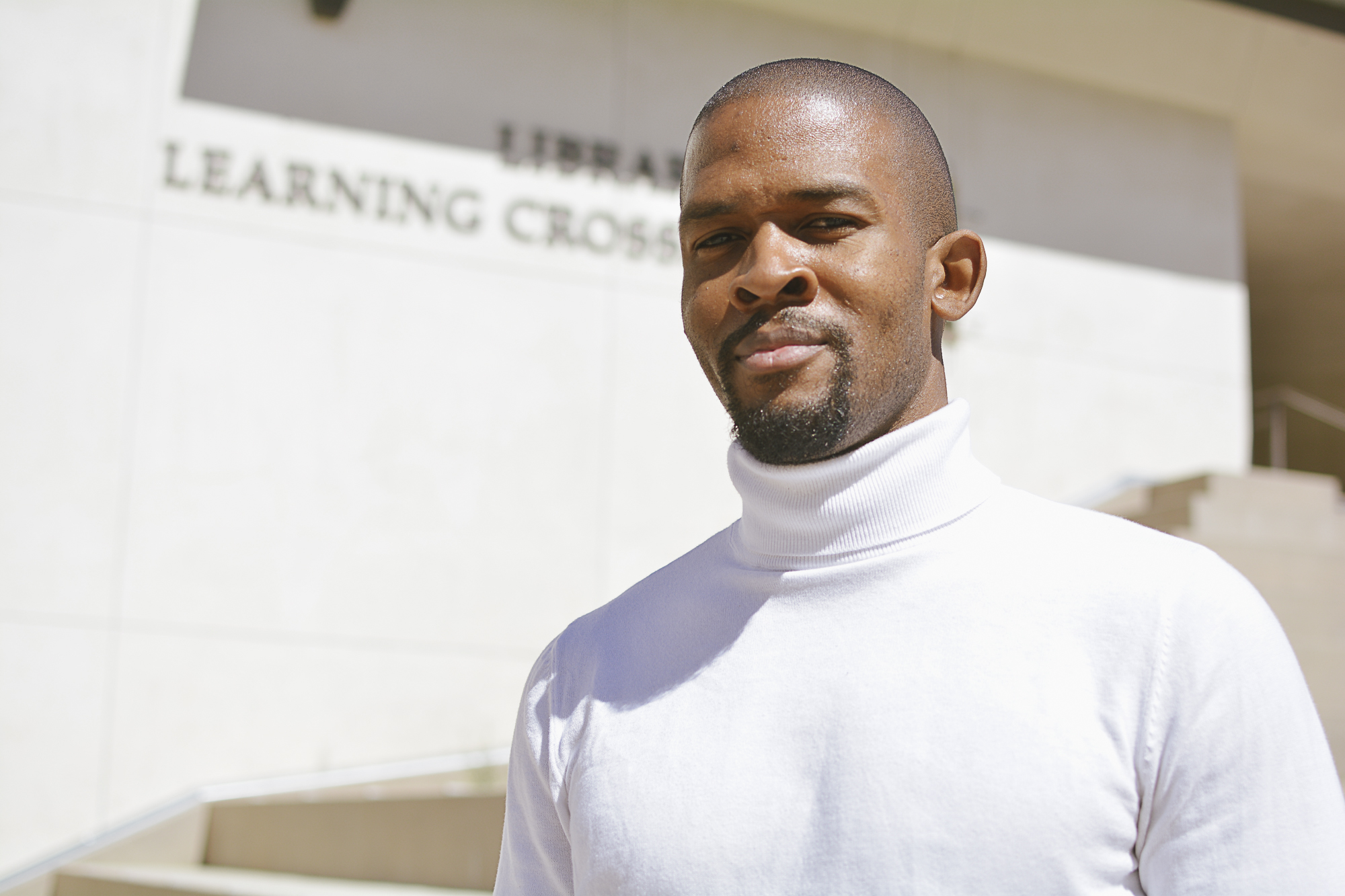 Geremy K. Mason grew up in Los Angeles playing sports and getting good grades. Before Pierce College, he was working as a supervisor for guest experience at Target and didn't even know the college existed. 
Mason now tries to have a positive impact on others as a Student Services assistant and Associated Student Organization (ASO) co-adviser.  
Mason has been with Pierce for almost seven years and has worked in different areas, including the Tutoring Center and as a senior secretary back when they were called senior secretaries.
Mason said interacting with students is one of the highlights of his job. 
"I can't imagine a better feeling working in an educational environment besides getting to work with students because they are the reason that we're here," Mason said. "I get to provide service to them all and that's really one of the highlights of my job."
Students can vary by the college, but Mason gave an explanation of why he believes Pierce students are special. 
 "I really enjoy the passion of our students. Our students show so much resiliency, and they're really so just driven in what they want to do," Mason said.
Before Pierce, Mason studied at UC Riverside and received an undergraduate in Business Administration he also has an MBA (Master of Business Administration) from CSUN.
As a child, Mason was into football and his favorite position was playing on the defensive line. 
Mason said that his grandma always pushed him to pursue an education and that when he eventually did he felt proud. 
"When I thought about it I was like, this is what she wanted me to accomplish all those years ago. That was really kind of a highlight for me getting to do that," Mason said.
His leadership characteristics have been on display at Pierce. 
Diana Zavala, a second-year student, and ASO Senator said Geremy is always dedicated and always willing to help.
"Geremy goes above and beyond his role as an ASO adviser; he not only provides support and guidance on how to excel in my role as a senator but also provides guidance on any matter of concern," Zavala said. "Whether it's regarding my personal or academic goals I know I can always count on Geremy to listen and respond with an abundance of resources, advice, and support."
Zavala also said that Geremy has taught her one valuable lesson.
"Geremy taught me that the uncertainty of life and the future does not always have to be seen with concern; but rather should be seen with optimism and excitement," Zavala said. "According to Geremy, one can not reach their full potential if one lets the fear of the unknown keep one from taking risks that could redirect one's trajectory to greater things."
Lara Conrady, the Student Engagement Coordinator, and Counselor gave her appreciation for Mason.
"Geremy is an amazing person and student advocate. His role in Student Engagement is important and he does his best every day to be a helpful resource and source of support for students," Conrady said. "Geremy is dependable, genuine, and fun and I am thankful to be his teammate."
Mason hasn't always been through good times though. He's also faced some challenges at Pierce. 
Mason said the most difficult challenge he's faced at Pierce has been recognizing restrictions. 
 "The hardest challenge is kind of accepting my own limitations. Meaning that as much as I always want to do, there are certain things that I just don't have the ability to do," Mason said. 
Mason has also faced personal challenges throughout his life. 
"I think my hardest obstacle is I guess accepting myself, you know, because it's easy to give people advice of 'Man, you got to be willing to accept yourself for who you are, your faults, and your flaws and all that good stuff.' But it's harder to do it when you haven't gone through that process yourself," Mason said. 
Mason gave some encouraging words to students who need advice. 
"Don't be afraid of making mistakes. It's very easy to lock into not only a goal but a path," Mason said. "Sometimes you may have to take a detour, sometimes you may have a setback or something like that, it doesn't mean that you stop, it just means that you just figure out another way to get to wherever it is that you're trying to go."