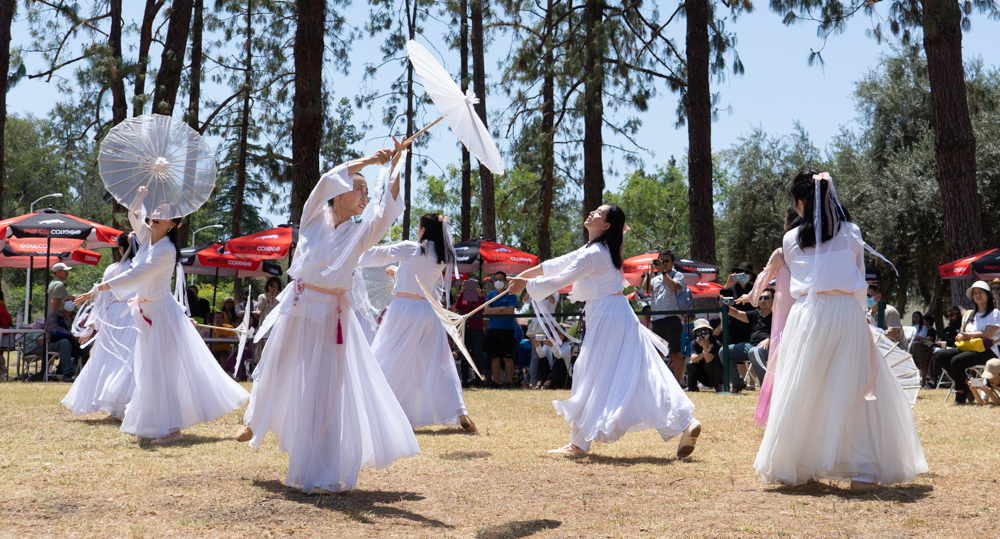 Rocky Young Park was filled Saturday, May 7, with traditional Kathak dances and Katori Shinto Ryu Samurai performances as well as artists and a petting zoo. 
They were celebrating the 1st Valley Asian Cultural Festival during Asian American Pacific Islander Heritage Month. 
The dancers came from the Leela Institute of Kathak, which connected audiences to the richness of classic Indian art. Attendees witnessed a display of power, precision and speed from Japanese martial artists.
Los Angeles City Councilmember for the 3rd Council District Bob Blumenfield was there to make a speech and present several awards to local members of the Asian-American community.
"I love seeing the creativity of the different communities and how they're representing their cultures. Whether it's the puppet show, or the figurines, or the artwork, or the dancing. It's just really nice," Blumenfield said. "So many times we get together in politics for disagreement, and it's nice to get together on a positive note like this where it's all about togetherness, love, diversity and learning."
Local interest and activist groups were also in attendance. Volunteers at the Overdue booth talked about bringing communities together by organizing daily trash pickups, beach and river cleanups and hiking events. Pierce student and Overdue volunteer DaphneTenne talked about the initiative and spoke about her experience at the festival. 
"We basically get together, pick up some trash around the LA river, sometimes we go to the beach, sometimes we just go to different areas in town and clean up together and then have a beer afterward," said Tenne. "I love the dancing and the music that's going on. I had some dumplings and they were amazing."
Many local businesses participated. Quest Martial Arts is a karate school with locations in Reseda and Canoga Park that offers children, teen and adult programs and promotes fitness and discipline for the mind and body. Former Pierce student and the manager of the Canoga Park location, Marielle Bautista, spoke about the importance of celebrating Asian culture and diversity in the valley. 
"Diversity, in general, is very important. I think that's what kind of makes California so beautiful, is that it's so diverse and gets a little bit of everybody and I think it's always nice to be knowledgeable and learn and just appreciate one another," Bautista said. 
Pierce also had many booths and activities available to attendees. The Pierce College Bookstore and the Associated Student Organization were giving out T-shirts and wristbands, while the Pre-Vet and Agriculture Club brought a petting zoo and introduced people to farm animals. A student on campus and member of the club, Bridgette Guzman, spoke about some of her favorite highlights from the festival and the importance of being exposed to a variety of diverse cultures. 
"Seeing all the cultural dances and practices and learning about everything, really," Guzman said. "I think it's really interesting to learn about cultures that I'm not part of, because I'm Latina so I've never learned about any of this, and seeing the dances and practices has just been really interesting."
An assortment of food trucks served a variety of Asian foods such as boba, dumplings, teriyaki and noodles. Many artists had their work on display, such as artist Peter H. Zou who was handing out prints of his work, "Aloha." Many visitors delighted in the traditional dance performances and had a chance to look at art from many different Asian cultures. 
Many cultures were indeed represented. An immigrant from Japan and a star of one of the videos promoting the festival, Mayuko Dilch, spoke about the reasons she and her family came to the festival.
"To experience more Asian culture. I'm from Japan and my kids were born and grew up in America, but they don't know much about Asian culture," Dilch said. "One of my kids just did origami and they had a really good time and I'm glad they get to experience Asian culture in the United States."