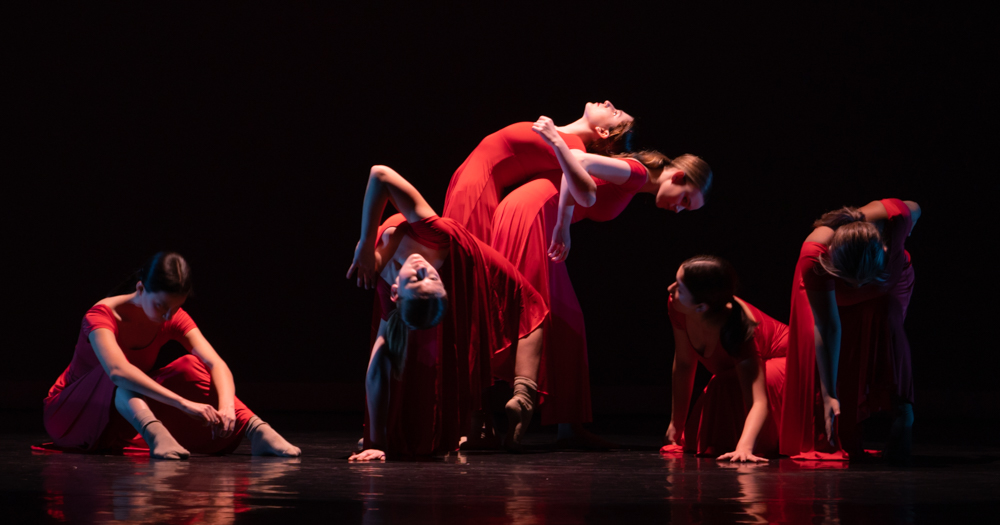 Following the restricted guidelines during the COVID-19 pandemic, many of the art and athletic programs at Pierce College have shared struggling moments for students and faculty.  
The 2022 spring dance concert, "Reanimate," was the first performance at Pierce since 2019.
The Pierce Arts Department partnered with Charter High School of the Arts Multimedia and Performing (CHAMPs) to deliver a three-day concert, ranging from films of dances detailing the struggles with COVID, to ones celebrating Latin culture.
Artistic Director Denise Gibson and dance professor Brian Moe led the concert.
"We've been off the stage since fall of 2019, so to come back and do anything, especially to have a high school with us too, feels great," Moe said. "We're so excited and proud of everything the dancers have done, along with the student and faculty choreographers. We couldn't be more proud."
Moe directed, choreographed and made the musical scores for two of the dances. 
"We did one film piece, which we filmed on campus over five or six different weekends, on top of rehearsing for the other piece at the same time," Moe said. "It was a long process with a lot of editing, and I did the scores for both of them, which led to no sleep, but it was worth it, and I was so happy with how they turned out."
Moe and Gibson shared optimistic views that the concert would allow for current Pierce art and incoming students to feel welcomed, while highlighting the art program's reanimated presence on campus.
"We're hoping this really gets some great attention, and people realize dance is back at Pierce College, and we're going to revitalize with what we can," Moe said.
Following the spring and summer semesters, Moe will lead the Arts Department in the upcoming fall semester.
"I'm hoping to either get CHAMPS, Taft or another high school, such as when we've had VAAS (Valley Academy of Arts and Sciences) in the past," Moe said. "We're hoping to get one of them in with us and get more students involved, more student choreographers, more people auditioning, and we're really hoping to build back the department strong."
Gibson referenced the work that led to the concert, and how much the students had to prepare.
"I think it was really important for the students to become more active, and I think they got accustomed to sitting down a lot," Gibson said. "Just on a level of physical fitness, it's been really rewarding to see everyone get back in shape, get motivated and excited to dance again."
Many of the performers came back after a multi-year hiatus.
"Especially in the last dance piece, a lot of the students were with me pre-COVID, and they came back when they were able to for in-person classes," Gibson said. 
Pierce arts student and dancer Alejandra Leon looked forward to the concert for some time.
"I think it's really exciting getting back to it and finally being able to perform and be on stage, and kind of reminding people what the arts are really about is so special," Leon said.
Having been away from the dance program was difficult for Leon, but she was happy to return to reunite with other performers.
"It was really emotional having been at this school and dancing for as long I have been, and finally being able to perform and return with professor Gibson. Dancing and seeing everyone that we used to work with is really fun and truly an amazing feeling," Leon said. "In a way, it's very much a stress reliever."
Leon offered advice to incoming students who are interested in the arts and dance programs.
"Have fun with it, be yourself, and show your personality, because it really shines on stage," Leon said. "It is really nerve-wracking coming in, especially as a new student, but everyone here, especially in the dance community, is really sweet and welcoming."