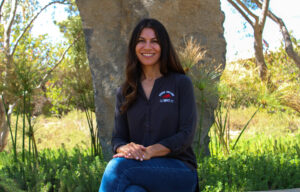 Pierce articulation officer Cristina Castelo Rodriguez received an award for her Superior Work in Advancing Statewide Transfer Evaluation by CollegeSource, an online database and resource center helping students with academics and transfer.  
Rodriguez provided the California identification number system (CID) for courses to CollegeSource and they programmed it into their system. 
"It took probably a month to be finished," Rodriguez said. "I saw that the Cal states did something similar, and I said, 'gosh, it would be awesome if the California communities had something like this."' 
According to CollegeSource, "TES® empowers users to quickly locate course descriptions, route and track the evaluation process, store, manage, group, and publicize the resulting equivalencies and employ powerful algorithms to generate lists of equivalencies between institutions." 
Roriguez saw a gap in the accessibility of transfer knowledge in the community college systems and went to work. She created an initiative to add course tags to CollegeSources' Transfer Evaluation System (TES). Transfer students in the California community college system now have access to a CollegeSource database that knows what courses transfer from a California Community College to any other institution in the system.  
TES currently utilizes 170,00 catalogs containing nearly 140,000,00 courses from more than 7,000 colleges.
Several California Community Colleges are already utilizing the data provided by Rodriguez, and she said that she hopes it makes a difference for students. 
"I originally just wanted to find a better way for Pierce to do faster articulation, and I didn't even realize 'oh wait, this is gonna help everybody," Rodriguez said. "I just hope that this makes a difference for students in the California community college system and statewide."
Rodriguez said that she's proud of the work she's done for transfer degrees. In 2016, Pierce offered 17 degrees for transfer. And for this year, they offer 31.  
"Students don't realize I'm doing it, but I'm making an impact on their lives and ability to transfer," Rodriguez said. "I spend a bulk of my time in the summer going through every single agreement to see if we're missing something, and then I send a proposal to the colleges so that they'll take our classes."
Interim President Aracely (Ara) Aguiar said that she appreciates the work Rodriguez had done and appreciates faculty for working hard.
"I'm proud of all the things that are being done. I think it is great for our faculty," Aguiar said. "These are individuals that have gone on and done incredible things. I don't think that there is anything more rewarding for a faculty member than to see others succeed."
Roriguez was nominated for the award by a CollegeSource products solution specialist who saw the effort and importance of her work. CollegeSource Product Solutions Specialist John Panzica worked directly with Rodriguez as her liaison and said she's exceptional.
"We look for individuals who go above and beyond to help in the transfer student experience,"  Panzica said. "She is essentially a code champion."
Regardless, Rodriguez is proud of her work at Pierce. Her number one focus will always be ensuring her students have the opportunities and resources they need to succeed. 
"My work in this way is helping students to get priority consideration," Rodriguez said. "It's really helping our students have so many options."
Rodriguez has served Pierce as an Articulation officer for nearly 20 years and she stated that she plans to keep working on behalf of students no matter where she ends up.
 "I love my job," Rodriguez said. "I'd love to stay at my job, but I'm open to whatever change comes my way."