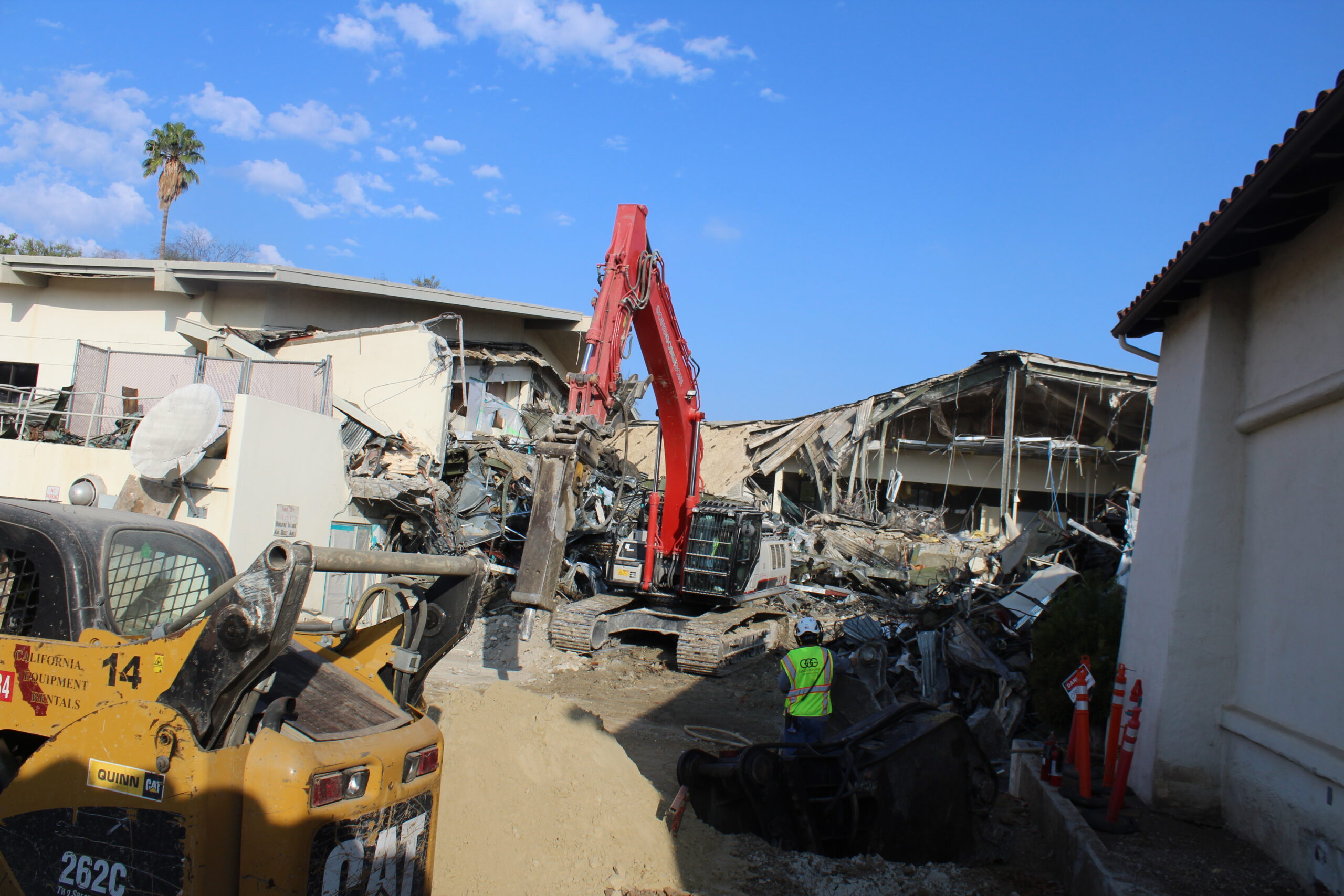 Gloom and fog hung in the air at dawn, as Pierce College began a new era, phasing out the old Library building to make way for a new structure to provide students with modern amenities.  
The first phases of the former library building demolition project were completed as planned on Monday morning, despite the actual excavation process being postponed by one day due to a personal issue with the equipment operator. 
Laborers in hard hats and yellow vests could be heard working and talking amongst themselves within the boundaries of the temporary fencing that continues to block off the old building from the public. 
Piles of debris and concrete could be seen outside the back left side of the gutted structure. 
 Above the former library on the hill leading up to the Performing Arts Parking Lot were two dormant excavators, as the "crunch and munch" method will be used to take the building down.   
"The prep work proceeded and was completed as planned, but the actual demolition will start tomorrow morning," said Marco Tarantino, the former College Project Director, on Monday. 
There was plenty for the laborers to do, despite the setbacks. 
Daniel Jesus Garcia, one of the laborers of the project, said that they did the prep work for dust control, and that piles of concrete were going to be loaded onto Super 10 trucks on Tuesday.  
"Safety is key when it comes to these things because the power is still live," Garcia said.   
Excessive sound and dust were not an issue on day one. 
Ehsamzadeh Farahnaz, a payroll assistant whose office is near the demolition site, said that letters were sent out to staff to alert them of the activity. Farahnaz said that she was not disturbed by any extra sound. 
"We welcome change. We should cooperate with the changes," Farahnaz said about the ongoing demo. 
Elizabeth Delgado, a Retail Management and CHW Major who has classes in front of the former library building, said that she is for these changes and renovations. 
"You've got to continue to revise and to make the buildings compatible and safe for the students," Delgado said.  
According to the Bond Construction Management team, demolition will be from 7 a.m. to 3 p.m. each day, and should be complete  prior to the Thanksgiving holiday.