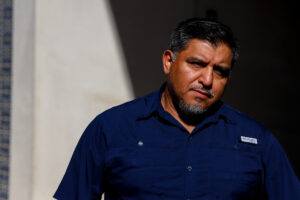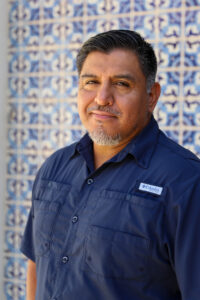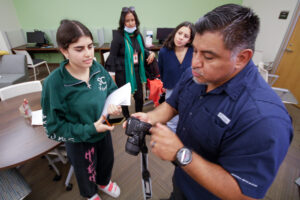 A Pierce College journalism student watched the Tampa Bay Buccaneers defeat the Oakland Raiders in Super Bowl 37 48-21 on Jan. 26, 2003, when he turned to his father and said "Someday I'm going to be on the field taking pictures of the Super Bowl." 
Associated Press (AP) photographer Julio Cortez has since covered four Super Bowls, four Olympic games, the 2014 FIFA World Cup and shared the 2021 Breaking News Pulitzer Prize for his lead photo in AP's coverage of the riots following George Floyd's death. 
Cortez returned to Pierce and spoke to photography students about his journey from an undocumented immigrant to AP photographer and his award winning photograph on Oct. 17. 
Cortez was photographing a burning liquor store and powerline. He took a moment to take a sip of water when he noticed a protester walking by while holding the American flag upside down. 
Cortez recognized the upside down flag as a signal of distress. He followed the man and kept taking photos until the flag was wholly illuminated by the fire in the window. 
"It just felt like 'wow I can't believe this happened to me,'" Cortez said. "Normally you don't see Mexicanos or Latinos exposed like this." 
In a video posted to his Instagram, Cortez, alongside his wife Emily and two sons, immediately burst into tears upon seeing his photo announced as the winner of the 2021 Breaking News Photo Pulitzer Prize. 
"I relate it to winning the Super Bowl or winning the World Cup," Cortez said. "Like when Juilo Urias threw that last strike to win the World Series in 2020." 
Cortez strives for diversity in newsrooms and shared that the 2021 AP staff photo directory page only featured men. 
"While I don't get involved in the conversation of it, I'm aware that we need to change that," Cortez said. "Luckily, we had two Latinos on there, which is great. But I want to get more, I want to get Latinos on there, and black women and more Asian people."
Cortez's father, Julian, earned his U.S. residency during the Reagan administration and snuck his family into the country. 
"When I was 10 years old, I migrated to the U.S.," Cortez said. "I crawled through a hole in the chain link fence in San Ysidro."
But it would take Cortez 13 years before he became a permanent resident.
Cortez decided to attend LA Valley College and Pierce College until he became a citizen to avoid paying out-of-state tuition at California State University, Northridge (CSUN). 
Cortez was working as a sports reporter for the LA Daily News while attending Pierce. His path to becoming a sportswriter diverged into photojournalism on September 11, 2001. 
That morning, Cortez left his political science class early and headed to the LA Daily News office in Woodland Hills to help with anything the editors needed. 
In order to get to his desk, Cortez had to walk through the photo department. He couldn't ignore the sea of photos from the wire services of what was happening in New York City.
It was there that Cortez was enamored by AP photographer Suzanne Plunkett's photo of people running from the Twin Towers that were collapsing. 
"I saw the images of what happened in New York and I saw how important they were," Cortez said. "I thought 'Man, these images are our future.' They're gonna be talked about forever. I want to do that. I want to be right in the middle of all the important stuff." 
Cortez stressed how important it is to network and meet the people who are currently working in the field. 
"Whenever you get those cards from the pros, hold on to them, they're your golden ticket," Cortez said. "Nobody's gonna walk into this business, especially the way this industry is now."
Photography student Genesis Medrano said Cortez's photos resonated with her and that she was glad he gave hard-to-find advice. 
"There's not that much information that's given about how to really get into the industry," Medrano said. "And he told us."
Cortez said that when he was a student, established professionals coming by to share their experiences didn't happen often. 
"You have the same chance as long as you work really hard and put in the effort," Cortez said.