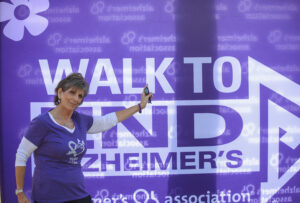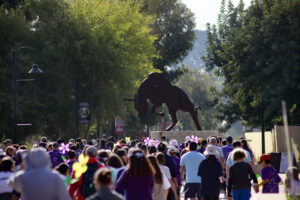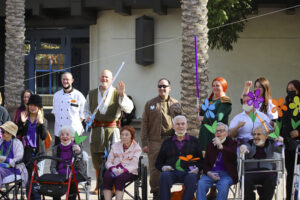 Carter came back to the stage to start the march by first having people hold their promise At the crack of the golden hour, volunteers and Girls Scout troops helped setting up nearly two dozen booths for sponsors and event organizers to sign people on, giving people symbolic pinwheel flowers ranging in orange, yellow, blue and purple to plant within the fenced "promise garden" where it also contains "END ALZ," that reads in big, bold purple all-caps font. And just behind the garden, lies a select group of foldable white chairs, where posters containing sponsors' brand names are ready with the DJ playing upbeat style of music.       
"We got involved in this because we have a grad whose mom works for Alzheimer's and her grandmother passed away from Alzheimer's not too long ago," Girl Scout troop co-leader Sharon Hager said. "It's something near and dear to them, so they reached out and here we are."    
The event taking place at Rocky Young Park on Sunday, October 16, drew in 314 registered participants and 52 teams who managed to reach 73 percent or nearly $77,000 of Alzheimer's Association's overall campaign goal, where they plan to raise $105,000 by the end of December.
The walk started around 9:15 a.m. where participants circled around campus, passing by Lot 1 to the Avenue of Champions and through Olympic Drive.
Fern Kaufman, a resident from Sunrise Senior Living, said that she thinks the event is beautiful.  
"I was somewhat famous when I was young," said retired Los Angeles County deputy district attorney Clarita Karlin. "I was a singer—and we'll be singing again."    
Karlin and Kaufman along with the seniors with Alzheimer's and dementia from Sunrise Senior Living sang Irving Berlin's "God Bless America", Jack Norworth and Albert von Tilzer's "Take Me Out to the Ball Game" and Francis Scott Key's "The Star-Spangled Banner".          
After their performance, speakers such as film director Susie Singer Carter stated that the Alzheimer's Association has raised money to fund more global research and about treatment that significantly decreases the progress of the condition.   
"Alzheimer's has destroyed our families, our finances and our future, and it's time to end it," Carter said. "Currently the (Alzheimer's) Association is investing $300 million dollars to more than 920 projects in 45 countries on six continents. This week topline results were shared from a phase three trial of a new treatment, lecanemab, the data shows a 27 percent reduction in cognitive decline in people with Alzheimer's disease."     
2022 San Fernando Valley Walk event chair Jeff Friedman said that the Walk To End Alzheimer's started three decades back.   
"We started walking to end Alzheimers with something called a memory walk," Friedman said. "And I cannot believe that 30 years later we're still doing this. I appreciate everybody who took the time to come out here today to show support."   
Friedman thanked sponsors including silver sponsors Best Palliative Hospice Care (BPHC) and Pacifica Senior Living, Valley Presbyterian Hospital who contributed to the promise garden, and bronze sponsors including Canyon Trails, Solid Care Home Health and Hospice, West Hills Health and Rehab, generations concierge, The Commons, Sunrise Senior Living, Dynamic Nursing, M.A.P.S. San Fernando Valley, Cardea Hospice and Palliative Care, Q4 Active, Alameda Care Center, Silverado and the Village in Sherman Oaks.  
Edward Jones financial advisor Jake Rosen spoke on what Edward Jones plans on doing and about his personal story of losing his grandfather last year who fought with Alzheimer's for five years.     
"Since 2016, we have sponsored $30 million dollars towards the Alzheimer's Association and we pledge another $20 million dollars over the next five years to help try to end this disease," Rosen said. "Obviously, I'm here to represent Edward Jones, but I'm also here fighting. My family and I lost our grandfather to a five year battle with Alzheimer's. I'm committed, Edward Jones is committed and I know you all are committed to ending this awful disease."   
Friedman also thanked volunteers including top individual fundraiser Sonja Grunden Raymer who raised $2,651 and top team fundraiser Golden Goldberg's who donated nearly $7,000.  
Representative for Congressman Brad Sherman (D-CA) Kimberly Caseres presented and awarded Friedman with a certificate of excellence for his dedication to the Alzheimer's Association on behalf of Sherman.  
"Everything that you guys do is monumental," Caseres said. "There are millions who face this type of issue with Alzehimer's and dementia and this organization is standing alongside all of you and I'm personally affected by this too, because I also have a family member that has been going through Alzheimer's for a number of years."        
flowers up high. Those who were holding up orange flowers are in support of ending Alzheimer's and dementia. People with yellow flowers are looking after someone with Alzheimer's/dementia and those with blue flowers are affected by Alzheimer's/dementia. And people with purple flowers in their hands are those who had lost someone to either one.  
"Like flowers we don't stop when something is in our way," Carter said. "We keep pushing through and pushing for a breakthrough in the fight against Alzheimer's and all other dementia. With this colorful display of determination, I am confident that one day we will add this flower to our garden, a white flower that represents the first survivor of Alzheimer's. Until that beautiful day happens, we must not back down." 
"It's something that people don't talk about," Alzheimer's Association Volunteer and Solid Care Home Health and Hospice Community Liaison Priscilla Purganan said. "You know it's part of life and everybody goes through it and even myself because of my age. I think by getting involved, it's an eye-opener."  
The main coordinator of the event Lori Blumenthal shared how she lost her grandmother to Alzheimer's and how she and others will never stop. 
"We'll continue fighting until we find a cure," Blumenthal said.