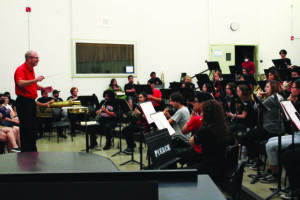 The Pierce Symphonic Band and the CSUN Wind Symphony performed together on Thursday in the music department's room 3401.
Music Department Chair Wendy Mazon welcomed attendees to the event and introduced CSUN's professor of music and director of bands Lawrence Stoffel. 
The two met over the summer, and Stoffel thanked Mazon for making the performance possible.
Both conductors introduced each piece of music with a brief description of its background and  of its composer.
The performance began with CSUN's band with a fanfare by Rafe Von Williams called The Flourish for Wind Band. 
"It is the epitome of British elegance and British style," Stoffel said. 
CSUN Wind Symphony played Incandescence by Richard L Saucedo, a composer who arranged primarily for competitive marching band shows and concert music. 
A theme of the evening was America, as heard through Timothy Broege's "America Verses", which was written at the end of the 20th Century.
Broege wrote that America Verses is not a conventionally celebratory piece of music. It is for each listener to determine the message of this work – to decide whether it ends on a note of despair or in a mood of hushed optimism.
CSUN performed Epinicion by John Paulson, which Stoffel described as haunting and poignant. Paulson was moved by the struggle that the nation was going through during the Vietnam War when he wrote this piece. 
Finally, Stoffel encouraged the audience to dance if they wanted to when CSUN performed the last piece by French composer Camille Saint Saens called Pas Redouble.
"He's a biggie from the 19th Century," Stoffel said. "He would be like a Beethoven or a Mozart in terms of importance and notoriety." 
CSUN cleared the stands and made way for the Pierce Symphonic Band. 
The set was kicked off with a version of the "Star Spangled Banner" as arranged by Pierce Music Composition Instructor, Dr. Alexander Zhu.
Pierce then played "O Magnum Mysterium", which Mazon described as an endurance piece.
"That was just a long blow for their chops," Mazon said. "It takes a lot of endurance for their mouth muscles. A lot of long notes on that one." 
After "O Magnum Mysterium", Mazon explained to the audience that "Chase the Shouting Wind" by Vince Gassi was in 5/4 time. She told the right side of the audience to clap to one beat and the left side of the audience to clap to another beat at the same time to show them how difficult it may be to play in a quintuple meter.   
The show concluded with the two bands, 70 musicians, playing together and conducted by Mazon. They ended on a piece by John Philip Sousa called the "Quilting Party March". 
Fernando Cortez Osuna, a Music Performance major at CSUN and trombone player, said that the concert was a good experience.
"It was a really good experience meeting another trombone player from another college that is near to my university," Osuna said. "It'salways good to have the networking in."
Spencer Bowen, the tuba player for Pierce Symphonic band, said that it was nice to be able to play with other great sounding musicians.
"There is no other feeling or experience like playing live, especially, in this instance, playing with people I have never played with before," said Bowen.  
Mazon said that the Pierce Symphonic Band is going to be performing all these pieces and more on Saturday Dec. 10. More details to follow.