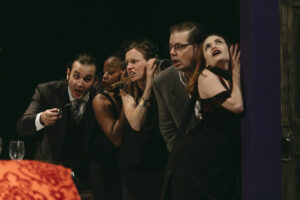 Was it Colonel Mustard in the library with a candlestick? Or was it Mrs. White in the lounge with a knife?
 Get a clue and find out who killed who when "Clue" opens at the Pierce College Theatre on Oct. 28. 
The murder mystery, based on the board game and 1985 film, is set in a mansion where six guests are invited under suspicious circumstances.  
"Bodies start popping up and everything," Vaaz said. "Everyone suspects everyone of the murders." 
Vaaz said the biggest challenge of getting this play together was the enormous amount of detail.  
"Props being moved from one place to the other," Vaaz said. "The bloody knife, the unbloody knife, what's in the purse, what's not in the purse, all of that has been kind of excruciating to work on."
Vaaz said that the play has a lot of silly physical humor. 
The play features eight actors who never leave the stage during the entire production. Vaaz said the audience can expect the actors to fully embody their characters. 
"The actors love this material," Vaaz said. "They really grooved on the writing of it. They find it funny."
Costume designer Sarah Birke created bright costumes to match each actor's intensity. With colors based on the character's pseudonyms, the audience will be able to easily tell who is who. 
"Everyone's screaming, everyone's running around," Birke said. "So I wanted the costumes to be big and bright to match that kind of crazy energy."
Birke landed the job at the end of the Spring 2022 semester. Birke dedicated her time out of Pierce planning for the show. 
"I started designing at the end of the last semester," Birke said. "Once I heard that I got the job, I pretty much just spent the entire summer sketching and doing random things."
Actress Laura Lyles was inspired by a famous Disney villain in portraying her character, Mrs. White. 
"[Mrs. White is] obsessed with death and she's very dark," Lyles said. "I envisioned how Cruella De Ville kind of talks, so that's how I got it." 
Lyles said that audiences will enjoy Vaaz's vision on the cult classic.
"I definitely think that people will love this play," Lyles said. "It's funny. It's outrageous in a very cool, comedic way and you have a lot to explore."
Actor Itzhak Matos landed the role of Wadsworth, the butler who keeps the plot moving. 
 "It's been a challenge to play all these different colors," Matos said. "First he's a very calm, well spoken, confident character and as the play progresses, you see his other colors come out in sort of extreme circumstances." 
Matos said each character has something special.
"Each character is so unique, and each one of [the actors] is given a great challenge to put on these wacky characters," Matos said. "They all have their little quirks and the way they move and the way they talk."
Matos said one of the deeper meanings behind "Clue" is a light-hearted look at the fear of McCarthyism and communism. 
"Although that's a serious topic, we play off with that in a very comedic way," Matos said.  "Constantly questioning each other and suspicious movements and interactions and banter between characters. I think it's the idea of blaming the other person or being suspicious of another person because you don't fully understand why they are the way that they are."
"It's a wild ride," Vaaz said. "It's crazy and madcap and very silly. I think it's very appropriate for Halloween." 
"Clue" runs from Friday, Oct. 28 to Sunday, Oct. 30.  The shows on Friday and Saturday are at 8 p.m., while on Sunday it begins at 2 p.m.
Tickets can be purchased at https://cluelapctheatre.bpt.me.
Note: David Pashaee contributed to the story.