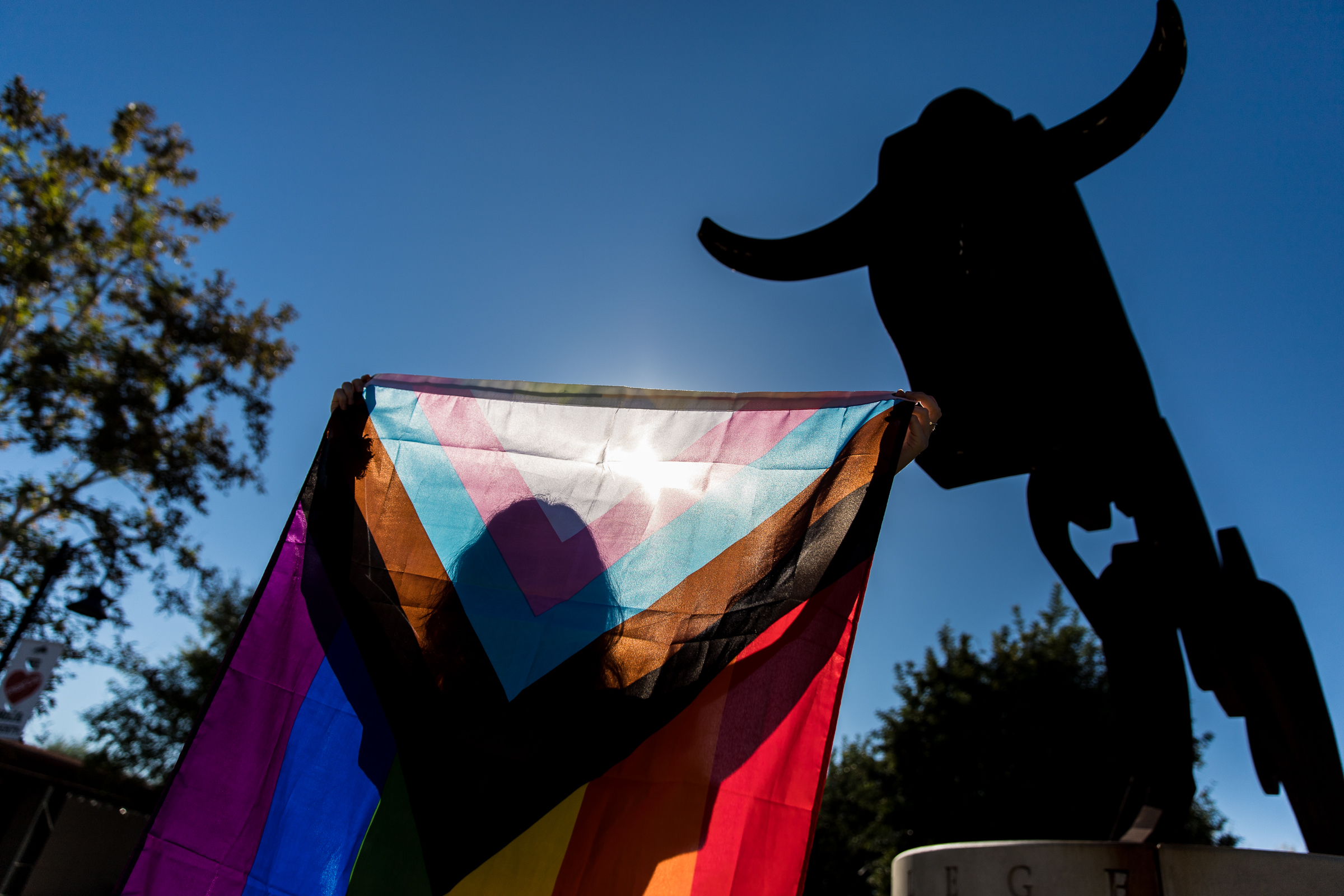 For 2022, the Los Angeles Community College District (LACCD) kicked off with a list of hybrid events to celebrate October as LGBTQIA+ History Month.
The activities included film screenings, talking about the historical contributions of queer, trans, gay and other allies of color had on the movement, and bringing awareness to the spectrum of people in the community.  
Pierce College along with its sister colleges participated in hosting various events such as with Oct. 11 celebrating National Coming Out Day and East Los Angeles college holding their flag raising ceremony and ribbon cutting for their Husky Pride Center.  
This is a part of LACCD trustees' promise of upholding the LGBTQIA+ Bill of Rights Resolution for students, faculty and staff that passed on Oct. 8, 2022.  
Librarian to Arts, Media, Performance and Design (AMP'D) and Associated Student Organization (ASO) club advisor Mario Macias to the Power to the People Student Coalition, said that designating October as LGBTQIA+ history month is good, but he asked what are the next steps taken to ensure students have their needs met. 
 "I think it's good at the district level, the Board of Trustees, are acknowledging the need to advocated of LGBTQ student rights and needs, but these past resolutions they're just symbolic documents so it makes me wonder like what kind of resources have actually been emerging after those resolutions across the nine campuses of the district," Macias said.     
"At some point not only do we need to support the student clubs that might self-organize on campuses but there should be a more collective effort to unite all the campuses and all the student clubs and maybe all the pride centers or LGBTQ resource centers so that all the campuses of the district are actually helping students," Macias said. "If we raise a flag on campus that's cool, but at what point are we actually contributing to the life of our students?"  
Pierce stage manager Roya Row talked about how she felt confused about National Coming Out Day and whether the days celebrated for queer people are inclusive enough. 
"One of my classmates told me it was coming out day and they weren't sure if they were supposed to say happy coming out day, so they were just telling me as news and they were looking at me waiting for me to say something," Row said. "And the thing is that coming out for people is different, it's not just like one action just coming out and done, because I am out among my friends and at school and some of my close family members, but not completely out."
"But also there's the fact that when there's a day for one thing, it could make a lot of people in between feel like is this a day for me too? Maybe for these days just like how LGBTQ has a plus, these days also have to include the plus because we are humans and we're not robots," Row said.    
Physics and Planetary Science Department Chair and Astronomy Professor Dale Fields said that it's great that our district sees the need to reinforce their communal support for LGBTQIA+ people and take action to celebrate their past.  
"I'm really glad that the LACCD sees this as a priority and it's certainly gives validation that queer folk like me are seen and I think that's especially helpful for other students to know that there's a lot of people out there that value them and want to see them do well," said Fields who also has hosted a few events on Pierce with the Queer/Gay Straight Alliance. 
"And I'm really glad to see the dedication of people that are producing events like the history of Queer Los Angeles which was screened over at East LA on National Coming Out Day. Our district is not just saying things matter, but then actually doing events and bringing people in to demonstrate that they matter," Fields said.  
 And with October honoring the efforts of historical figures who contributed to milestones, there is still work that needs to be done, including having a pride resource center on campus that's open for students, staff and faculty.      
"Well for Pierce, since we don't currently have a LGBTQ student center, space or coordinator, it would be highly valuable for all students because a lot of our students are traditional students coming from high school and they might be exploring and needing that type of sociological education about the gender and sexuality spectrum," Macias said. "It would only be helpful not only for the student body but also to the employees of Pierce to learn and advocate for all the inequitable struggles that LGBTQ students or people in Los Angeles might be facing." 
  "And most of those struggles overlap the main struggles the average student faces. Like housing insecurity and food insecurity, but the value of having a student center space for the LGBTQ population at Pierce is something that I know the administration is aware of and working towards," Macias said. 
Dean of Student Engagement Juan Carlos Astorga agrees and acknowledges that Pierce is going to be doing something regarding setting up a pride resource center on campus. 
"I think what I do want to do is encourage our campus to consider a space where we are able to then allow for individuals that maybe fully out and accepting of themselves or maybe beginning the conversations with themselves of am I or am I not, but more so giving them the opportunity to just be," Astorga said.  
As of now, it's quite unsure where Pierce would place their pride center and Macias said in general Pierce should consider making more space available for their students to utilize.   
"At some point we literally just need more space for students, even if we repurpose the space, like if the administration is going to hire somebody to be the LGBTQ coordinator for Pierce, is that funding going to be institutionalized so it keeps going? The emergence of the multicultural center is a great thing for Pierce, so we'll see," Macias said. 
Astorga added that the district had given $25,000 to fund activities and programming for the LGBTQIA+ community, and for the long term he's considered putting more effort into doing additional training and for Pierce to show up for their students.  
"I think what I like for us to consider institutionally is beyond just thinking about a pride center in the future, but how do we become more intentional in doing safe-zone trainings, and being able to publicly put out," Astorga said. "I would love to raise the flag on this campus, and one of these days and not to say that I don't want to see the California flag, but putting up the pride flag, but really on a visible way just say look this institution supports and is going to champion the rights of all, and in particular our queer community."