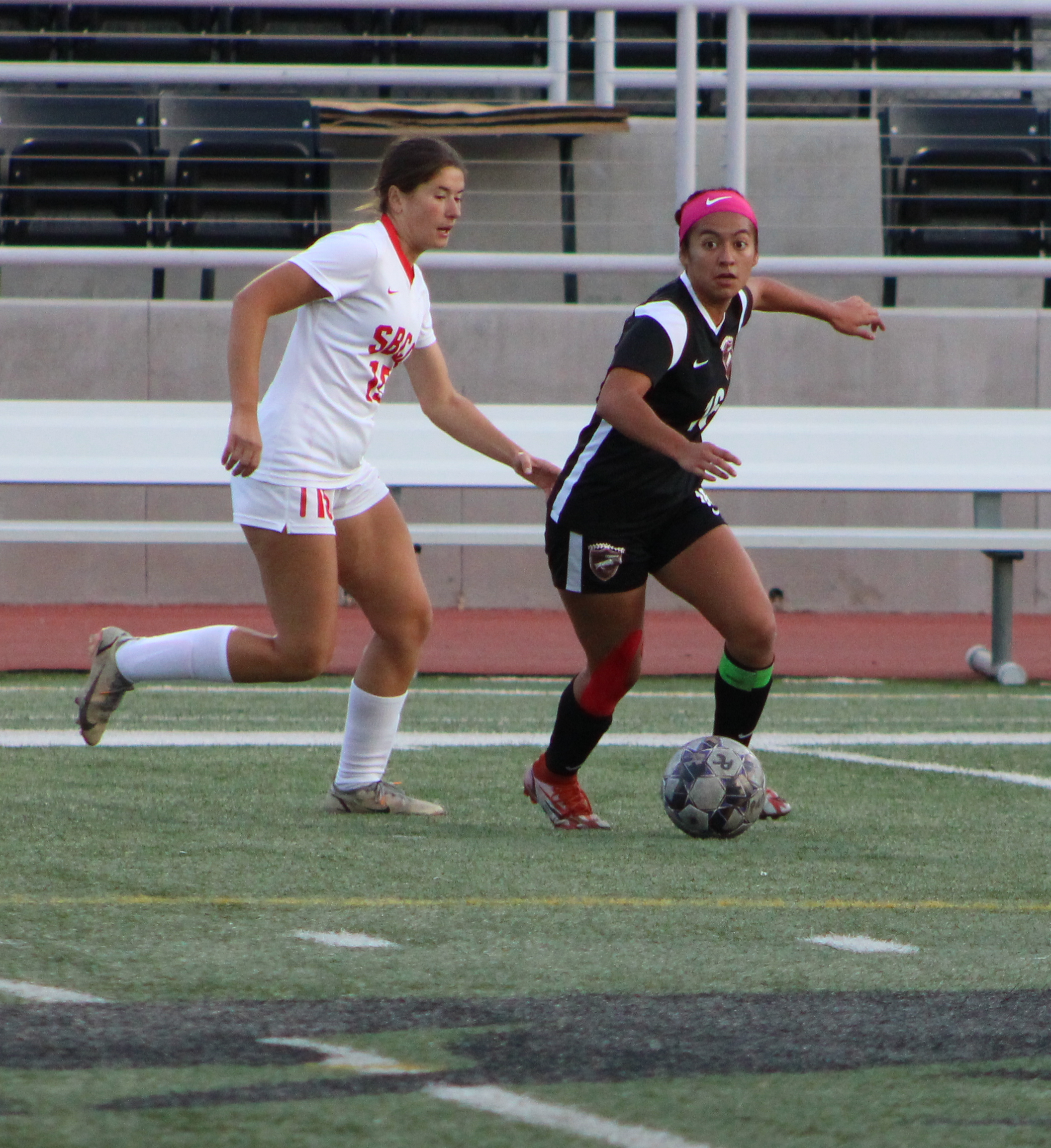 The soccer team earned a crucial win on Sophomore Night as they booked their spot in the playoffs.
Defender Natalia Puccio scored the only goal as the Brahmas defeated Santa Barbara City College by a score of 1-0.
Puccio said that the game had big stakes. 
"I thought it was a very intense game, we all came in the game knowing how big it was, and that they are in first place," Puccio said. "I was happy to get a goal in early on and definitely set the tone for both teams."
Head Coach Adolfo Perez said that this win was special.
"Wow, Unbelievable, we just beat the number 14 in the state, which is there number 4 out of 140. So, it's very impressive, this is their first loss all year in conference. To do It in front of all these people, it's just special and then to make it on sophomore night it's like a perfect script," Perez said.  
The amount of grit and determination was seen on the field Friday night due to the number of players covered in scrapes and abrasions.  
Forward Alexandra Meza said they put everything into this win.
"I thought we played very tough and strong and definitely showed up to win and just put our hearts on the field," Meza said.
Sophomore Night celebrated the sophomores that are going to be moving on after this season.
Meza was overwhelmed with emotion as she saw her photos being displayed on the very platform that she saw previous players being showcased. 
"I teared up when I saw them have my photos and just definitely felt very appreciated, so I got very emotional," Meza said.
Puccio continues to show great tenacity as she plays a part of the defensive unit. 
"Recognizing our sophomores last year was such an amazing feeling and I was like so excited knowing that I was coming tonight on sophomore night," Puccio said. 
The team's success couldn't have happened without Perez, his experience and expertise has helped create the dynamic team that competes at high levels. 
"We defended, we were engaged, we were focused, and we defended well. We defended like we have not defended all year," Perez said. 
Amazing work ethic mixed with dedication and aggression is reflected in Perez's coaching and in the Brahmas statistics. 
The contributions of everyone involved with the team have helped the Lady Brahmas achieve great success, and the team hopes to come back to the next game stronger than ever.
Perez wants the Brahma's energy and consistency to remain steadfast. 
"In the playoffs, anything happens, because it's one game, so you win, you go on, you lose, it's over. "So, we expect to play well, if we play like this, we have a great shot to go far," Perez said.
With the win, the soccer team improves to 12-2-5 and will travel to Moorpark College next on Veteran's Day. Kickoff is scheduled for 3 p.m.