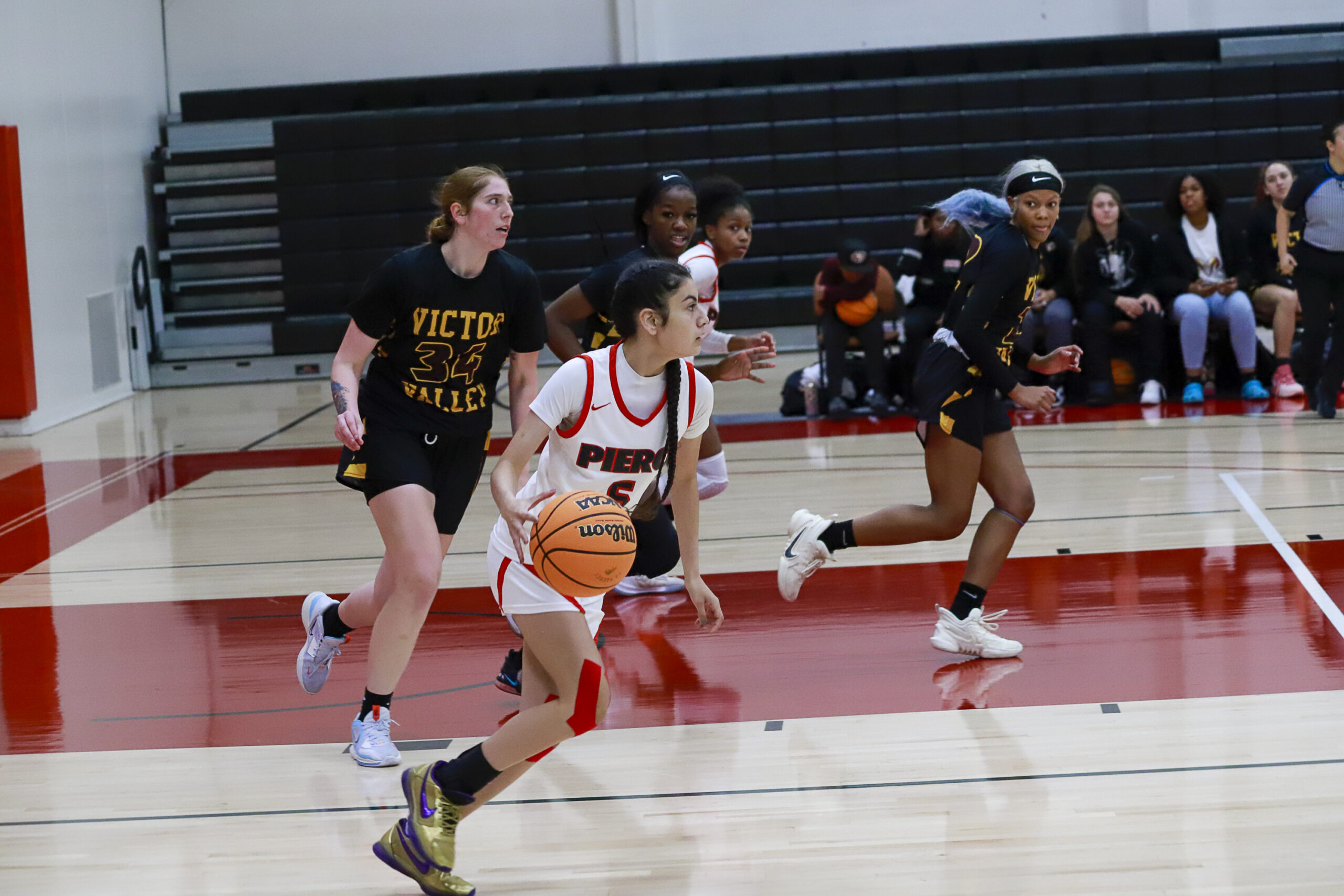 The Brahmas lose their home opener to Victory Valley College with the final score of 86-18.
Newly hired head coach Thara Innocent believes this game served as an opportunity to grow and access what the team needs to improve on.
"We had a lot of injuries today and tried to do the best we can due to the injuries we had on the team and also it being a new team with different dynamics, age groups, and situations going on," Innocent said. "We assumed it would be a different outcome of course, but this is only the second game in, and we have a nice lengthy pre-season to work on stuff and hopefully when it's time for conference we will be competing."
Despite losing their home opener by 68 points, the team remains optimistic about their development, synergy, and success as the season progresses.
"I think we did a great job," Forward Tijera Henry said. "We're still getting to know each other and still learning how to do a lot of things, and I think compared to the previous games we've improved a lot, and I think playing these elite teams is what we need and we can only get better from here."
While the team lost a tough game, Guard Nyia Freeman shared only positive feedback about the team's performance.
"Only good thoughts, and it's a lesson learned," Freeman said. "We have a lot to work as a team but we're all strong in our own way, and everyone has their own individual swag to them, and we gotta find a way to work together and harness that energy, protect it, and keep pushing."
Victory Valley College's performance was surreal, as they were able to get a lead early and distance themselves from the Brahmas with every quarter. Their game plan of constant pressure from employing both full court and half court presses, resulted in most of the 30 Brahmas turnovers.
The Brahmas' quick turnovers in the back court led to many fast break points by Victor Valley College, and with the large amount of empty offensive possessions, Pierce found their team in an ever-growing hole. 
The lack of chemistry and experience playing together among the Brahmas was evident, as they struggled to get in-rhythm and set shots even when they passed half court. Many errant passes were the result of Victor Valley's tight set defense, which ranged from zone to man, and the Brahmas' lack of familiarity in the half court offense.
"We need to improve how we respond to pressure and work on making adjustments and I believe this will happen but we just have to keep on fighting," Innocent said.
Even with a dominating loss, the Brahmas had many scoring opportunities that they weren't able to capitalize on, at least at this point of the season.
"Their press was solid but as you saw we were able to break their press and we can break any press, and so it doesn't matter about their game plan but it's more about what we do and executing our own," Freeman said.
The women's basketball team aims on improving both their individual and team games moving following this loss.
"Personally, I need to learn how to go up stronger, finish the play, and make my free throws," Forward Tijera Henry said. "It's a whole process such as getting in shape and being able to go up and down the floor, as a team we need to work on that along with passing the ball and knowing each other on the court. We struggle with timing on when to do things, so we're still getting to know each other."
Guard and forward Jessica Maciel prioritizes working on both the team and her own passing as key elements in improving their offensive performance following the two recent losses.
"For me to have better court vision, because I dribble looking down a lot," Maciel said. "As a team for all of us to have better court vision and passes, no overhead but more chest or bounce passes."
Maciel is very optimistic about the rest of the season as the team continues to work together and build their chemistry.
"We could've done better, and they're a lot of things we need to improve on as a team," Maciel said. "We're working on that in practice, so I'm looking forward to better games."
Brahmas will travel to Antelope College on Nov. 16, tipoff is at 5 p.m.