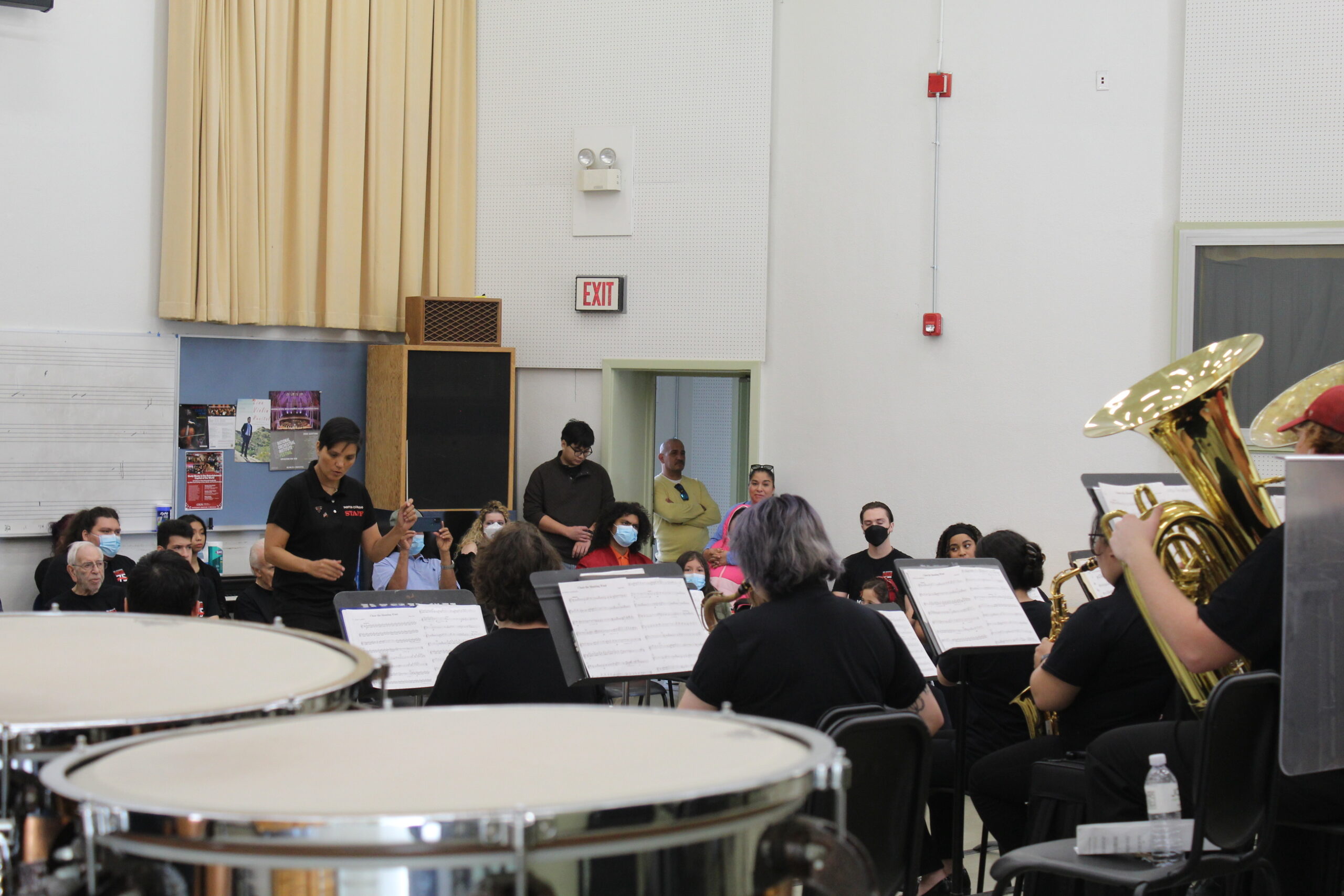 The hills were singing at Pierce College Saturday as two musical events took place simultaneously across from each other.
The All Valley Band Tournament hosted by Cleveland Charter High School Band Booster Club was held at the John Shepard Stadium while the Pierce College Music Open House was held at the 3400 and 3401 building of the Performing Arts Center. 
The Pierce College Symphony Band kicked off the tournament by performing a rendition of The Star-Spangled Banner arranged by Pierce College composition instructor Dr. Alexander Zhu and Festive Flourish, from the 1999 piece Theme Song composed by Mark Zuckerman.
But just as quickly as they performed, the symphony band, led by Music Department Dr. Wendy Mazon, left to prepare for the Music Open House, which opened again with the band and featured performances by Pierce faculty and students. 
"It's one of those things you got to do," Mazon said about doing double duty between both events as well as taking on the roles of coordinator, conductor and performer, speaking to the Roundup in the brief interlude before the next show.
It's a lot to take in so let's dive into the first event.
The All Valley Band Tournament was the first event of its kind hosted at Pierce and a partnership between Cleveland High School and the college. Over 20 high school marching bands from the Greater Los Angeles area and beyond were set to compete against each other to see who takes home the Sweepstakes Trophy, according to the event's online Eventcreate page. 
Band tournaments happen all across California with bands with as many as 100 people performing to audiences of more than a thousand, according to Mazon.  
"It's really exciting. There's lots of energy, so it's great to have something like that here in the valley," Mazon said noting events like the tournament don't happen here and hosting it at Pierce is something very special for the schools in the San Fernando Valley. "Hopefully we can have another event like this and make it a yearly thing."
The Pierce Symphony Band started at 1:30 p.m. Earlier than expected. 
"Sometimes you have to be flexible with what the event needed, so they moved us up," Mazon said. 
The forecast called for cloudy weather, which it delivered and more. As the band began, the wind made a musical appearance and attempted to disrupt their performance. However, Mazon said the band was prepared for such an occasion using their folders and clothespins to secure their sheet music. 
"The wind kind of felt good," Mazon said chuckling while describing how wonderful of a day it was. "Partly cloudy. Nice and cool."
The band performed a special rendition of the national anthem composed by Zhu which was arranged specifically for the band to perform at the tournament, while Zuckerman's Festive Flourish with its light and dance-like rhythm was supposed to embody what a momentous occasion the tournament was, according to Mazon.   
"It's the first time we've ever had a band festival like this on our campus so we wanted to open up with a piece that suited that." Mazon said.
Down by the stadium entrance, Applied Music Director Charlotte Wilkins operated the Pierce Music Tent and handed out Pierce College swag bags to passersby containing information about the college's transfer rates and music programs to get more students interested in attending Pierce. She said the tournament was a great opportunity for students.
"It's been a really great collaboration between Pierce and Cleveland High School, with our open house getting to allow our students the opportunity to perform, along with the high schools that have come in and all of the vendors from the community." Wilkins said. "It's just been really cool to see the community come together for music."
Wilkins did not have a chance to watch the show but said, "Getting to hear little snippets from out here of all of them has been really great." 
For Flutist Annie Yolo, the wind was a persistent problem during practice for the band, but their luck changed for the better when it came time to perform. 
"During the performance it died down a bit, which was good for us because we were able to project a little more over the slight breeze." Yolo said. 
Yolo, a Pierce College Student, said playing in front of a crowd was a good experience even if they were still trickling in, adding "It's been a while since I've been in a marching band, so it brought back some good memories, just being able to play in front of people, even if it was just for a little bit."
Trombone player Jose Espinoza felt the performance was more casual saying, "For one, it was the beginning of the actual performance before the majority of the people showed up so it wasn't as nerve wracking as it would have been if the stands were full of people. So it was nothing too crazy.
Trumpet player Aramar Mardirossian was nervous about the wind knocking over the band's music stands but, "We were fortunate enough that during the actual performance, our stands were relatively still, so it was all in all a great performance, and I'm looking forward to the show."
Asked if he was staying to watch the tournament, Espinoza said he couldn't because he was performing at the Open House but afterwards "I'm definitely going to head down there and check out the other bands because I hear some of them are big and have bigger field shows and there's schools with 100 students in the band so i'm definitely excited for those."
2:30 p.m. marked the start of the second event, the Pierce Music Open House.
The audience was greeted with the Symphony band warming up in MUS 3401. On Mazon's mark, the band began to play a series of 6 pieces, starting with Zhu's rendition of the national anthem.
From 2:30 to 5 p.m. the event offered performances in various genres by the Pierce College symphony band, jazz band, choir and musical theater. The event also had tents with swag bags and Music Club students sharing information about the music program and applied music program.
The Open House is another special event making its debut at Pierce College and offers a chance for the public to learn about what the college has to offer in regards to the music department, according to Mazon.
"This is a great opportunity for (students) to gain exposure," Mazon said. "It's also a great opportunity for them to network and it gives them work experience for whatever they plan to do in the future, whether they are going to be a music educator music performer, or someone even working in the studios just watching how these ensembles work and understanding how they might mic them and record them in the future."
During the performance, Mazon often engaged with the audience, asking them to participate in a polyrhythmic exercise and explaining why a particular piece was being played. In every performance, the performers focused their attention on Mazon and their sheet music. 
At one point, Mazon asked the crowd if anyone ever attended a parade with a marching band.
"Does Disneyland count?" an audience member was heard saying and the room filled with laughter. 
The band ended their set with John Philip Sousa's 1889 song The Quilting Party March.
"Now what we're going to do is pick you up and bring you over to 3400," Mazon said to the crowd after the performance. Pierce College professor of voice and choral music Dr. Garineh Avakian added, "We are inviting you next door to continue the festivities." 
In the next room, the audience was treated to an eclectic mix of music, from jazz to classical, to operetta to pop to oldies, with the repertoire chosen by the students and performance workshop, according to Avakian before the start of the open house.  
"I've been hearing them in class and verifying that they are ready for the performance and they've been given this opportunity to perform today." Avakian remarked.
The event also had tents outside with swag bags and Music Club students sharing information about the music program and applied music program. 
Such music included covers of Elton John's 1974 song Bennie and the Jets, Chris Issak's 1989 song Wicked Game and Panic! At The Disco's 2022 song Don't Let the Light Go Out with Staff Accompanist Lance Merrill as a musical guest for the first two songs mentioned. Faculty performances included Mazon on clarinet and Applied Music Instructor Dr. Jeewon Lee on piano. 
The Jazz band led by Applied Music Instructor John Storie followed after, playing a rendition of Bye Bye Blackbird, Herbie Hancock's 1962 song Watermelon Man, and Hoagy Carmichael's 1941 song Skylark.
For Pierce drummer Lorenzo Patino, the event initially made him nervous because he knew a lot of musicians and people, including his family would be watching him perform, adding to the pressure. 
"At some point I learned how to cool off, be more relaxed and throughout the performance, I was more calm."
Patino switched from playing Pop music to jazz throughout the performance and said the transition didn't come easy for him.
"I wasn't a jazz musician from the start. I was more of a pop drummer," Patino said. "As I joined the jazz band and as I was learning more about jazz, I got into the mindset of performing at a jazz standard and then I started getting the flow through jazz band and that really helped me."
The Choir and musical theater led by Avakian took the stage, playing renditions of Resilience, Give Us Hope, Seize the Day, and The Kids from "Fame"'s 1982 song Life Is a Celebration. 
The Open House ended with Panic! At The Disco's 2018 song High Hopes. 
"Know where you're going to go next?" Avakian was heard saying to the diminishing crowd. "We're going to go to the Stadium and we're going to hear more bands, more music."
Segue to the Stadium. 4:45 p.m. 
The Cleveland High School Marching Band was set to perform to audiences on both sides of the field. The band moves in a trance, mimicking the movements of a snake following their conductor who was on top of a platform. The unmovable persuasion section performed next to the platform.
Other performers also followed, with dancers waving batons that resembled a rifle and flag bearers that carried flags of gold, and then flags of red and yellow gradients. 
 Once their performance ended, the announcer said over the intercom there would be an extended break. 
The Pierce Choir ultimately could not perform at their scheduled time because there was no available sound system, according to Mazon.
"This was unfortunately a lost opportunity where they could have performed during the dinner break of this competition, where there will be literally thousands of people watching," Mazon said.  "So hopefully moving forward we'll be able to secure a sound system that we'll be able to use in the stadium."
On the subject of taking on multiple roles, Mazon said vacancies in her department made it harder to lighten the work.
"Unfortunately we have a lot of vacancies right now in our area including an instructional assistant who could have taken on  a lot of the responsibility with all the copying and flyers and organizing," Mazon said. "It makes it hard for us to make stuff happen, but thankfully, everyone in our department works hard, is putting in the extra effort and hopefully those positions will be filled as soon as possible because we really need them."
Ultimately Mazon hopes that Pierce students in both events got a sense of what it takes to perform in a large crowd, as well as building discipline and understanding how to organize.
"To be a part of something this big is great for the students," Mazon said. "Being able to play for the opening of the event is really special and gives them more performance opportunity and understanding that being a musician is a special and unique thing."