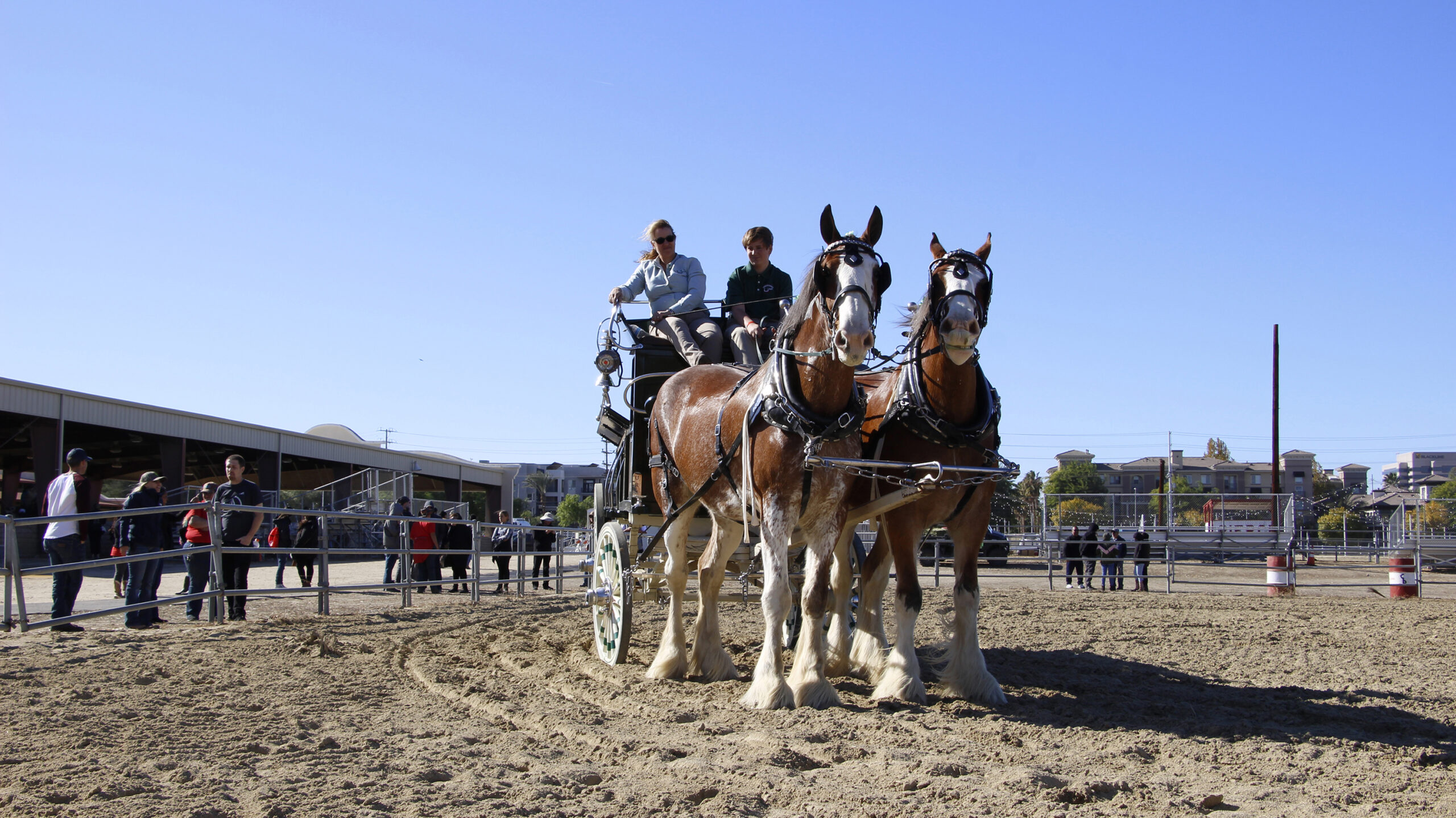 From Clydesdales to miniature horses, from San Luis Obispo to Compton, the equestrian communities rolled into El Rancho Drive and made Pierce College feel like the good old days again.
 After several years of hiatus due to COVID-19, The Parade of Breeds returned to Pierce at the Equestrian Center on Saturday, Nov. 19. The event was free for everyone on a sunny and windy afternoon. 
"We had people that came from as far as Riverside, San Luis Obispo, Santa Barbara just to show their breed off," said Adjunct Equine Science professor Nicole Land, who was one of the presenters at the show.
"We kind of had to start from scratch to find all the people to come and donate their time to us," said Equine Science major Ileana Martinez, who was the show manager. "Luckily we found a lot of great people." 
Martinez said that as a community, they can make things happen. 
"We had the Compton Cowboys here today and they are all about community, just like us," Martinez said. 
The Compton Cowboys not only took part in the parade, but they also participated in the show jumping arena and the color guard presenting the colors to kick off the event. 
Paris Scott of Compton Junior Equestrians rode Helio in the jumping arena as Professor of Equine Sciences Heidi Paul MC'ed. 
"Helio is one of the horses that I used to ride a lot," said Carlton Hook, Compton Cowboy and owner of Helio. "Our horses haven't been around flags in a while, but they didn't react too badly to the flags blowing around. It's about being really confident and really relaxed."
Land said that they may have had about 45 horses total there and 31 horses in the parade itself. 
One of the presentations in the horse carriage arena was by Unhitched Ranch. Audrey and Jackson Popoff of Unhitched Ranch showcased Clydesdales pulling a hitch wagon that one may have seen delivering freight 100 years ago in the United States.
Young riders also performed barrel races on ponies. 
The event concluded with the parade in the closed arena. Equine science students in attendance and other spectators alike were asked to guess the breed of each horse and the color of their fur as they were brought out.
Ileana said that she worked the night before until two in the morning to put the show together. The gusty winds that weekend presented a unique challenge to the execution of the show. 
Land said that the winds put the show schedule behind schedule.
 "I prayed for no rain, but I forgot about no wind," Land said.
Land also said that the Parade of Breeds event went fantastic with the amount of horses that showed up at the last minute.
"The whole horse community just came out of nowhere and it was just brilliant," Land said. 
The event was coordinated by students from the equine science department, from welcoming guests to selling snacks. 
"It is a way to connect to people and to get to know other people too," Martinez said. " You get to learn about different disciplines and different cultures."