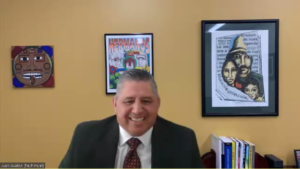 As the search for the college president continues, three new candidates were introduced to the Pierce College community in a virtual public forum on Friday. 
The candidates were Vice President of Instruction at Miramar College Michael Odu, former Academic Dean of De Anza College Gregory Anderson and Vice President of Student Services at Saddleback College Juan Avalos. 
During the forum, each candidate had 25 minutes to answer five pre-vetted questions.
Forum moderator Jeanie Nishime shared the questions, including what each candidate would do in their first 90 days, how they would boost college morale in a post-pandemic climate, how diversity and equity has been a part of their career thus far and how it will contribute to the impact they will have if they are chosen as the next president. 
The first forum took place at 9 a.m. and began with Odu, who emphasized the need for the Pierce community to work together as a team to effect change. 
"The key to fulfilling the mission of the college lies in the ability of every one of us working successfully as a team," Odu said. "It takes a village to raise a child."
Odu said that if he is chosen, he plans to integrate equity and diversity, not as an afterthought, but in everything the community does from the start.  
"We can no longer operate like factories or industries," Odu said. "Our classrooms or offices should never be treated like assembly lines. This is the future of diversity, equity, and inclusion. That is what it is to be an equity-minded leader, and the tenet of what it is to become a student-ready college."
Odu prides himself on being an immigrant and product of the community college system. He said he believes in the greatness of the system, but he also thinks that it can be so much better. 
Next was Gregory Anderson, whose overall message leaned heavily on his experience, his education, and how he would emphasize careful and intentional listening if chosen for the role. 
"For me, my role as president would be to listen – especially in that first month," Gregory Anderson said. "Listening involves the constituent groups, meeting individually with leaders, and spending time in the places where the work is happening."
Gregory Anderson has 30 years of experience in higher education. He earned a B.S. in Speech Communication and English from the University of Wisconsin, an M.A. in Teaching from the School for International Training, and his doctorate in higher education from USC. 
Lastly, Avalos focused on the idea of truly getting to know the Pierce community. 
"I want to learn your face," Avalos said. "I want to know your name and I want to learn about your story." 
Avalos plans to position the college to be successful by remaining visible, engaged and supportive. 
"I would be in the community meeting with individuals, with folks, with potential partners, making sure that we're a good neighbor, a good community member," Avalos said. 
Avalos brings 29 years of collective experience to the table in a variety of positions within the higher education realm. As a first-generation college student, he received his B.S. from UC Davis and went on to obtain both his M.A. and Ph.D. degrees from UCLA. 
Academic Senate President, Barbara Anderson, shared her thoughts on the candidates during the forum. 
"I look forward to seeing who the Chancellor moves forward and who the Board of Trustees eventually approves and supports as the next president of Pierce College," Barbara Anderson said. "Whoever that person is, I know that the campus community will work together to rally and support that person."
A public forum took place late last year, with a group of six candidates being considered for the position. Now with the additional three candidates, the Chancellor will make his decision along with the Board of Trustees. The final decision is expected to be announced in March.