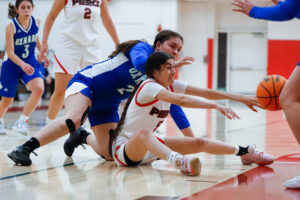 The Pierce College women's basketball team beat Oxnard 54-48 Wednesday, winning their last home game of the season.
The Condors put up a good fight, keeping the scoreboard tight the entire game and ended the first half sinking a buzzer beater three-point shot. However, the Brahmas were determined to finish the season strong. 
Going into the game, the teams overall record was 2-24, so Head Coach Thara Innocent knows how much this win meant to her team.
"For us to end our last home game with a win was absolutely incredible," Innocent said.
The team was in high spirits after starting the evening with a tribute to the team's graduating sophomores, forward Methara Rathnasiri and guard Nyia Freeman.
Athletic Director Susan Armenta said both Rathnasiri and Freeman will both be transferring to Southern California Leadership University on scholarships in the fall.  
"We're very excited because Methara and Nyia are going to be the first of our more recent squad to be able to transfer post pandemic," Armenta said.
Freshman Tijera Henry led the team with 28 points, 21 rebounds and 5 blocks. 
"Tijera is a diamond," Innocent said. "Her skill level is unbelievable and she's a great leader on the team. She is number two in scoring and number one in rebounding in our conference this season. We're very proud of her."
Henry said she feels good about ending the home game stretch with a win and looks forward to playing again next season. 
"This season was one to remember for sure," Henry said. "We started out with a lot of trials and tribulations, and we didn't know if we would be able to make it this far, but we pulled it out in the end."
With only a minute and a half left in the game, the Brahmas turned up the heat on defense, forcing the Condors into a shot clock violation, the beginning of the end for Oxnard.
After drawing fouls and scoring a couple of extra baskets from the free-throw line in the last few minutes of the game, Guard May Htet Lu got fouled while lobbing up a "hail mary" shot from under the hoop, bringing the crowd to their feet. 
"I don't even believe it," Lu said. "I have no idea how I scored that last point, but it's sophomore night, so it makes it even more special to win our last home game."
The Brahmas current record is 3-24 overall, and they will wrap up their season with an away game in San Luis Obispo against Cuesta College at 5:00 p.m. on Feb. 17.