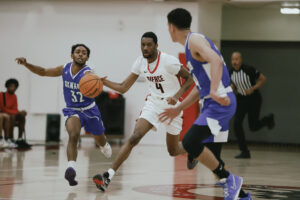 Despite a winless record, the men's basketball team won their final home game of the season.
The Pierce Brahmas defeated the Oxnard Condors 65-58. 
After a slow start that saw the Condors take an 8-6 lead, the momentum of the game shifted in Pierce's favor after guard AJ Werner made a 3-point shot with an assist from forward Kendrick Alexander. 
"It felt good," Alexander said. "The most important shot of the night though was AJ's 3-pointer in the corner because that kind of put us up in the game." 
Although Oxnard showed glimpses of a comeback, the Brahmas never relinquished the lead. 
"It was a tough game," Werner said. "We had a big lead for most of the game, but then Oxnard didn't back down. They kept fighting and they came back into the game. It was a close win at the end, but we made a couple of plays, and we were able to pull that one out."
Head Coach Charles White said that there were times the defense faltered but was glad they held onto the lead. 
"They haven't quit all year," White said. "We've played 27 games and they really haven't quit. They just had to learn how to play and how to win. Today, they showed some grit that they can win." 
Athletic Director Susan Armenta said she enjoyed watching the team pull out a win after the Brahmas suffered a 26 game losing streak. She remains hopeful for the future of the team. 
"It's been tough," Armenta said. "But I feel that we're hopeful that we're going to have a strong team next year. I think we're just gaining our momentum. So I think you'll see some more W's."
Pierce had a slim lead over Oxnard going into the final minute of play at 60-58. However, Werner made a three point shot to extend the lead by five points with 42 seconds remaining.
"He's a good 3-point shooter," Alexander said. "Without [Werner] tonight, we probably wouldn't have won." 
A foul on Werner by Oxnard's Aries Vega sealed the game as Werner added two points on free throws. 
"It's moments like these that make all the struggles and challenges worth it." Werner said.
The Brahmas will end their season against the Cuesta College Cougars on Friday, Feb. 17 at 7p.m.