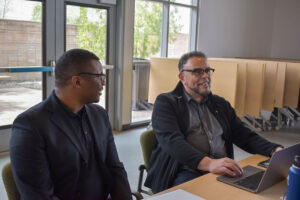 For Black History Month, Pierce College professors discussed sociological and historical issues on Thursday in a presentation called Policing in America in the Faculty and Staff Center. 
Sociology professor and Los Angeles College Faculty Guild AFT 1521 president James McKeever and history and humanities chair professor Christopher Strickland examined how institutional racism presents itself through the policing system across the country. 
Strickland said that the murder of Tyre Nichols, a 29-year-old Black man beaten by five Black police officers prompted the topic of the event Policing in America and pushed them in that direction. 
McKeever believes that it's important to get a better understanding of the event in a larger social context because the issue of racism permeates all facets of society.
"A lot of the times, we focus on the police shootings," McKeever said. "But one of the things we don't focus on is that there have been plenty of juries who've had opportunities to send policemen to jail for the things they've done and they let them go free." 
Strickland also examined the historical context of policing in America during the Civil Rights Movement. 
"Diverse strategies implemented during the Civil Rights Movement and the Black Power Movement included militant direct action, self-defense, community programs, and political power," Strickland said.
McKeever said it's easy to look at the police without thinking about the institutions that support them. Still, he said that race continues to be a crucial part of our lives.
"This was a country that was founded on slavery and genocide if I'm going to be honest," McKeever said. "Genocide of the indigenous people. In fact, we don't talk about it as genocide, but it's exactly what it was. And when you think about it, it's one of the most successful genocides in the history of the planet."
McKeever spoke about the institution that instills certain types of values into those who join the police force. He also brought up the concept of defunding the police in America. 
"People talk about defunding the police which is really not getting rid of police," McKeever said. "It's just moving resources into communities that need those resources, to prevent crime before it happens. But I do believe you probably need to dismantle policing the way it is today."
McKeever said that police officers should have far more education than they are required to have now. 
"I think police officers should be required to have a master's degree in social work," McKeever said. 
Along with his concerns for police officers' educational requirements, McKeever shared his worries for their potential lack of experience with a weapon while on duty. 
"Some of these officers who killed somebody, they never fired their gun before," McKeever said. "They could've gone 20 years without firing their gun. So then how experienced were they in that situation?"
Strickland and Dr. McKeever talked about how passionate they are about this subject and refer to it as their "life's work." 
"James has been a great mentor and inspiration," Strickland said. "This is what we do in our classrooms all the time, so we wanted to bring it to this forefront here."
Sociology and Business major Nelson Solares attended the presentation and mentioned how enlightening these events are to the public. 
"I've been a student of Dr. McKeever in the past so I've heard a lot of these narratives," Solares said. "But there is always something to be learned. I love that Dr. McKeever went beyond just the police officers. He brought up juries and community."