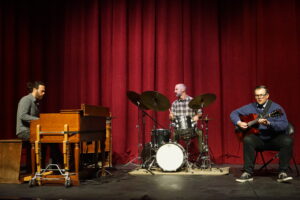 There are many ways to dive into the world of music these days–through YouTube, Shazam and even movie soundtracks. 
John Storie reminded Pierce College students the tried-and-true way to discover musical idols–by going to a record store where the person behind the counter served as the living search engine for music-related questions. 
The John Storie Trio played a jazz set at the Performing Arts Building Mainstage on Thursday. Comprised of Storie, organist Carey Frank and drummer Mark Ferber, the three musicians performed jazz standards from various composers such as Henry Mancini and other mid-century jazz legends. 
Storie thought about playing his new tunes at Pierce, but he opted to stick with what he knew he could perform spontaneously with the two other musicians. 
"I don't want to read anything because I don't get to play with these guys very much in a nice room," Storie said. "I just want to play tunes for you guys."
Storie is a Los Angeles based guitarist, vocalist, bandleader, arranger and composer. According to his biography on his website, has been on faculty at Pierce since 2018. Storie is a long-time fan of jazz, going as far back as the early days before the internet. When he was younger, Storie would listen to CD's, go to record stores and get his hands on compilations (which he equates to Spotify playlists these days). Storie gathered sources of inspiration from the interviews he would read in Guitar Player Magazine.
As the trio performed, Frank's arms and shoulders contorted as his fingers hit the keys. Storie's face twitched in unison with the strings he plucked on his custom made Marchione 16" Archtop guitar. Ferber played the minimal drum set while absorbing the organ's vibrations.
"Because we are in the working guild of jazz musicians, there is a standard repertoire of 300 tunes that all of us know," Storie said.
Between songs, Storie taught the audience facts of jazz history from the 1950s and 1960s. Storie talked about the configurations of the jazz era that they were performing. The blended sounds of Afro-Cuban beats, bossa-nova and swing were very popular in the fifties and sixties.
The Trio played "Road Song" (or "ODG") by American jazz guitarist Wes Montgomery, an influential figure in Storie's musical path. 
Storie's, Ferber's and Frank's passion for jazz was not only conveyed from the tunes they played, but through anecdotes. Between pieces, Storie talked about his search for Wes Montgomery records in rural Oregon, a difficult thing to do before the internet age and Spotify. 
At the end of the show, the musicians took questions from the audience.
Attendees were interested in Frank's organ. Frank, who played the organ pedals with no shoes on, explained the many ways that he has customized and fixed his old instrument throughout the years. 
"It's like an old car, you have to maintain it," Frank said.
Frank described the logistics of carrying a heavy, bulky organ around town to performances, as it means having to drive his minivan to venues early to set it up. 
"We are very lucky as a music community that someone is willing to do that," said Storie. 
Mark played on a minimal drum set, and his solos were filled with melodies.
"Melody is often overlooked amongst drummers as a very useful tool to hit the marking forms and for improvising," Mark said.
The set wrapped up with a piece that tied to Mardi Gras called "See See Rider."
The John Storie Trio gave students a tour through the mid-century jazz era, giving them more names of jazz tunes and musicians to research for themselves. After Thursday, attendees of the concert may want to add "Stablemates" by Benny Golson to their Spotify playlists.