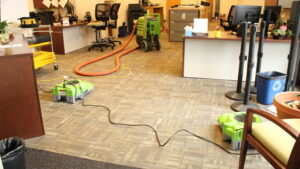 Reporter Nicole Khait contributed to this story.
Recent rains created damage to multiple facilities and several areas of the campus grounds.
Interim President Ara Aguiar told the Academic Senate Monday on Zoom that a few classrooms have also flooded, and alternate arrangements have been made for the classes that take place there.
"The Academic Affairs building was completely flooded, "Aguiar said. "No one can work in there. I don't know what the outcome is going to be or if everything needs to be re-carpeted, but we're trying to get things all dried."
Aguiar also said that there is considerable damage to the fence around the tennis courts caused by a large tree falling during the storm.
"I don't know how much damage it did to the tennis court, if any," Aguiar said. "So we will be assessing that."
Aguiar also said that the campus had a successful audit with the Office of Civil Rights and Perkins programs whose last visit to the campus was in 1986.
"They would go up to people to talk to them and everyone was very friendly," Aguiar said. "They were really in awe of how wonderful the culture of peers and how friendly everyone was. So those are wonderful things to hear."
Another item that was part of the resolution was to have faculty leaders in diversity, equity, and inclusion and Dean of academic affairs Barbara Anderson said they are actively looking for a candidate to fill this role.
Anderson also mentioned how many of the items included in the resolution are now coming to fruition via the new Multicultural Center.
"I feel that it has been based on a lot of efforts from the Diversity Committee, CPAC, the senate resolution against systemic racism, all those things led toward that and our accreditation efforts," Anderson said.
Other meeting highlights included Transfer Center Director Sunday Salter's announcement that transfer requirements have relaxed for some schools due to low transfer enrollment rates.
"Everyone is in pain for enrollments, but what that means is good news for our transfer applicants because the floodgates are open," Salter said. "They are accepting students left and right."
According to Salter, the requirements for students transferring from Pierce to a California State University used to be strict, not admitting a student if even one mistake was made on their transfer application.
"As long as the student meets the minimum criteria for transfer, we'll take them," Salter said. "That means the golden four: English 101, critical thinking, speech communications, transfer level math, 60 units, 2.0 GPA. That's it."
There are a couple of exceptions for certain majors, including nursing and music. The deadline to apply for transfer from Pierce to either CSULA or CSUN has passed but Salter said that even if a student missed the deadline, they could still email to be considered for transfer admission for fall 2023.