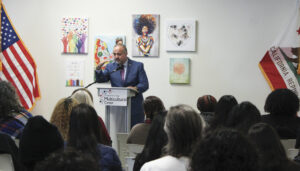 Los Angeles Pierce College strives to uplift students from different kinds of cultural backgrounds, and now there is a space on campus that not only represents those students but celebrates them.
The Multicultural Centers' grand opening was on Tuesday, February 28 where it welcomed all students to come together and meet peers from theirs and other cultures. The center will host a variety of events and activities in hopes of teaching students about their differences and similarities and how to appreciate both.
Multicultural Center Coordinator Tatevik Melkumyan finds that there is unity in the diversity of experiences we share.
The Multicultural Center is a place where Pierce can help facilitate that unity.
"The main goal of the center is to give voices to the marginalized populations and marginalized groups on campus to give them a space where they belong, but at the same time promote intercultural learning," Melkumyan said. "We all know about ourselves, but I think it's also really important for us to learn about others because then that allows for more tolerance and acceptability."
Located in the Library and Learning Crossroads courtyard, the Multicultural Center is in the same area as the Brahma Bodega and Umoja program.
While no dates have been set, the center plans on hosting many celebrations in March for Women's History Month, Transgender Day of Visibility and the Persian New Year. There will also be a collaboration between the center and Brahma Bodega in April where students will get to learn how to cook meals from other cultures.
"Students can learn different things about the way that foods are prepared to see that even though it's different, we're similar," Geremy Mason who runs the Brahma Bodega said.
Students on campus have been asking for a space like this for a long time and in the fall of 2021, many students filled out surveys from the administration about what they would like to see in such a center. The resolution to create the Multicultural Center was passed last spring. Since then, Melkumyan has been working closely with students and faculty to make the center a place that everyone can appreciate.
"I've been working with LGBTQ students, some of our other groups of students to get their input on what they want out of the center, how they want to be represented from the center," Melkumyan said. "So the student, staff and faculty input have been a big part of creating the center because it's supposed to represent them, and you can't represent them without their involvement."
The Multicultural Center is open Monday through Thursday from 8 a.m. to 4 p.m. and on Fridays from 8 a.m. to 3 p.m. The center will be bustling with activities for the rest of the semester, and students are encouraged to come and celebrate all cultures.
"I hope (the center) creates a space where students feel like they belong at Pierce no matter what," ASO counselor Lara Conrady said. "I think the 'we're all in this together' mentality is where I hope it goes. I just really want every student to feel like they have a place at Pierce because they do."