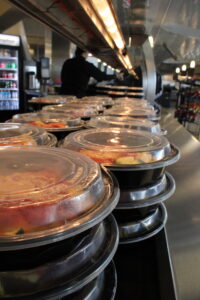 According to the recently released California Community College #RealCollege Survey, nearly 50% of students are hungry. The Brahma Bodega is trying to fix that.
The Pierce College Brahma Bodega is giving away free lunches all semester in partnership with Pacific Dining, a contractor used to run the college cafeteria. 
While this is not a new program at Pierce, more students are recently finding out about how the Bodega serves the student body. The Basic Needs leaders have come up with a program to assist hungry students.  
Director of Lunch with the Bodega Geremy Mason, took over the program in October of 2022, which started a couple of years before the COVID-19 pandemic even hit and seemed to have been ahead of its time. It has been assisting and serving the student population since then.
"As we've been seeing, basic needs is a hot topic at the moment," said Mason, who said students are giving positive feedback on the program. "A lot of individuals, not just students, are having difficulties with basic necessities, such as food and shelter."
According to Student Services Assistant Ozzy Portillo, many students getting lunch or dinner on campus may not be realistic as they may be too busy to grab food or are sometimes too financially stretched.  
"Lunch with the Bodega is a good resource for students on campus that are here all day," Portillo said. "It's awesome to be able to offer this to students, and students don't need to leave campus to buy food."
Lunch with the Bodega started a couple of years back under a different name: Brahma Pantry. The program was managed by Brahma Pantry and Basic Needs lead Darcy Corwin. 
In order to sign up, students need to be enrolled for one class at Pierce College. They will then have a card made for them and that card can be used for the rest of the semester. After students receive their card, they are eligible to receive other services, as well. 
"Once they [students] apply and have a Bodega Card, they get access to all the resources that we have," Mason said. "So we have the Bodega itself, where they get the Bodega Bites. Those are our two snacks per day that students can come and receive. We also have the take home items. They can also go to Pacific Dining. Pierce College has a partnership with Pacific Dining to provide access for students to receive meals on a daily basis. Students on campus in the evening can go to the bookstore and receive a meal from 3 p.m. to 7:30 p.m. everyday." 
The program has a rotating schedule in the cafeteria so there is a lot of variation with what students can choose to eat. The menu consists of, but is not limited to, chicken teriyaki, steak and mashed potatoes with gravy, orange chicken, ravioli, as well as vegetarian options. The program is tremendously successful and popular, currently serving approximately 750 students, while still getting more applicants.  
Umoja Club President Luna von Dahlern said that she has benefited from the program in many ways.  
"I work full-time and go to school full-time, and I don't have much time to take care of myself," von Dahlern said. "The Bodega is there for everyone. Everyone should be aware that it is there, even if they say they don't need it. It's still there for them.