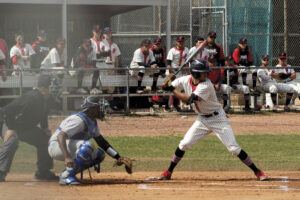 Brahmas Baseball proved that slow and steady can indeed win the race. 
The team faced off against West Los Angeles College on Saturday at Joe Kelly Field. Coming off of a three-game losing streak, the Brahma's brought home a win against the Wildcats with a final score of 11-1.
Assistant Coach Alex FaGalde said that the team made strides to improve their game day performance by focusing on no walks, clean pitches and batting at a level that reflects their true skill as players.  
"We didn't walk anyone for the first time, so maybe that was the highlight, because we've been pretty bad about that, but everyone picked each other up," FaGalde said. "We were great on the mound and a lot of guys got hits– it was just a complete game."
Outfielder Tyler Haruta said that it's nice to see more of a range of players participating on the field, and that it is important to apply Saturday's progress in future games.
"I was pretty happy about seeing the team playing cleaner baseball," Haruta said. 
Haruta also mentioned the nerves that came while watching teammate Dante Zamudio hurt his knee when pitching at today's game.
"Our ace getting his knee hurt was a little worrisome, but I think he should be okay," Haruta said.  
Zamudio, who was Saturday's star-pitcher, injured himself 4-innings in and was made to sit out for the rest of the game. 
Pitching Coach Jackson Briscoe said the players asserted the goals from practice into the game.
"The goal every day is to throw strikes and give our offense a chance to win the ball game, and they did an excellent job of that today, so this was a good game for us to build off of," Briscoe said.
Head Coach Bill Picketts said that the major shift that happened during Saturday's game, allowing the team to bring home a win after experiencing a losing streak.
"It's always nice to win– we hope that we just move on from those losses and learn from them, which is what we've done," Picketts said. "Our record is not as good as I think we are as a team, and today showed that."
Picketts said that Saturday's growth will hopefully carry onto the game against Moorpark College.
"We are going back to conference," Picketts said. "We go against Moorpark on Tuesday, and so it's important because we lost our first three conference games. So we've got to get back on track."