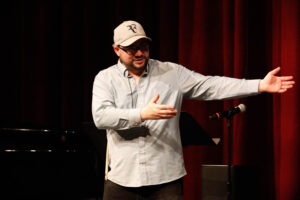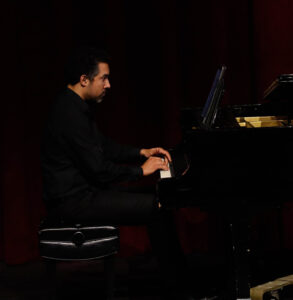 With surdo bass drums beating and striking sounds of Agogo bells ringing, the percussive sound of Brazil made its way to the hills of Pierce College. 
The Pierce Faculty Recital Concert was held at the Performing Arts Building Thursday, playing Brazilian samba music and classical pieces as well. 
The performers included clarinetist Ryan Espinosa, percussionist Kevin Good, and pianist Jason Stoll. 
The recital's opening number premiered the new Pierce samba club, which included four students playing alongside Good. 
Good said that he wanted to make sure people know the cultural context of the music.
"It's music that's meant to be played by a community, not necessarily trained musicians," Good said. "It's just coming with the spirit of wanting to learn new things, learn about this music, and play with other people."
Good teaches percussion classes at Pierce and wanted students to have the opportunity to learn new instruments and explore different cultural music. Good also started the Pierce Samba Club, a new percussion club that focuses on Brazilian samba music. 
"I love teaching that music and love playing that music," Good said. "I just wanted to be able to do more with it. So I suggested in our rehearsals, if people were interested, maybe we could continue it as a club. And eventually, maybe make it into a class." 
Espinosa played two clarinet solos. Espinosa is the applied music instructor and teaches clarinet at Pierce. He will be the musical director for the upcoming Pierce production of "Rent."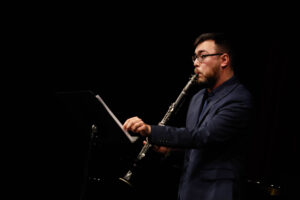 "The things that I sort of bring to the campus are my own musical experiences. I go perform out and I bring those experiences to students," said Espinosa. "When you're a musician, a lot of times you bring your outside professional experiences back to the classroom." 
Stoll accompanied Espinosa in a melodic instrumental duet. The combination of the lyrical piano tone and the sharp, rhythmic sound of the clarinet emerged smoothly. Both musicians played with passion and force, leaving the room filled with ecstatic energy. 
"It is a very challenging piece so we had to do it slowly a few times and kind of workout ensemble issues," Espinosa said. "But a lot of the fun in doing that kind of work and being collaborative is that we run into issues that we don't get to do in our solo practices. So preparation wise, I felt pretty confident in the concert today."
Pierce student Maurice Klein attended the faculty recital, as he said he is a music lover himself. He expressed his passion for music and live concerts.
"I enjoy concerts and the more I come, the more interested I get," said Klein. "I picture myself sitting on stage, performing for people, and it has been my hobby ever since I was little." 
Espinosa shared a few words of encouragement and wisdom for young, aspiring musicians at Pierce College.
"All the little things that you're doing right now in preparation for your next performance is a step to your future," Espinosa said. "They're not there to expect perfection. They're just expecting excellence, and that's your role to have. Strive for excellence, not perfection."
The Pierce Samba Club is open to anyone who wants to learn about Brazilian music and the culture surrounding it, and no prior musical context or background is required to join.