The French Film Festival made its mark at Pierce College for the first time in three years with the opening of the  film "Aline," at the Multicultural Center Thursday.
"Aline" is a César-nominated film that details a fictionalized portrayal of Quebec singer Céline Dion."
The movie was chosen for its ability to merge both French cinema and music, marking it as an interdisciplinary film between the French and Music departments. 
French Consulate representative Benoît Labat was in attendance to reintroduce the event at Pierce. Labat, who helps lead the promotion of the French language in Southern California, spoke about the importance of events that support cultural immersion.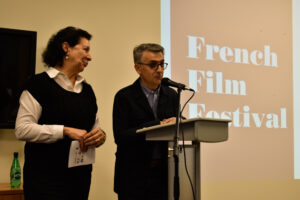 "It's a part of my job, and our job at the Consulate to support the initiative, especially Los Angeles where movies and the individual sector are so strong," Labat said. "The embassy has programs and tools to help universities and community colleges implement events, such as Albertine Cinematheque. It's a great way to enter into a new culture through art."
The festival brought in participants from all over campus, who were welcomed by event organizers French Professor Dennis Pra and English Professor Donna Accardo, who issued free raffle tickets for prizes before the screening. Attendees could then grab a pastry from local shop and vendor Pascal's Patisserie before making their way to the seating area.
Music major John Matos attended the event out of curiosity for the festival and a love for musical icon Céline Dion.  
"I had seen posters and flyers around campus, and I have an interest in cinema and film in general, so I figured I would come and learn more," Matos said. "Also if this is about Céline Dion, I love Céline Dion."
Film Club President Elyse Miller said she was excited to observe the differences in French and American cinema with the movie selections. 
"I was curious because I am a film major, so I am excited to see what kind of French films are being presented, as they are different compositionally from American films," Miller said.
The festival's mission to be known as an interdisciplinary event was met with the inclusion of Music Professor Garineh Avakian, who was a speaker at the event's Q&A panel. 
Avakian said the goals of a performer are fully encompassed by all aspects of their life.
"I saw that there was a lot of similarities between my life and her life. The training, the discipline, the focus, and the concentration that she had, and still has in her life and career. I wanted to bring up some of the vocal issues and the lifestyle a performer leads," Avakian said. "The extraneous agenda, and performance schedule. It's tasking on the voice, and also emotionally, and physically. Everytime we perform as performers we are dealing with an adrenaline rush and our entire nervous system does a 180." 
The French Film Festival continues on Monday, March 20, at 4:30 p.m., at the Multicultural Center with "Slalom," which addresses the subject of sexual abuse in sports. The film will be followed by a Q&A panel with Professor's Deborah Hefter and Susan Armenta from the Department of Physical Education.