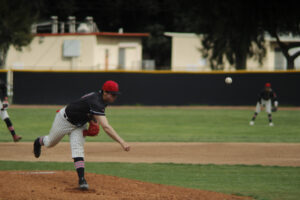 Brahmas baseball was held scoreless Thursday as Cuesta rolled through 7-0. 
Pierce managed to record 5 hits while Cuesta had 11. Pierce also had two errors. 
The Cougars scored 3 runs in the 1st inning and kept their lead the whole game. The Cougars managed to close out the game with 3 runs in the final two innings. 
The Brahmas left 2 LOB and five players managed to get one hit each. 
Moorpark's starter played the whole game, while Brahmas Jorge Romero played 7 innings and recorded 8 strikeouts.