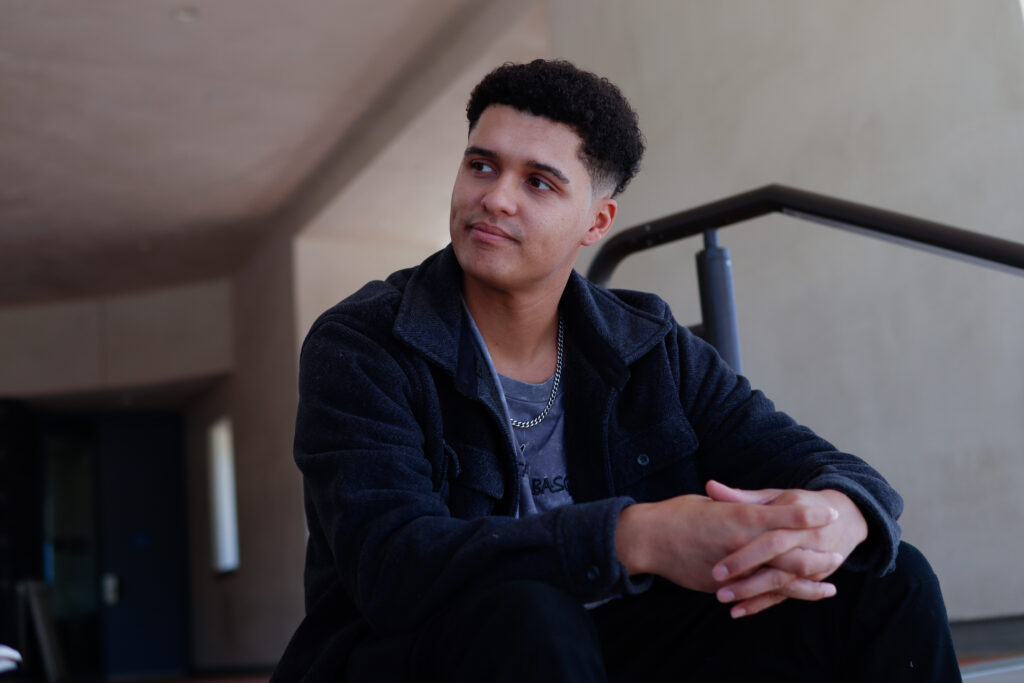 Actor, producer, performer. These are just a few of the words that represent a midwestern boy who moved to Los Angeles to pursue his dreams.
Deshawn Cavanaugh, a 26-year-old former Pierce student who was majoring in film and tv, grew up in Minnesota before moving to California. He discovered his love for performing at a young age from dancing, and singing in his high school show choir. When he came to Los Angeles and started doing auditions, however, he quickly realized his passion was acting.
"I always knew I wanted to perform in some way," Cavanaugh said. "Growing up, I loved to dance and sing but acting is what really stuck."
Since leaving Pierce, Cavanugh has been in everything from commercials, to music videos, to shows. Some  of his notable appearances are a Kia commercial, a music video for Aneese's song "Sun and Moon," and a small part in the Netflix show "American Vandal. " Not only has he gained his footing as an actor, he also began producing content as well. 
Cavanaugh is starting on a new project as an executive producer. It is a short film called ID EST, which he and his team have been fundraising for and recently got enough funds to start shooting.  It's a sci-fi film about a group of humans traveling to an unknown planet in search of a place to live, but come to face a dangerous entity. Cavanaugh is one of five executive producers on the project. 
"It's sci-fi, "Get Out" meets "Star Wars" type of film," Cavanaugh said. 
While at Pierce, Cavanaugh took classes under Media Arts professor Ken Windrum, and he made his way to President of the Film Club through his vibrant and outgoing personality.
"He is such a good leader, charismatic and such a nice person," Windrum said. "Part of being a good leader is you also make people feel welcome, and he is so good at that."
Studying at Pierce and getting support from his teachers and friends helped Cavanaugh transition into his adult life, and allowed him to figure out what kind of work he wanted to do and the person he was trying to be. 
"While I was here at Pierce, I was really getting to know myself a little bit better as an adult and getting to know what I was actually passionate about," Cavanaugh said. 
Windrum said that Cavenaugh is a good example of somebody who got a strong foundation started in the school's Media Arts department.
From those passions and discoveries, Cavanaugh was able to land some small roles in different productions. Eventually, his schedule became so busy with roles that he had to leave Pierce College, even though he still wanted to pursue his degree. Although that was the case, Cavanaugh realized that he had the opportunity to be successful and jumped at the opportunity.
"You have to make sacrifices in this industry. With almost anything in your life,  you're always sacrificing one thing for another," Cavanaugh said. "Most often I choose my career because it's been there. It's been consistent."
Being your own boss comes with the territory of acting and producing. Cavanaugh expressed his challenges overcoming that change of pace to succeed in the industry. 
"Some of the biggest challenges that I've had are being my own boss in that way, and motivating myself to get the work done when the work needs to get done," Cavanaugh said. "Which I always do."
Pierce Student and colleague of Cavanaugh's Cesar Ceja has worked with Cavanaugh on multiple projects and helped him with producing. While doing that, he has also been able to see Cavanaugh's transformation since his time at Pierce. 
"He doesn't jump at everything anymore, he sees the value in each thing and puts his energy towards what's going to be successful," Ceja said. "He is more confident in picking projects that he can add value to."
Before making it to where he is now, Cavanugh was working for his dad's limousine company, as well as doing background acting and production assisting in order to get connections and work his way into the industry. He worked to make his dreams come true, knowing that it would happen for him eventually. 
"You've got to have a little bit of craziness to say, 'I'm going to try it and not be afraid to look dumb'," Cavanaugh said. 
His new film "ID EST" is potentially being released in June or July 2023.