Vice President of Academic Affairs Mary Jo Apigo officially settled into a permanent role after serving seven months as interim vice president, marking the first time in years that the position has a permanent seat.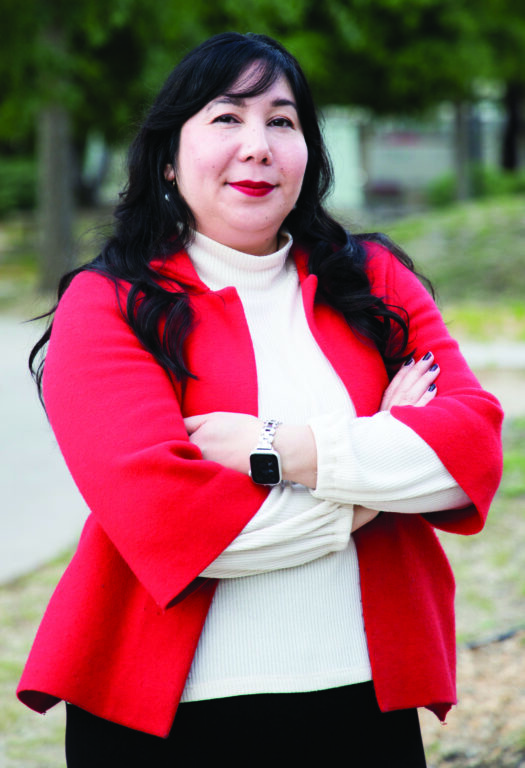 Since August 2022, Apigo spent time familiarizing herself with her new setting at Pierce College. After a bustling fall semester, she felt more at ease thanks to the connections she made in just a few months.  
"Coming into the leadership team has been a great transition," Apigo said. "I feel like I've been really embraced by the community, which has been really exciting."
Apigo credited the offline, in-person experience in assisting with the smooth transition in addition to the warm welcome. 
"I'm lucky that I got to transition at a time when we're back on campus, and it would've been tough to meet everybody on Zoom while missing that real connection," Apigo said. 
Apigo became the first permanent vice president of academic affairs at Pierce in several years. The role had previously been provisional– seeing interim vice presidents come and go. 
Dean of Career Technical Education Mon Khat is glad to see the role being filled for the long run. 
"For the majority of my three years at Pierce, there's been an interim VP for the most part so I'm used to the changes," Khat said. "A permanent leadership helps gives me a good idea of the kind of direction we're going in." 
Before coming to Pierce, Apigo had prior history with the college. She previously worked on two grants with the school while she was a dean at West Los Angeles College. 
"I had a relationship with the school and some leaders before coming here, which was really helpful," Apigo said. "I got to learn a little bit about the culture and work with people here without officially working at the campus." 
Apigo might be fairly new on campus, but she added vice president to a long list of positions she's held during her 23 year tenure in the Los Angeles Community College District (LACCD). 
"I started as a student worker, then I was a classified staff member working in our outreach programs with high schools," Apigo said. "Then I transitioned to a faculty role, where I directed special programs and worked on grants before transitioning to a dean role." 
Apigo went on to spend 11 years as dean of academic affairs at West Los Angeles College before she sought a position change that eventually led her to find an opening for a vice presidency role at Pierce. 
"When I was at West, I had been looking at vice presidency roles," Apigo said. "Being a dean for that long, vice president was the next step that I was interested in." 
Having served a great amount of time at various positions within the district, Apigo had a lot of experience coming into her current role. It's a factor that is prevalent to those she works with. 
"She brings a welcomed knowledge and welcomed history," Khat said. "She brings a different viewpoint being from a different college in the district so I would say she has a fresh view." 
Now as vice president, Apigo is in charge of the instructional programs on campus, working to help students get the classes they need to meet their requirements for transferring or graduating.
She also heads a team of deans, faculty leaders and chairs in assisting with curriculum development and class scheduling.  
Apigo's main goals for the near future are focused on enrollment and a new bachelor's degree program.
"Statewide, there's been an enrollment decline but as people are getting back on campus, Pierce has been doing a great job with enrollments," Apigo said. "The state is shifting its funding model to the student-centered funding formula, which is basically not just about enrollments, but also making sure we are supporting our students to complete their education. So we want to make sure they're well positioned for that." 
Making the switch from a smaller college to Pierce, a bigger college in the district, posed a bit of a culture shock to Apigo, who admitted she hadn't gotten around to visiting all parts of the sprawling campus. 
Though she may have a ways to go before fully familiarizing herself, Vice President of Student Services Jason Cifra expressed confidence in Apigo's future. 
"I have no doubt she will rise to the challenges and recognize and celebrate the successes of our students and teams," Cifra said. "She will be a great leader and educator on our campus." 
With her experience and optimism, Apigo could possibly keep climbing up to new positions, but she isn't focused on that at the moment. For now, she'd like to visit the Pierce farm more often and attend student plays and musical concerts– things she didn't get to do at her previous college because such programs didn't exist. 
Apigo said that she wants to perform as vice president of academic affairs to the best of her ability. 
"I want to be able to do this job well first before I think about the next thing," Apigo said. "I think a presidency would be very interesting, but I'm definitely not looking at that in the near future at all. I really just want to understand all the different facets of this job and find ways to contribute and support."