Winning isn't everything. Unless you change your perception of what it means to win. 
For Head Football Coach James Sims, winning has been a contentious issue with his team on the field, but it's accomplishment in the classroom that has become a priority for his players and new recruits.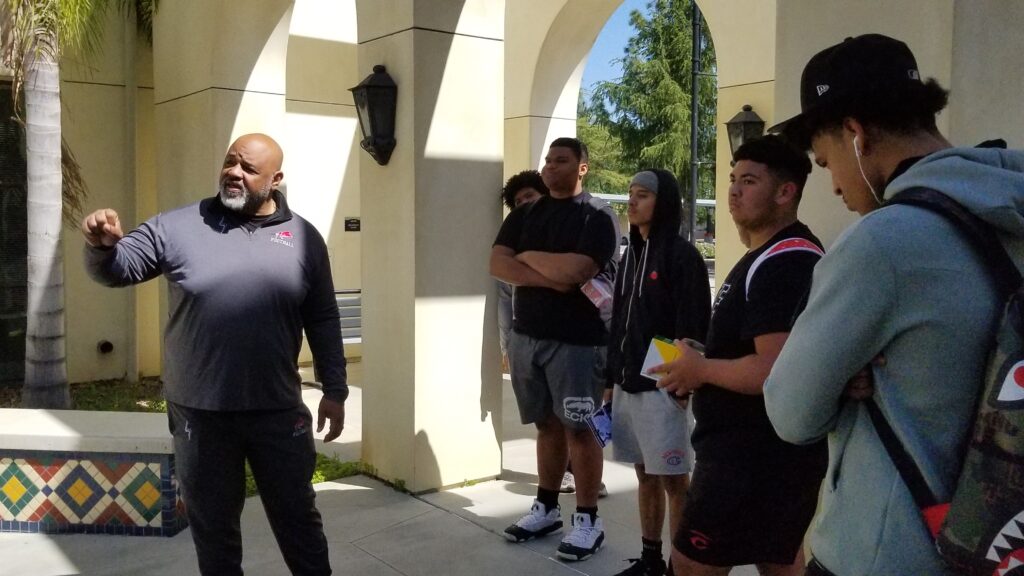 "Football is for a short period of time," Sims said. "NFL stands for not for long. Even if they make it to the league, they're not there long. It's the rest of their life, those lessons that they need. And that's what's important to me."
A small group of high school seniors, current Brahmas and faculty gathered in the South Gym on Saturday for the third Football Recruitment Day of the year. Sims emphasized the importance of education, good grades, and highlighted the resources available to potential student athletes eager to get their college football career started. 
The coaching team provides a lot of support to the players from tutoring to meals. They even provide help with finding scholarships, which can be critical for some students.
"We only had 28 players and we sent five kids D1," Sims shared with the group. "Out of 32 players 14 kids were offered scholarships. So to me that was our success. Our success was that we showed up every game. We have more D1 scholarship offers than any team that beat us."
Scholarships are important to players like Sylmar High School defensive end Austin Solis. He was impressed with the size of the campus as well as the dedication the leadership has to ensuring academic success.
"It would be great to go to college for free and to try and get a scholarship and get my education through football," said Solis.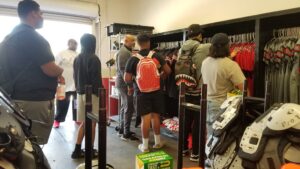 Solis has been playing football since he was ten years old, and since he lives in Los Angeles County, he will get the first two years of his education for free. It's beyond the first two years he and his father Joshua Solis are concerned with. 
"I'm paying for my oldest son's four year college – it's expensive," Joshua Solis said. "So yeah, any kind of scholarship for the next level I would gladly accept."
The Brahmas are coming off a rough season with no wins and they have a long road ahead to start augmenting their reputation. 
In the 2021 season, they didn't have enough players to compete and had to forfeit four out of six games. They became known as an unreliable team. 
When the 2022 season began they had a larger roster and were able to attend every single game and even though they didn't win, Sims said it was competitive. 
Another area of focus for Sims is not only to grow the team roster but to have more California recruits. Most of their players are from out of state.
Sims said that between the high school recruits and the incoming transfer students that the roster could be close to 65-80 players for the upcoming season. Coming off a season where they only had 28-32 players on the team, this surge could mean a lot to their scoreboard. 
To draw a rough comparison, most other schools have about 100-110 on their roster, according to Sims. 
"If you can triple your roster, that is a win," Sims said. "And then each year we'll start building on it and then we can start having consistently 100 athletes on the football program and that'll result in victories and wins."
Sims still thinks winning games is important, it's just not the only important thing at this level. However, he's feeling optimistic about the season ahead. 
"There's no reason that Pierce should not compete and win games this year," Sims said. "My expectation is that we should at least win five games."
Wide Receiver Coach Colin Kaltenecker said now is the best time to be a Brahma and the community is ready for it.  
"We're bringing the juice, bringing the passion," Kaltenecker said of the season ahead. "Every parent is coming to me and saying if you do this, we will come. We believe in you. We believe in Pierce." 
The fourth and final Football Recruitment Day will be on Saturday, April 29, at 9 a.m. in the South Gym.