The newly revamped Pierce College softball team ended their season with a 1-14 record. 
According to Head Coach Brett Marschall, the team showed great improvements as the season progressed, and the newly reassembled group of student athletes set a  precedent for the upcoming softball teams at Pierce. 
"At the start of the year, I told them 'you are the trailblazing group', the trail blazing team for softball at Pierce," Marschall said. "You're building the foundation for future years of softball players."
Marschall said he was very happy to see the team's confidence and ability to play improve as the season moved forward.  
"We haven't played for four years prior to this, so we're starting from scratch," Marschall said. "One of the goals was to make sure we established, or fielded, a team and we were competitive. We became much more competitive as the season went on, from our first games to our last games." 
The improvement of the softball team was noticed by other coaches in the league during the post game conferences. The coaches noticed the upward trend the Pierce College softball team was showing.
"We used this one term, 'believe', which is what I think the girls truly did throughout the season," Marschall said. "They started to believe a lot more in themselves, each other and the team as the season went on. Their skill levels improved and the whole competitiveness of our team improved. That belief, or that confidence, really showed through as one of the lessons we learned this year." 
Although the season is over, the team still has plans for the off season.  
"We are going to have a summer class, so anyone interested in joining softball is welcome to come out and join that summer class as a way to prepare for next year," Marschall said. "We've now got a foundation to build on for the future. We got players who understand what we're trying to accomplish, how we play softball at Pierce and our style of play."
Freshman pitcher and nursing major Andrea Roldan reminisced about the season.
"It was definitely a struggle," Roldan said. "We lost a lot. There's really no fun way to say it. But I think it built a lot of character. And I think it gave a lot of my teammates strength. It was rough but there were a lot of good moments that I think all of us appreciated." 
When looking back on the season, Roldan said that  patience was the most important lesson.
In addition to building physical strength and working her pitching accuracy during the off season, Roldan plans to work on situational defense and softball IQ. 
Freshman catcher and business major Alexcia Espinoza thought she and her teammates did very well given the circumstances. 
"I think we actually did pretty good," Espinoza said. "The beginning was a little rough, but we ended up growing together as a team."

Espinoza's takeaway from the season was the importance of teamwork. 
"I feel like when you work together as a team, we made it work a lot better," Espinoza said. "Relying on each other is what I've learned." 
She also cited the importance of building close relationships on her team. 
"It just felt good knowing you had such close friends and you see each other everyday," Espinoza said.  
Her plans for the off season consisted of coming back stronger for the upcoming softball season. 
"For the off season I think I need to work out and get stronger, and I feel like everybody does," Espinoza said. "We'll come back better than we did this season." 
Espinoza will be featured on the Brahma Sports Podcast on May 15. 
If you are a student and are interested in joining the softball team, the team is currently recruiting for next season. Please reach out to Coach Brett Marschall at marschb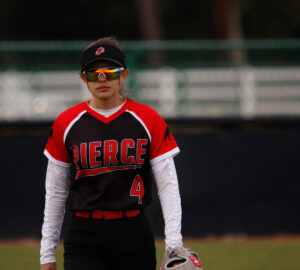 @piercecollege.edu.