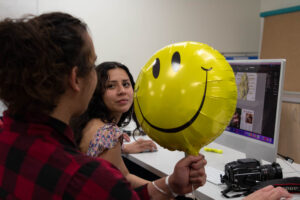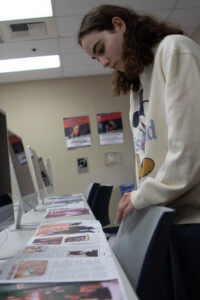 If you ask a room full of people what really makes them happy, you will probably get just as many answers as you do people. 
Happiness is difficult to define, but this semester's issue of The Bull Magazine encapsulates the countless ways people try to find contentment. 
The issue that is being released in print this week includes stories about ketamine drug therapy, a cat cafe and underground raves. These stories and others fall under the theme "The Pursuit of Happiness" as chosen by Editor-in-Chief Benjamin Hanson. 
"I chose that theme because I'm always so curious about what makes other people happy and because I've always struggled to find my own," Hanson said.
Journalism professor Jeff Favre said it's important to Hanson to encourage others to do what they truly enjoy doing in the newsroom and beyond. 
"I think Ben would say that he has found some real happiness working on this happiness issue," Favre said. "I've known him now for a few years and he has seemed happier working on this than any other time."
Reporter Drew Hokama, who wrote an article about the use of ketamine in therapy, said she knew from the first day that she wanted to cover ketamine. 
"I thought it would be really impressive," Hokama said. "I just wanted to sound smart, like a smarty-pants, to be honest."
According to Favre, the piece was impressive. 
"Drew wrote this amazing story on ketamine and I learned so much that I did not know about this drug and the therapy for it," Favre said.
As with the true pursuit of happiness, putting the issue together was not without its challenges. 
Hokama said scheduling conflicts with sources was  a struggle. 
"It was really hard to keep on track of everything, especially because people will cancel on you at the last minute," Hokama said.
Favre shared that the size of the staff and their limited experience was difficult. 
"This staff is so small, and not very experienced," Favre said. "So for everyone, pretty much except Ben, there's been a real learning curve."
Despite the size of the team, they worked together to get all the work done on time. 
"Everyone has kind of worked hard not only to do their piece but to help others with what they're doing," Favre said. "So it's been a real team effort, but a very small team."
Hanson was editor in chief in the fall of 2021   before but said he did not feel great about his work back then and took this semester to redeem himself. 
"Another challenge was being present," Hanson said. "The first time I was EIC, I was so overwhelmed that I just didn't show up and was almost voted off of it. But luckily I came back and proved myself again."
Favre said Hanson has worked incredibly hard this semester.
"He wanted to come back and really prove how much he had grown, and he has," Favre said. "And even though our staff is really small, he has really pushed them hard to get their visions realized."
Favre said there is something for everyone to enjoy in this issue. 
"I think this issue will inspire people to maybe find their happiness, their path to being happy," Favre said. "There's just so much in the variety that I think almost anybody would find a story that they kind of connected to."
If that is not enough to inspire you, Hanson hopes to ure readers with cute photos of cats. 
"The first thing that you're going to read about is a story about Crumbs and Whiskers, the cat cafe in Los Angeles," Hanson said. "And there's a giant cat photo in it. It's so cute."
The Pursuit of Happiness issue of The Bull Magazine is available in digital and print form. It hits newsstands this week.