A woman with short curly hair, cat-eye glasses and a picnic-basket colored dress stood behind the stage curtain while people settled in their seats in the Performing Arts Building. She gazed with focused eyes as she awaited her introduction. 
The ominous stare quickly turned into a bubbly smile when she heard "La Marisoul & La Santa Cecilia!" The audience erupted into cheers as singer Marisol "La Marisoul" Hernandez walked across the stage. 
Grammy award winners La Marisoul & La Santa Cecilia performed during "Flor y Canto," the fourth annual Chicano Studies Celebration organized by Professor Angelita Rovero and MEChA de Pierce College on Wednesday, May 17.
The band won a Grammy for Best Latin Rock or Alternative Album in 2014 with "Treinta Días."
Their setlist included "Ice el Hielo," "Nunca Más," "Como Dios Manda" and a cover of The Beatles' hit "Strawberry Fields Forever."     
After the band finished their first song, Hernandez told the story of how she and accordionist Jose "Pepe" Carlos formed La Santa Cecilia in 2007. They were inspired by seeing Martha Gonzalez of Quetzal–who won a Grammy in the same category in 2013–and Los Lobos perform on Olvera St. in Los Angeles.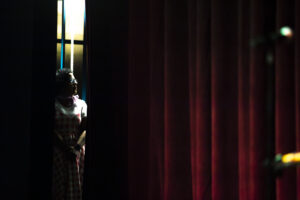 "Carlos and I have known each other since we were teenagers," Hernandez said. "We wanted to write our own music and share our own stories. We wanted to make a band that had what we felt when we saw them."
Hernandez said her family didn't want her to pursue a career in music. 
"I knew that I wanted to be a working musician," Hernandez said. "But more than that, I wanted to be an artist, express myself and talk about what I was living. Those are two things that are not easy to reconcile."
Hernandez said she wanted to become a singer when she was 14-years-old and discovered Selena. 
"I thought 'Oh my God,' there's someone like me," Hernandez said. 
The concert began with a blessing by Mexicas de Aztlan, a dance group dressed in large feathers, headdresses and face paint as they performed a Concheros dance to the beat of a huehuetl (Aztec drums) and conch shell trumpets.
The welcome address was given by Dean of Student Engagement Juan Carlos Astorga who spoke about his heritage and the importance for students to enroll in college. He spoke in Spanish first, in dedication to his mother.
"For my mom, even though she's been in the U.S. for 52 years, she only speaks Spanish," Astorga said.
Rovero said the reason she organizes this annual event is to highlight Chicanos in the visual, musical and literary arts. She said having La Marisoul & La Santa Cecilia come to Pierce was important to her.
"What they do is more than just great music, lyrics and musicianship," Rovero said. "They use their platform to be the voice of the community."
In between songs, the band answered questions from the audience and shared stories about their lives.
Rovero said she liked the non-formal conversations the band had with the audience and that she loves how humble the band has remained, even after winning a Grammy. 
"Their stardom and fame doesn't affect them to become like what we expect people who 'make it' to become,"  Rovero said.
Hernandez said that music is a blessing and gives everyone extraordinary experiences.
Hernandez cried during almost every song and every story she shared about what each song means. She said it's important for the band to use their music to make the world a better place. 
"We get to play music, travel, share and bring joy to people," Hernandez said. "But as artists, we feel the responsibility to say things that are important to us."