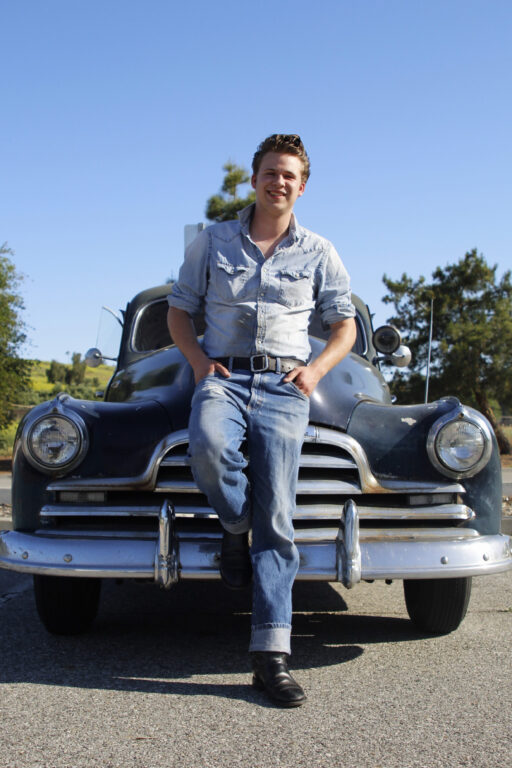 Many people think that the 1950s was an era that is long gone and does not apply to the 21st century. 
But not Bodhi Corbett.
A sophomore student in the Automotive Certificate program at Pierce College, Corbett drives a 1947 Pontiac and plays 40s and 50s music with his band, "Bohdi Corbett and the Igniters." He also dresses like a person who lives in that era.  
"I just thought all those guys on those old album covers, like Elvis and Johnny Cash, looked really cool, with the big guitar and big jacket," Corbett said. "I love Elvis, I love Johnny Cash. I really love a lot of blues music, as well, like rhythm and blues. Like I love Ray Charles, I love Nappy Brown, Muddy Waters and Little Walter." 
Corbett traces his interest in old 40s and 50s music and cars to many places, including influences of his family's taste in music and the environment he grew up in.          
"It was my grandparents' music, so I got it from them a lot," Corbett said. "Burbank is a very old school neighborhood. You see people still driving their dad's 1960 Buick. The car culture in LA was always there. Same with the music. I just kind of always had it around me and then eventually I was just like, 'Okay, am I picking this up or not?' And then, I kind of went with it. We live in an older house that was built in the 40s. We haven't changed anything since it was built. We still have a milk door on the back door. I was just kind of influenced by all of that." 
His love of older music comes from his mother as well. 
"My mother was a bluegrass musician," Corbett said. She used to write and so I grew up listening to The Stanley Brothers, The Louvin Brothers and the Carter Family. So I got a lot of the country bluegrass from her."
Corbett's journey to Pierce began from a job he had while he was studying to be a mechanic. 
"I was working at a mom and pop gas station," Corbett said. "A lot of the guys who worked there went to Pierce prior. Going to Pierce was up in the air all the time as an idea, so I figured I'd give it a shot- I heard good things." 
His band, "Bohdi Corbett and the Igniters," usually plays in different venues around LA, but sometimes his music takes him far from home.  
"We're going out on tour tomorrow morning. We fly out to Switzerland and then when we come back we're hopefully going to finish recording in the studio," Corbett said. "We just got back from Vegas last weekend and we played a festival called Viva Las Vegas. There are talks of going to Spain and Japan, either at the end of this year or next year. But mainly, we're LA boys."  
Corbett's professor, Automotive Service professor Alex Villalta, describes Corbett as an old soul. 
"It's almost like a time capsule, in a way," Villalta said. "It's like you meet him and see even his haircut, he looks like he belongs In Hollywood making a movie from the 1950s. He reminds me of a young Leonardo DiCaprio in a movie." 
Villalta notices how students take positively to Corbett.   
"Everybody likes him," Villalta said. "I don't know if it has something to do with his 1950s style of dress, but his nonverbal cues are welcoming and he's a nice kid. He's a good team leader, as well as a good individual. He's very humble." 
Villalta also discussed Corbett's rare skills. 
"He knows a lot about his car and older cars, so he's always sharing some of his skill set with other students," Villalta said. "We were quite impressed when he randomly started playing the piano. When I noticed it, I told him 'This is amazing'." 
Villalta esteems Corbett's individuality.  
"From the academic side, he's a great kid," Villalta said. "As an individual he has a great personality. It probably has to do with that laid back old soul he truly is. He's just a genuine kid. I think that's very valuable."                              
Sophomore student Jamari Johnson is also in the automotive program with Corbett. 
"He always has an interesting story to tell you about his day," Johnson said. "He's a cool guy to have around." 
Johnson is impressed with Corbett's patience when working on older cars. 
"He likes old cars from the 40s, 50s and some 60s," Johnson said. "If it's a 1956 car, and it's going to take him a year to put it together, he's willing to work with that and take the time and patience to deal with it."    
Johnson thinks Corbett's individuality is intriguing. 
"You can't really define him, he's in his own category," Johnson said. "He's his own guy. He's just being him."
Corbett hopes that he's successful in school, as well as with his music and his band. 
"I've already learned a lot in the automotive program and furthered my knowledge of old cars," he said. " We're hopefully going to finish recording an album soon and make it so music is a full time job and cars are the passion."