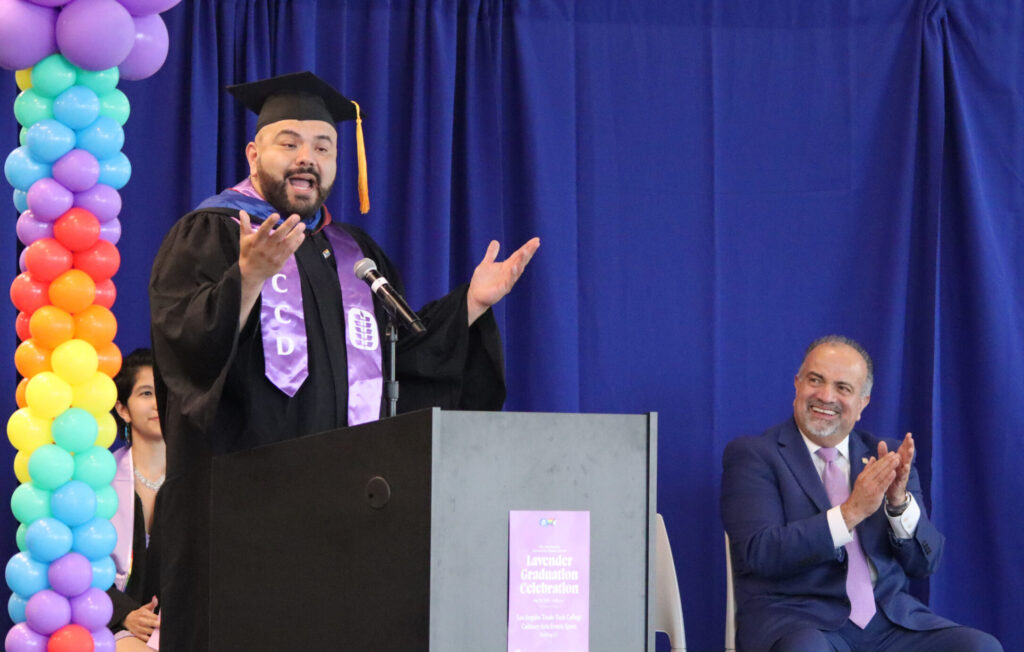 The air was filled with joy as families settled in their seats. Their loved ones donned their purple stoles as they walked across the stage and stopped to take their pictures. The room echoed with applause after each name was read.
The Lavender Graduation of 2023 was held at Los Angeles Trade Technical College in celebration of the LGBTQIA+ students of the Los Angeles Community College District. 
Created by Ronni Sanlo, a Lavender Graduation is a celebration to honor the accomplishments of LGBTQIA+ students. 
Faculty Liaison for the Chancellor's Advisory Committee for LGBTQIA+ Matters Felipe Agredano shared the significance of the event.
"The most important part of the Lavender Graduation is that we get to celebrate our students that are LGBTQIA+ and that we get to highlight their success, which is our success," Agredano said. "We want to make sure that our students feel that this is a safe and brave space so that they can carry on with their journeys wherever they go. They are representing us, and we expect them to be successful, to be proud, to be bold, and to make an impact in our world."
The ceremony created a space for many to rejoice in their successes, according to graduate Judee Suazo. 
"I recall there's a time that we couldn't celebrate like this, and this gives everyone in the queer community a chance to really be celebrated and appreciated for all their hard work."
Many graduates weren't alone in their celebration. After student speaker Kate Halperin delivered her spoken word poetry, her family was the first to cheer for her. Halperin's mother shared the joy the graduation brought to her.
"One of the best things for me is to come out and say I support my daughter," Halperin said. "I love my daughter, I love everyone, and this is such a great event. There should be more events like this, and I never even knew about this. When I found out about the Lavender Graduation, I was like, 'Oh my god, this is beautiful.'"
While many graduates celebrated with their biological families, found families were just as welcomed at the event. Graduates Joshua Erikson and Jen Nash were celebrated by CJ Rose and Al Schoenberg, friends and members of their found family. 
Rose and Schoenberg remarked how great it was to see the LGBTQIA+ community and allies gather to support and honor one another.
While other colleges hold their own graduations, graduate Sean Caldwell chose to attend the Lavender Graduation out of pride for who he is. 
"I want to let people know that my sexuality doesn't mean anything," Caldwell said. "I'm welcome and free to be whoever I want to be."