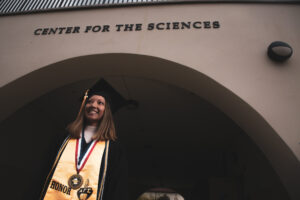 The COVID-19 pandemic brought misfortune and loss to many people. But for Roxanne Gannon, it was a blessing in disguise.
Caught between raising her daughter and working full-time jobs, Gannon didn't have time to pursue a degree. She took advantage of 2020's stay-at-home culture to make a change.
Gannon is the Vice President and Webmaster of Pierce's Pi chapter of Alpha Gamma Sigma(AGS), the statewide community college honor society and will be the student commencement speaker.  
The commencement will take place at Shepard Stadium for the first time on June 8 at 9 a.m. 
Gannon said speaking at the graduation ceremony was on her mind for a year before she found out there was a contest to determine the student speaker. Gannon said she entered because she wanted to inspire other students with her journey from childhood to motherhood and to Pierce. 
"I discovered so many things that I was capable of here," Gannon said. "I really wanted to share my story with other students and encourage people that they may also have unique journeys, they matter, they're seen and they're not alone."
Gannon had recently won the Ed Walsh Outstanding Service Award and the Robert Mantovani Award scholarships according to Economics Professor and Department Chair Kaycea Campbell. 
Campbell said Gannon is one of the most impressive students she's ever met. 
"Roxy has been an inspiration since she first joined AGS," Campbell said. "She shares her energy, experience, and makes the chapter much stronger with all her contributions."
Campbell said Gannon's accomplishments within AGS include building a new website, being involved in student committees, tutoring calculus, volunteering at food banks and beach clean ups and using her skills to help her peers understand that education is important. 
"Roxy's story is an inspiration," Campbell said. "She has had personal struggles in life but has never let that stop her from accomplishing her goal."
Gannon's parents emigrated from the Philippines when they were young. Her parents' struggles with adjusting to a new country led to Gannon facing her own. 
"That affected me a little bit," Gannon said. "Because I'm trying to fit in too, and I'm like this little odd Asian girl that feels out of place. They said 'We don't know how to make you fit in. We don't even know how to fit in.'"
Gannon's parents divorced when she was 2. She said she had to move schools or districts every year until she got to high school.   
"I really struggled with my identity and who I was in the world," Gannon said. "My parents are wonderful people, but I dealt with a lot of emotions that I don't think they knew how to handle." 
Gannon dropped out of Cal State Fullerton after one semester and ran away from home when she was 18.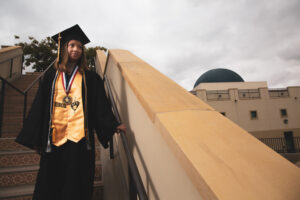 "It's okay for life to be a little unpredictable and get off track," Gannon said. "It's okay to not be perfect. You're still worthy of the things that you want. It just takes a little time and a little faith in yourself. You'll get there."
Gannon worked in film as a production assistant, producer, writer, actor and background actor until her daughter was born seven years ago. She left the industry because the pay wasn't enough to support her family. 
Gannon worked at restaurants and other odd jobs after she went through a divorce when her daughter was two. Gannon said she always wanted to earn her degree to set a good example for her daughter. She credits the COVID-19 pandemic with being able to return to school. 
"I knew the only way for me to have a good future would be to finally get my degree," Gannon said. "Because I never got it after I graduated high school 20 years ago." 
Gannon said that before the pandemic, it would've been impossible to work, go to school full-time and pay for a daycare. But when the world shut down and remote jobs and online schools became the new normal, she realized she was capable of pursuing her life goals.  
"It was a really hard time for everyone," Gannon said. "For me, it was an opportunity for me to really start over and set up a good future for myself." 
Gannon said that AGS allowed her to showcase her leadership skills during the pandemic and serve other students.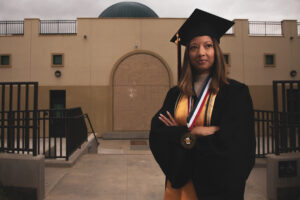 "It was hard to feel like we're a part of something because we're all at home on a computer and a black box," Gannon said. "But being a part of AGS, I got to talk to other students about school and their lives."
Student Engagement Coordinator and Counselor Lara Conrady Wong said that Gannon was one of the many inspiring student success stories to enter the contest.
Gannon was accepted to Columbia University but decided to remain close to home and attend UCLA in the neuroscience program. She said she hopes to become a psychiatrist and research neurological disorders.
"Gannon did well in her presentation and shared her experiences in a way that the graduates and their families/friends will connect with and enjoy hearing about," Conrady Wong said. "She had earned many honors and accolades while at LAPC and we wish her all the best in her next steps at UCLA."
Gannon said she loves that faculty and staff at Pierce works hard to help students become the best version of themselves.
"Pierce was the place that really enabled me to accomplish so many things and restore faith in myself," Gannon said. 
Gannon said that she wants her peers to understand that no matter what their journey to college was like, they are capable of accomplishing anything they put their heart into. 
"My biggest hope is that people feel encouraged," Gannon said. "No matter your age, skin color or limitations. Your life matters and your mistakes do not define you."