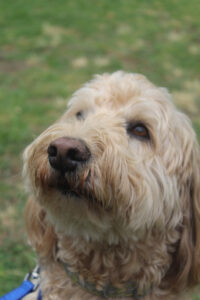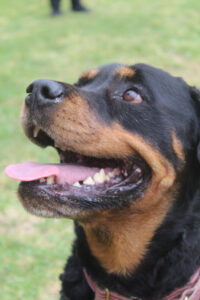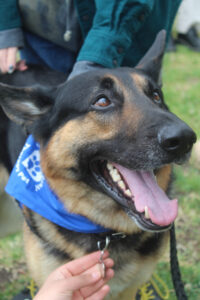 It may have been an overcast day on the Thursday before finals week, but no stress clouds were in sight for Pierce students who stopped by the Pawsitivity event at the Rocky Young Park. 
Hosted by the Dream Resource Center (DRC) and Undocu-Brahmas, students had the opportunity to de-stress by petting therapy dogs, drawing, coloring and playing card games as they snacked and listened to music. 
Undocu-Brahmas Club President Bryan Perez-Bado organized the event along with other club officers as a way to celebrate reaching the end of the semester while providing relief. 
"It's essentially an end-of-the-semester celebration to release all the stress that we have coming into finals," Perez-Bado said. "We want to just be able to feel like we're still human and not just a cog in the machine of a school." 
Perez-Bado said that providing support to all students in any means is the exact goal of the DRC and Undocu-Brahmas Club. The club was created by the DRC in 2020 to provide support and resources for undocumented students on campus. 
At Pawsitivity, the club helped so many more students by providing them with several quick ways to de-stress amidst finals week woes. 
"I want the students to go home feeling like they have a higher serotonin level," Perez-Bado said. "I hope they feel like they can come to campus and know that Pierce is more than just a place to come and do your work." 
The DRC and Undocu-Brahmas partnered with non-profit organization Love on a Leash to bring certified therapy dogs on campus for students to engage with. Per their website, the organization said they seek to bring "comfort, happiness and healing" through pet therapy. 
Therapy dog handler Jodi Thomas brought her 20-month-old German Shepherd named Yuri to meet students.
"The therapy dogs help people have someone to talk to and the dog is a really good medium to start a conversation and make people feel comfortable," Thomas said.  
Though therapy pets are not official service animals or emotional support animals, they do provide a form of stress relief in their calm demeanor and go through a year of training before receiving their therapy certification.
Marine biology major Jay McMahon was one of many students who found joy in getting to pet a fluffy therapy dog, Yuri being one of them. 
"The dogs were super chill, super cute, super kind and not aggressive at all," McMahon said. "I have another exam tomorrow and then finals after that and I'm definitely feeling the crunch so this was very nice after a lot of studying." 
Undocu-Brahmas also provided crayons and markers for students to draw their pets or their favorite animals. Students drew their cats, dogs, birds and whatever else in between. 
In addition, students were able to enjoy card games like UNO with their friends.  
Business administration major Sasha Kovalev took time to de-stress by drawing a picture of her dog. 
"Pierce is really trying to make this week less stressful because finals are coming up," Kovalev said. "I like that they brought therapy dogs, that was such a nice touch and got us to come here." 
Getting to enjoy the music and interact with the therapy dogs helped get her mind off things.  
"I've been stressing about my calculus final because I don't really know much about the subject," Kovalev said. "This helped me forget about it." 
Students who drew a picture of their animal could enter to win a contest for the best illustration. All contest participants were given goodie bags that contained a keychain, stickers, pens and lollipops. 
Raffle winners also got to win items such as metal water bottles, sweatshirts and T-shirts provided by the DRC. 
Undocu-Brahmas Club Secretary Tanveer Sandal said Pawsitivity is a way for the DRC and Undocu-Brahmas to give back to students on campus. She was elated about the turnout of students who came by the event. 
"Oh it's wonderful, it's better than I could have expected," Sandal said. "It's nice to see the students come in and they're a little tentative at first, but they take snacks and water bottles and now they're drawing and petting dogs. Everyone looks so happy about it, so I'm happy with how it turned out." 
Dean of Student Engagement Juan Carlos Astorga spoke on the importance of practicing self-care to combat the stress of finals week. 
"For most of us, this event is just to get out of our regular schedule of coming in and rushing out, but to take some time to breathe, relax and have a little pause before finals," Astorga said. "It's incredibly important [to de-stress], not only for our physical energy but for our mental health. It's important for us to really gauge when we have stressors in our life." 
For those who are worried about their upcoming finals, Astorga wished students "luck, energy and positivity," but reminded students there are resources available on campus to prevent them from being too overwhelmed. 
"If they do have these moments of high stress, we have the Student Health Center available where we have individuals who are psychologists on our campus," Astorga said. "They are ready and able to check in with students to provide some tools and resources to ensure their success."