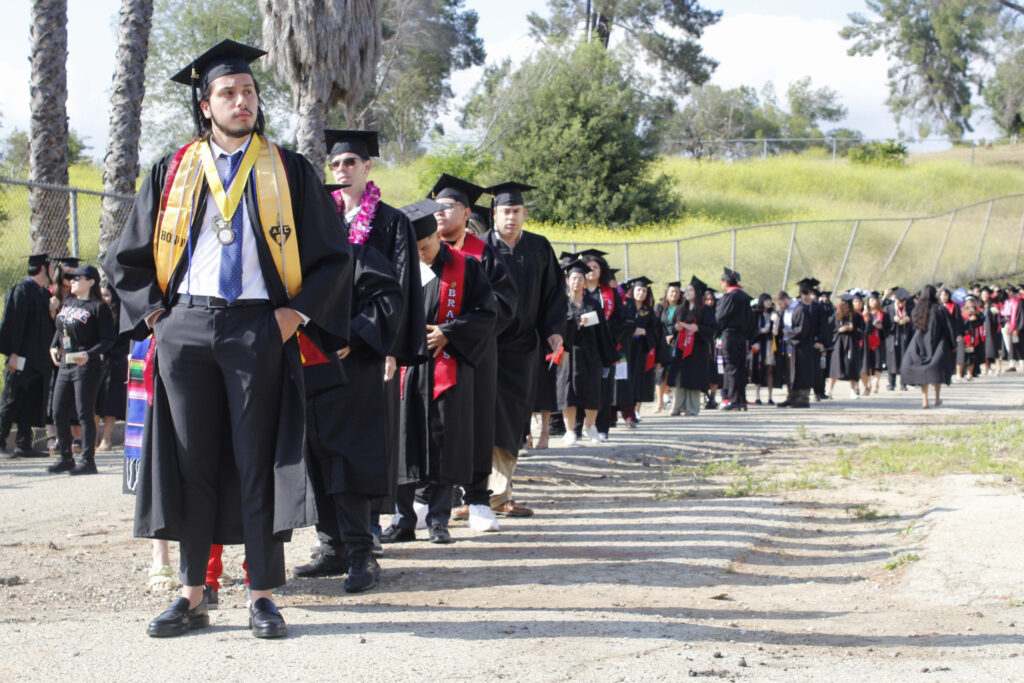 June Gloom took the day off so that the sun could shine onto Shepard stadium, where a herd of mighty Brahmas took over a football field with pride. 
Pierce College's Class of 2023 graduated on Thursday morning at the 75th Commencement ceremony at Shepard Stadium.
Graduates celebrated their accomplishments, some with lei and some with customized mortarboards, as family and loved ones looked on and cheered from the home and from the bleachers.
Chancellor of The Los Angeles Community College District Francisco C. Rodriguez gave a speech that praised first-generation graduates.
"You are the wildest hopes and dreams of your ancestors who toiled in factories and fields and other places that were less than desirable," Rodriguez said. "They worked so that one day there would be a college graduate in the family."
Rodriguez, who gave part of his speech in Spanish, said that education is the civil rights issue of the 21st Century, and that there is no better investment that they can make than in education. 
"Your career is not determined by your skin color, by your zip code, by your income or by other factors that have made folks stay away or not be included," Rodriguez said. "We are now envisioning with your leadership as graduates a future, an economy, a world that is resilient, that is inclusive, that is sustainable and that is equitable." 
Board of Trustees President David Vela gave a speech where he recalled the days when he was a UCLA student and there was no such thing as transferring. Now, people are going to community college first, and the district is advocating in Sacramento and in Washington D.C. to make sure that they are able to provide resources and curriculum to junior college students.
Vela, the first openly Chicano LGBTQ+ person serving in the Board of Trustees, also said that we are all more united when we are together.
"I am so proud of all of you," Vela said. "I am happy for you because you are the future. You are the generation that is going to show people how business is done with inclusivity, without hate and with progress."
Neuroscience student and commencement speaker Roxanne Gannon acknowledged the end of one chapter of all her fellow graduates as well as the beginning of a new one filled with possibility, independence and the potential to change the world.
Gannon once lacked a sense of direction or purpose, but now she is on her way to study at UCLA despite the instability and uncertainty caused by the COVID-19 pandemic. 
Gannon said that now is the time for her to move on.
"I found much more than I ever expected here at Pierce," Gannon said. "It is hard to say good-bye to the place that has given me so much."
She and several other graduates will be going on to University of California, Los Angeles (UCLA), while many others will be going to various other universities such as California State University, Northridge (CSUN).
McKenna Baden, a computer science major transferring to Arizona State University in the fall, was overjoyed about her accomplishments. 
"I want to cry because I didn't think I'd be able to do it," Baden said. "But I did it and I'm so proud of myself." 
Next to Baden was her 15-month-old daughter in a stroller.  
"I'm just really glad that she can be here because to be honest, I did it for her," Baden said. 
Transferring to UCLA in the fall, political science major Alexander Schnitzer said he is going to miss Pierce.
"It's a little bittersweet," Schnitzer said. I guess it still hasn't hit me yet. It's hard to believe that I've hit this point in my life that I'm carrying on from here." 
In 2018, Schnitzer was diagnosed with ulcerative colitis and had to have his colon removed. But even with those obstacles, he stayed positive and stayed on track to graduate.  
 "I was attending my first few classes from a hospital bed and I never really put the idea down that I wanted to finish," Schnitzer said. "Eventually when I got better I decided to start going to school full time and now I'm here. Now I'm going to go to UCLA and it's going to be incredible." 
Communication Studies professor Barbara Anderson said that this was Pierce's 75th Anniversary, also known as the Diamond Anniversary.  
"You are amazing diamonds," Anderson said to the graduates.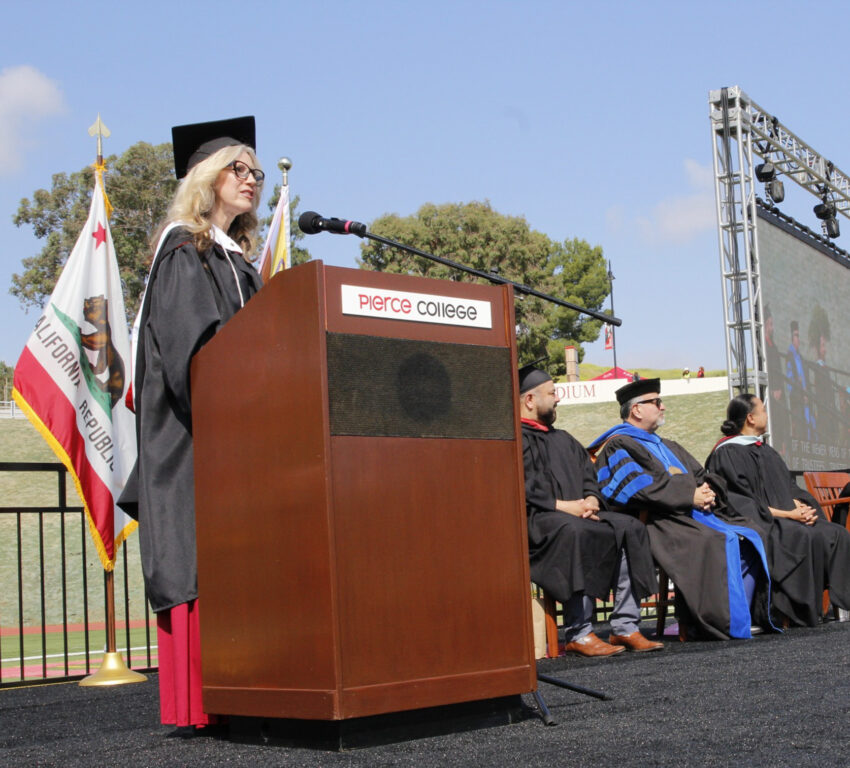 *Schnitzer's and Baden's quotes were provided by Roundup News reporter Marjan Sharifi.