The men's soccer team's season record fell to 2-7-2 as they lost 4-0 to Bakersfield College on Friday.
The Brahmas were in too deep as the Bakersfield Renegades jumped out to a 3-0 lead in the first half of the game.
Bakersfield's Jordee Magana scored the first goal nine minutes into the first half, followed by Joshua Bryant and Joshua Pimentel each scoring a goal to bring it to 3-0.
Head Coach Julio Castillo said his team gave the game away with turnovers.
"We're so much better than this," Castillo said.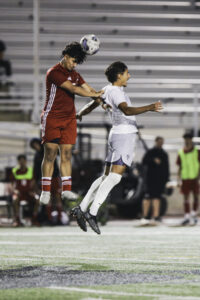 Renegade Jesus Cortez scored the final goal midway through the second half.
Adrian Martinez said the second half went a little better but it wasn't enough to come back.
"We made a lot of errors in the first half," Martinez said. "Three goals in and it wasn't our best performance."
Castillo said it's devastating to witness losses like this.
"They're a good group of kids," Castillo said. "I don't know if it's 'one of those days' but today was just us turning the ball over too much."
Pedro Perez Jr. said he places the blame on himself for the loss.
"It is what it is," Perez Jr. said. "Every game is different, so we deal with it and do better on the next one."
Perez Jr. said that while everything didn't go to plan against Bakersfield, he and the rest of the team will continue to prepare for the last stretch of the season.
"I'm going to be more disciplined," Perez Jr. said. "We got to put our hearts into it because Bakersfield had way more heart than us today."
Castillo said the team has to go back to basics to get players in the right mindset for the next game.
"Review and review and review," Castillo said. "So I don't force them to understand that 'they're so much better than this. Leave the nervous butterflies at home. Come and have fun. Forget about mistakes. That type of mentality."