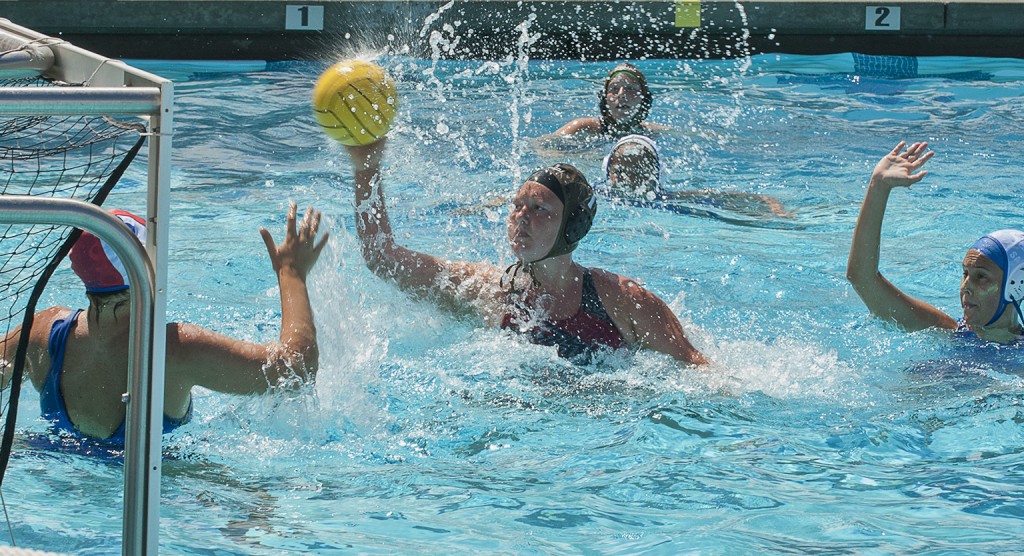 Pierce College's newly formed women's water polo team earned its first victory in a scrimmage Friday against Santa Monica College (SMC), making school history as the college's first women's water polo team.
The match, played at Pierce's Steven E. Schofield Aquatic Center, was Brahmas' first ever- after practicing for only two weeks in preparation for their season.
Pierce went on to win 10-7 after going up 4-0 in the first half with all four goals coming from Sara Booth.
SMC attacked the Pierce defense in the second half with numerous shots on the goal that got the attention of Pierce head coach Moriah Van Norman.
"Force them to make bad passes," Van Norman said during a short break in the action. "Attack."
SMC broke their scoring drought in the third and fourth quarters with additional shots at the box that resulted in goals.
Van Norman instructed her players to not give up a goal and get back on defense.
"Our game is counter attack," Van Norman told her team. "I want you guys to shoot."
The message was received by her players as they picked up the defense and scored six goals in the second half en route to their first victory.
With the team taking their first match, the players are excited for the rest of the season.
"We're really proud to represent [Pierce] and have a win for the first home game," said Monique Caritus.
"For the first time playing together we did really well," said Leslie Rento. "We're all getting along really well. It's a fun team."
With only two weeks of practice under their belts, Van Norman thought the team played as best as it could.
"We're trying to instill hard work, dedication and fundamentals into the team," Van Norman said after the game. "I think we have a pretty good team and I'm hoping we go as far as we can in conference play and maybe move on to state."
Van Norman's thoughts were reiterated by her players as they look to win conference.
"Our main goal is improving…but right now it's game by game," said Van Norman.
The next match for the team will be at the Mini Valley Tournament on Saturday, September 15, at 8:00 am at Los Angeles Valley College.
Keep up with women's water polo and all Pierce athletics at www.theroundupnews.com