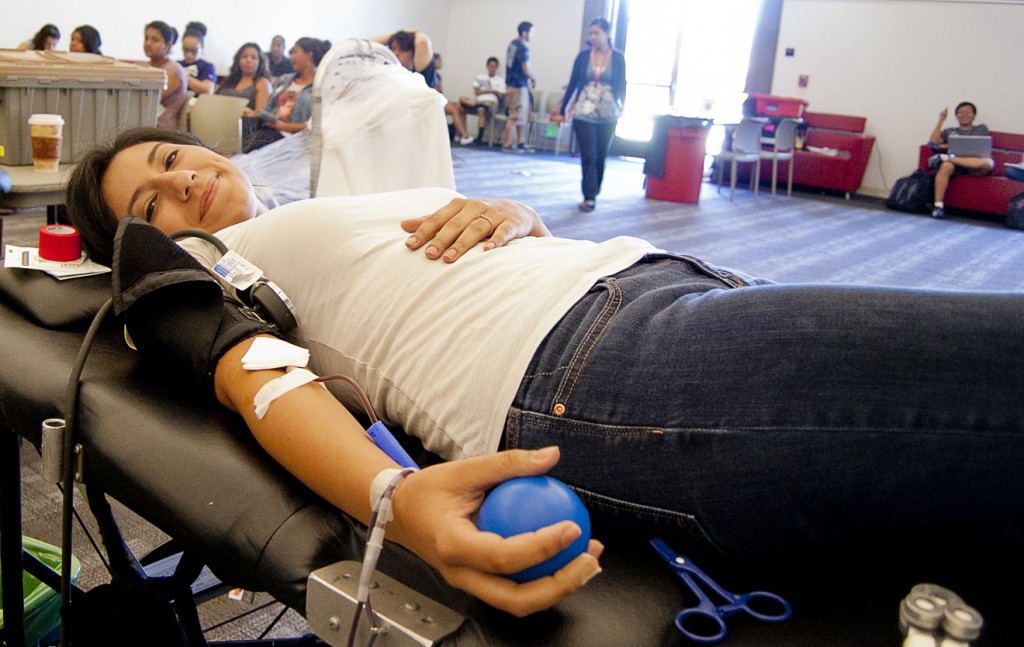 Earth's largest marrow donor registry joined forces with the United States' biggest blood supplier at Pierce College on Wednesday during a blood and marrow drive at the Student Community Center's Great Hall.
The American Red Cross and National Marrow Donor Program worked together on Sept. 26 in a makeshift blood bank set up to accommodate students, faculty and staff who volunteered to have their blood and DNA collected.
Red Cross volunteers met people at the door and began the screening process that prepared donors for the procedure, which took approximately ten minutes.
Afterward, students were ushered to a recovery area, a table with chairs where they were treated to snacks and drinks designed to boost their energy and rehydrate them.
Physiology student Amir Azizi, 18, knows the routine well.
"I've donated [blood] a few times," Azizi said. "It is for the community, and I feel good when I donate."
Usama Zafar, 17, also sat at the recovery table, bottle of water in hand.
The petroleum engineering major saw a sign while walking on the Mall, and decided to find out more about the program.
"I just saw the sign out there and came in," Zafar said. "It's my first time giving blood."
Both students expressed a feeling of satisfaction knowing their blood would go to a good cause.
"It's like the sticker says," Azizi said, referring to the green and white sticker on his shirt. "I really did make a difference."
While many entered the building to donate blood, some also made a deeper commitment.
"My grandmother died from cancer," Nelson Funes said. "It makes sense for me to be here."
The kineseology student didn't know about the Be The Match Registry until he came in to donate blood.
Being on the registry means that Funes may be notified at any time to help save someone's life directly.
"We are fighting blood cancer," Sara Arroyo said.
Arroyo is a recruiter for the National Marrow Donor Program, a nonprofit bone marrow and umbilical blood transplant organization.
As a trained advocate, Arroyo spent the hours between 9 a.m. and 3 p.m. Wednesday going over the importance of joining the registry to potential donors.
"It's just a cheek swab," Arroyo said. "From that, we take the DNA and add it to our database."
If a match is made, the stem cell donor is contacted.
In some cases, marrow is extracted directly from the pelvic bone; in other cases, blood cells are filtered out of the donor and provided to the recipient, according to Arroyo.
Funes, a latino, fills a special need for the life-saving program.
"Right now we are in desperate need of minority donors in the registry," Arroyo said.
Funes is prepared to do his part in fighting diseases such as sickle-cell anemia, lymphoma and leukemia.
"I will go if they need me," Funes said.
For more on campus blood drives visit The Roundup.