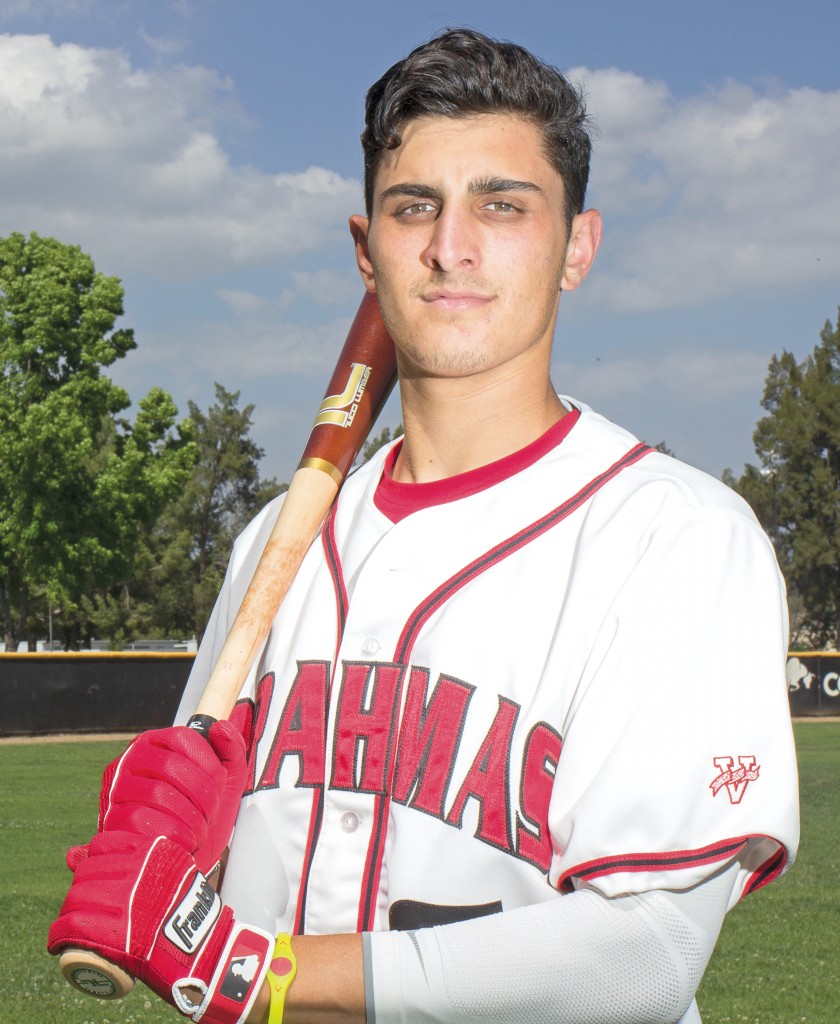 Brahmas outfielder Joe Moran, who helped lead the Brahmas to their first playoff berth since 2010, has been named the Roundup's player of the semester.
Moran, a freshman, played right field and hit .356 on the season while providing depth to an outfield that not only made the playoffs but knocked off Cerritos College and advanced to the Super Regionals for the first time since 2006.
RU: You were one of the leaders of the team yet you were only a freshman. What a season!
Joe Mo: It was a new team. I had a lot of sophomores that brought me in and I felt comfortable here playing. The coaching staff was great and I worked hard. We had a great team this year  and every guy fed off of each other so it was easy to go out there, play relaxed, succeed and do everything it takes to win a ballgame and that ultimately gave me the success this year.
RU: 20 of the 28 players on your team were freshman, how come you were able to stand out above the rest?
Joe Mo: I try to stand as a leader with my play on the field then really talk with the team. I don't like to be a loud vocal guy, but I am vocal when I need to be. I think it all started game one when we went up to Bakersfield for that tournament to start the season. Right from the first at-bat when I let off the game I was looking to hit the first pitch I saw and I hit a single right up the middle. I think from there it all clicked right off there. I think that was the moment that kicked it off.
RU: Head coach John Bushart said that "This was one of the most special teams" that he has had in awhile. What is your relationship you have with him as well as the other coaches?
Joe Mo: Our coaching staff took in every player and they were unbelievable. They took every player under their wing, and you go ask them a question they'll do everything they can to help you out. It was a teaching process in the fall. They got us ready for the season and assistant coach William Picketts told us to trust in the process and we really took a hold of that as a team and it brought us a lot of success.
RU: Your team has a variety of personalities. From the bat biting of third baseman Alex Sawelson to the facial hair that center fielder Dylan Tashjian became famous for. What made this team so successful?
Joe Mo: I've never been on a team like this. It was awesome. Every guy got along and we had fun no matter what. We developed a relationship that I think is going to last for the rest of our lives. We'll talk about baseball forever.
RU: Your team played some of the toughest competition in the state, including #3 ranked Santa Ana, who you swept during the season series. From the get go nothing seemed to intimidate you or the team.
Joe Mo: Our team was not intimidated by anyone we played. The pitching that we faced and that showed during the first round of playoffs against Cerritos. We lose the first game and we come back the next day and we take two games on them. Then we play Oxnard who beat us four times during the season in conference, who kind of gave it to us and didn't play our next game. Next game we take them into a game that maybe shouldn't have gone into extras and we didn't want our season to end and we held on for just a little bit longer.
RU: What is it like living and being a part of that legacy that was created by players like Barry Zito and Coco Crisp who are now in the majors?
Joe Mo: I take pride every time I come on this field. I think you also take pride just as well in our coaching staff. All four of our coaches played some kind of major league baseball, minor league baseball. In all we respect that as players and we really look up to them as role models.
RU: Your season came to an end against your conference rivals Oxnard College, who beat your team six times in a row. What will you have to do next season to build off of what you've done so you not only remain a competitive team, but defeat the Condors and establish yourselves as the best in the Western State Conference?
Joe Mo: We got a good group of our core players coming back. We do lose a couple of bats in our lineup that we'll have to replace but we're going to get a lot of our pitchers back and hopefully get some new freshmen in. I think with our team just how we bonded this year and the way we play I think it will be the same next year. We're going to have the same group of guys, 20 freshmen coming back and I think we are going to teach our freshmen the way our sophomores taught us this year and I think we'll have another great season.